Shenzhen is a modern city featuring modern well-managed transport infrastructure and services. These transport services include the popular metro system (aka subway), intercity train services, public buses, taxis, ferry, and an international airport.
Getting around Shenzhen
Metro
The Shenzhen Metro (aka subway) is modern, efficient and cheap. You can simply purchase tickets via touchscreen ticket machines (Chinese and English) at the station, fares range from 2 to 7 RMB. Most of the stations open at 6.30am, and close at 11 pm.
Shenzhen Metro Map 2018
Map includes the latest new lines and station names in Chinese & English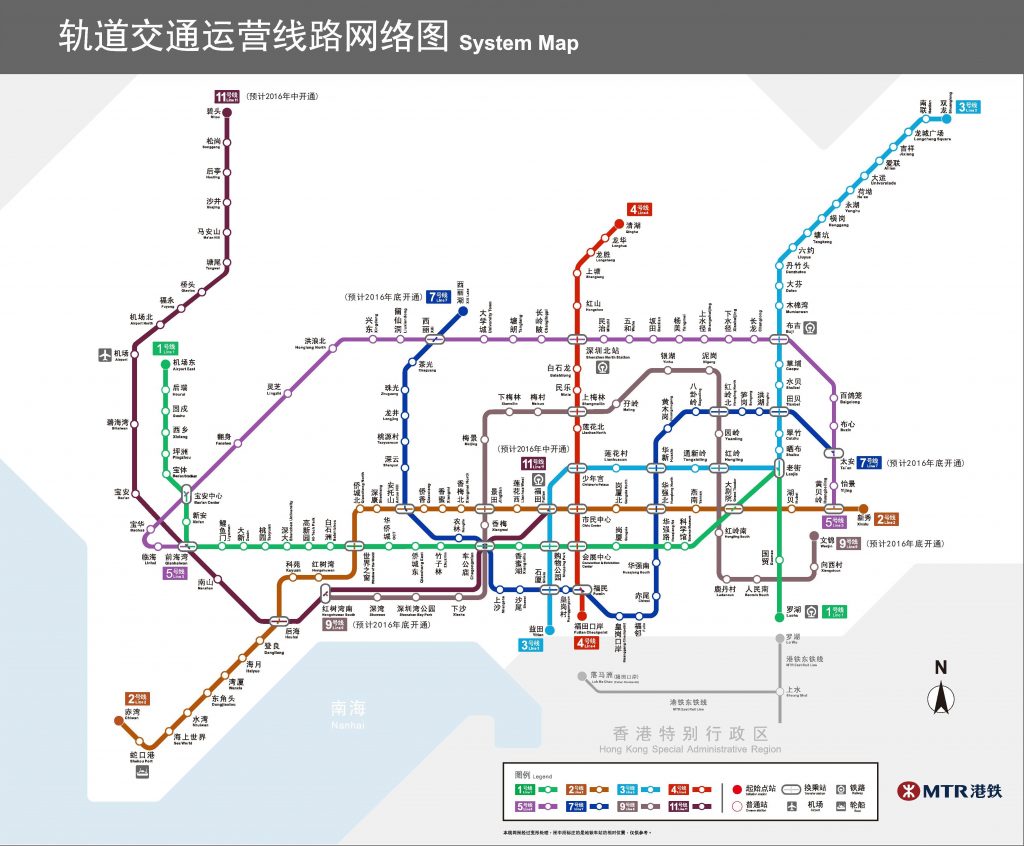 You can also purchase a 'Shenzhen Tong' Card, which you preload with cash and simply swipe as you enter and exit the metro, it can also be used on buses. If you're staying a while it's a wise investment for convenience sake. It can be purchased at any customer service desk in the metro stations.
Public Bus
Public buses are everywhere, for choosing routes and which bus to take try the google maps direction service eg.: Somewhere in Luohu to Dafen Village, or download Baidu Maps which, even without being able to read Chinese, you can get bus routes from point to point, here is a route example traveling the full length of Holiday Line 1 .
The public buses normally have a ticket officer on the bus, usually, it's a matter of getting on the bus, get a seat or a handrail to hang on to, and the officer will come around to collect ticket fees. Simply tell them where you'd like to get off and they'll tell you how much, usually between 2-5 yuan. Some officers may speak a little English, but it's best to have your destination written down in Chinese. They will also carry a card reader for your Shenzhen Tong Card.
Some buses are fixed fare in which case you'll see a coin box with the price on it, simply throw your coins or notes in as you get on, they'll also have card swipe for your Shenzhen Tong Card.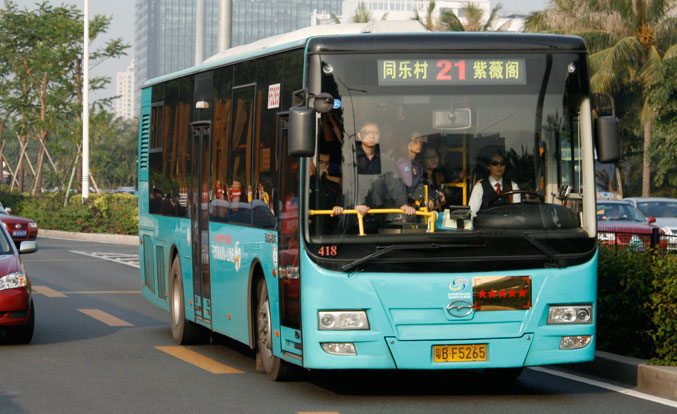 Taxi
Taxis are everywhere, look for the round red light on the passenger side of the front windscreen, not the light on the roof, which will be lit red when they are empty and available. Simply hold your hand out, wave to flag them down. Few speak English, have your address written down or show them a map.
The fare starts at 10RMB which includes 3km, and then it is 2.4 RMB for every km after, there is also a 3RMB fuel surcharge which isn't shown on the meter. Green taxis that service the outer suburbs are lightly cheaper and eTaxis don't charge the fuel fee.
Hot Tip: unless you're comfortable with long waits for a taxi, or cramming on to very packed trains and buses, it's best to plan and avoid needing to use public transport during peak times. I try to avoid the times between 8 am and 9 am, 5 pm – 7 pm.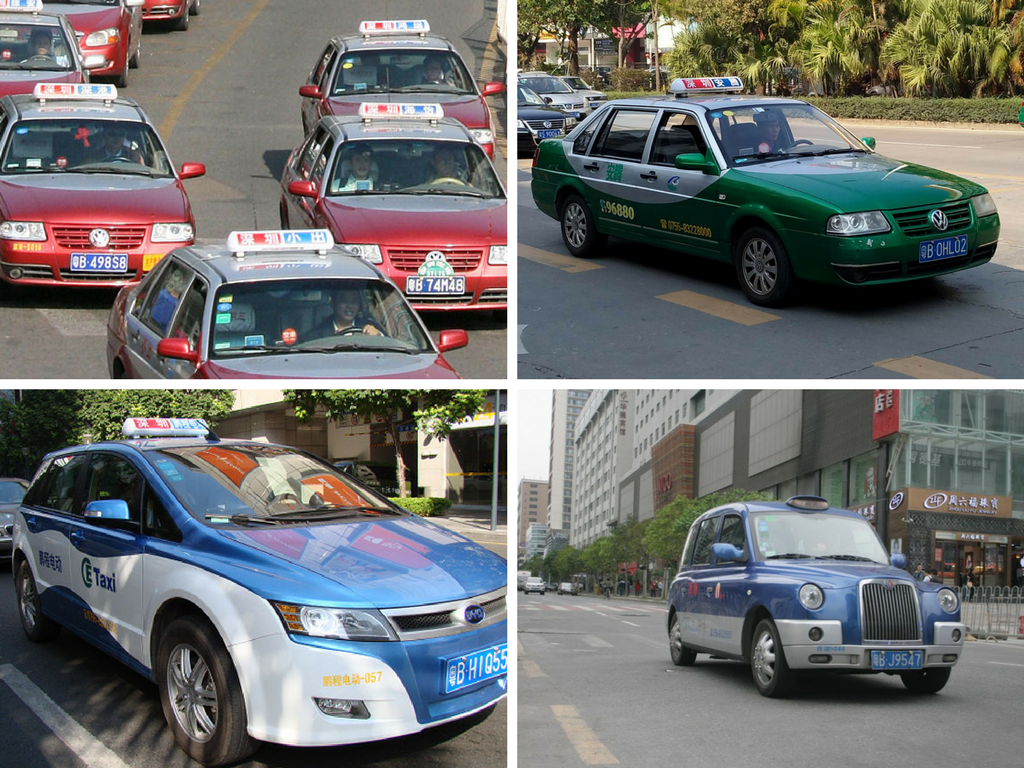 Red and silver taxis, along with eTaxis (blue and white) and TX4's (London style cabs for disabled) service the entire city whereas green taxis only service the suburbs.
Example fares from  Bao'an International Airport to:
To Shenzhen Railway Station/Luohu Border/Dongmen (Luohu District): CNY110-120;
To Shenzhen North Railway Station (upper Bao'an): CNY80-100;
To Shekou Ferry Terminal (Shekou District): CNY80-90;
To Holiday Plaza/Window of the World/Happy Valley (Nanshan District): CNY60-80;
To OCT East/Dameisha/Xiaomeisha (Yantian District): CNY200-230.
The Taxi Hotline is 96880.
Ride Hailing APPs
Uber operates in Shenzhen and its local competitor is just as popular, Didi Chuxing
Uber APP – Google Play – iStore
Didi Chuxing APP – Google Play – iStore
Getting to/From Shenzhen
Getting to and from Shenzhen is easy and, with a little forward planning, usually stress-free. There are numerous ways to reach the city including plane, train, and bus.
Flying to Shenzhen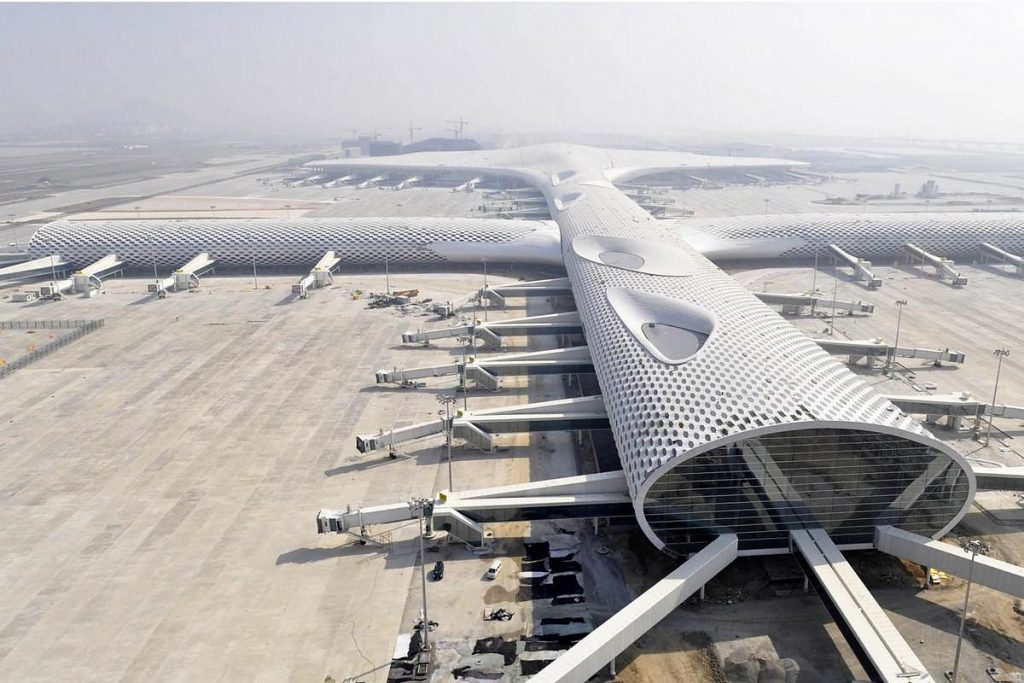 For plane travelers, you can fly directly into Shenzhen International Airport which is located in Bao'an. The airport is modern and easy to navigate with bi-lingual signage (CN & EN).  The airport is approx. 1hr 30 mins by bus/car from Futian, the central district of Shenzhen and 30 mins via Metro line 11.
For airport transfers from Shenzhen Airport, there are taxis, buses and the metro (subway). Bus costs around 25RMB, a taxi around 100RMB and the metro comes in cheapest with the price varying depending on destination.
Line 11 of the Shenzhen Metro connects the airport through to Futian. The first train leaves at 6.30am and the last train leaves the airport at 11.25PM. It takes around 30 minutes to get from the airport to Futian with 7 stations along the way. It's the fastest way to the airport. Futian to Airport Station would cost 7 CNY or 21 CNY for business class. See the full timetable and stations here.
Line 1 of the Shenzhen Metro can also connect you to the airport via Hourui and Airport East Metro stations which are a short 5 min bus ride from the terminal. The metro takes around 60-70 minutes to connect to Futian with numerous stations along the way. This line terminates at Louhu from where you can cross the border to Hong Kong or take a train from Shenzhen Railway Station. Luohu to Airport East Station would cost 9 CNY. See the full timetable and stations here.
There are also intercity buses, connecting to Hong Kong via Shenzhen Bay port, and also mainland cities including  Guangzhou, Huizhou, Dongguan, Zhuhai, and Zhongshan.
There is also a ferry service at the nearby Fuyong Pier which can connect you to Sky Pier (Hong Kong Airport ) and New Macau Maritime Ferry Terminal. Shuttle buses run between the airport and the Fuyong ferry terminal. More here
Train to Shenzhen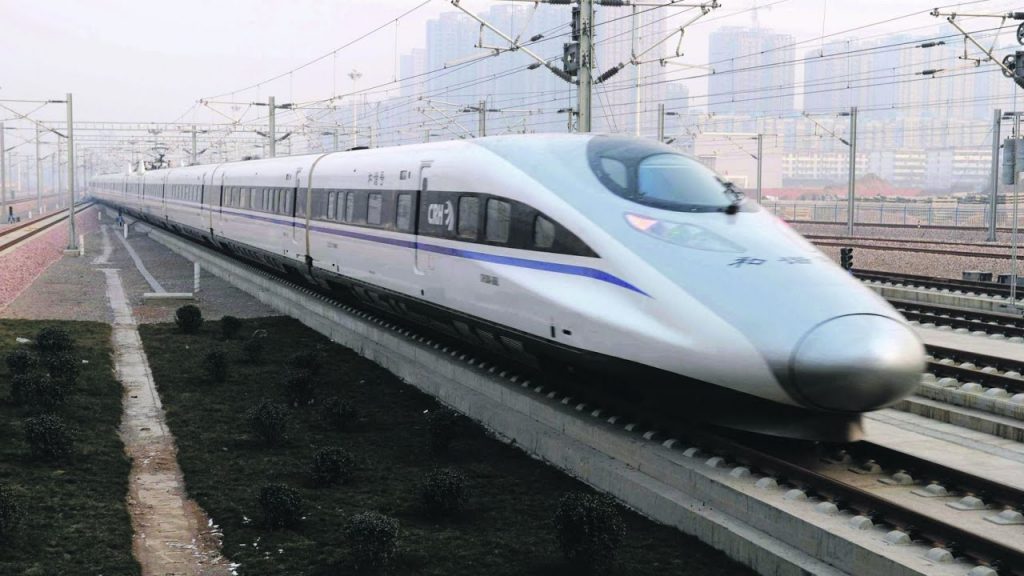 For train travelers going to/from other mainland cities, the three main stations are Shenzhen Railway Station (at Louhu), Futian Station (at Futian CBD) and North Station (at Bao'an) all offering High-Speed Rail connections to Guangzhou (and beyond), and Xiamen (and beyond). East Railway Station (at Buji) and Pingshan Station at Pingshan New District) also offer High-Speed Rail connections, more details here.
Guangzhou to Shenzhen
Many people wishing to visit Shenzhen also fly into the nearby Guangzhou Airport. If you're coming to Shenzhen via Guangzhou Airport, there are four train stations but the Guangzhou East Railway Station (Tianhe Railway Station) has the most frequent services running to Shenzhen which all terminate at the Louhu station. More details on going from Guangzhou to Shenzhen
Hong Kong to Shenzhen
Coming from Hong Kong there are several ways to reach Shenzhen, you can come via train, ferry or bus. Via train to Lo Wo and then crossing the border at Luohu is probably the most popular route via the East Rail Line. You can also take the East Rail Line to Lo Ma Chau and cross into Futian. Soon there will be High Speed Rail (XRL) from Kowloon in HK to Futian in SZ.
More detailed information on traveling from Hong Kong to Shenzhen. Our sister site also loads of info on Hong Kong Metro and Transport.
Ferry to Shenzhen
Hong Kong to Shenzhen
The ferry service which departs from either Hong Kong Airport (called the SkyPier), or from Hong Kong Macau Ferry Terminal (Central HK), both of these ferry services terminate at Shekou Prince Bay Port, Cruise Center & Ferry Terminal. There is also a daily ferry service between Shenzhen Airport (Fuyong Port) and Hong Kong International Airport. More detailed information on traveling from Hong Kong to Shenzhen. Our sister site also loads of info on Hong Kong Metro and Transport.
Macau to Shenzhen
The easy way is via ferry which terminates at Shekou Prince Bay Port, Cruise Center & Ferry Terminal, leaving from either Taipa Ferry Terminal or Macau Outer Harbor Ferry Terminal more info via the ferry links below. Also see here for more on Macau Transport inc. Taxi, Bus & Ferry. There is also a ferry service between Shenzhen Airport (Fuyong Port) and Macau Outer Ferry Terminal.
Zhuhai to Shenzhen
There is a regular ferry service between Shekou Ferry Terminal and Zhuhai Ferry Terminal (Jiuzhou Port).
Ferry Timetables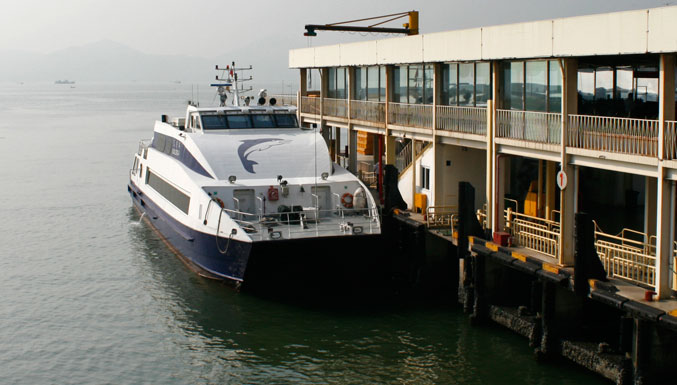 Useful Resources:
Where to stay in Shenzhen?
See my lists of handpicked hotels for
The Top Hotels near Shenzhen Airport (T3) – the only International airport in Shenzhen.
The Top 10 Five-Star hotels – the best of the best in luxury accommodation in SZ.
The Top 15 Hotels at Huaqiangbei Shenzhen – The wholesale electronics capital of China, and a shopping mecca.
The Top Hotels at Dongmen (Loajie), Luohu Shenzhen – Luohu is the main border crossing between Hong Kong and Shenzhen, it's also home to Luohu Commercial City, many luxury shopping malls, and leisure centers.
The Top 13 Hotels in Futian CBD, Shenzhen – Futian is the center of the city, home to government, modern shopping malls, Convention and Exhibition Center and the city's top luxury hotels.
The Top 10 Hotels in Nanshan, Shenzhen – Nanshan is home to three big theme parks, several major malls, and many of the world's top tech companies are based here.
The Top Hotels in Bao'an District Shenzhen – A very large district that is developing fast.
List: The Top Hotels in Dapeng, Shenzhen – Dapeng is your nature escape, here you can find beaches and hiking trails.
List: The Top Hotels in Buji, Shenzhen – a rapidly redeveloping district.
The Top Hotels in Longgang Shenzhen – another rapidly redeveloping district.