The Guangdong-Hong Kong-Macau Greater Bay Area (粵港澳大灣區) is an initiative to create greater integration between nine cities in the Pearl River Delta along with Macau and Hong Kong.
What could be the benefits of the Greater Bay Area?
Integrating Hong Kong's world-class legal, professional and institutional systems
Integrating Guangdong's global scale manufacturing and resources
Drawing global talent to an exciting new region
Creating a better "brand" that attracts new investment and global industry
Free flow of workers and travelers between the regions/cities
Greater development of universities across the region
Greater tourism resource development and cross promotion
Greater infrastructure development
In a nutshell, lowering the barriers to the movement of people, information, and capital.
What cities and regions will form the Greater Bay Area?
The Greater Bay Area is comprised of the two Special Administrative Regions of Hong Kong and Macao plus nine municipalities located in Guangdong Province being Guangzhou, Shenzhen, Zhuhai, Foshan, Huizhou, Dongguan, Zhongshan, Jiangmen and Zhaoqing.
Greater Bay Area Facts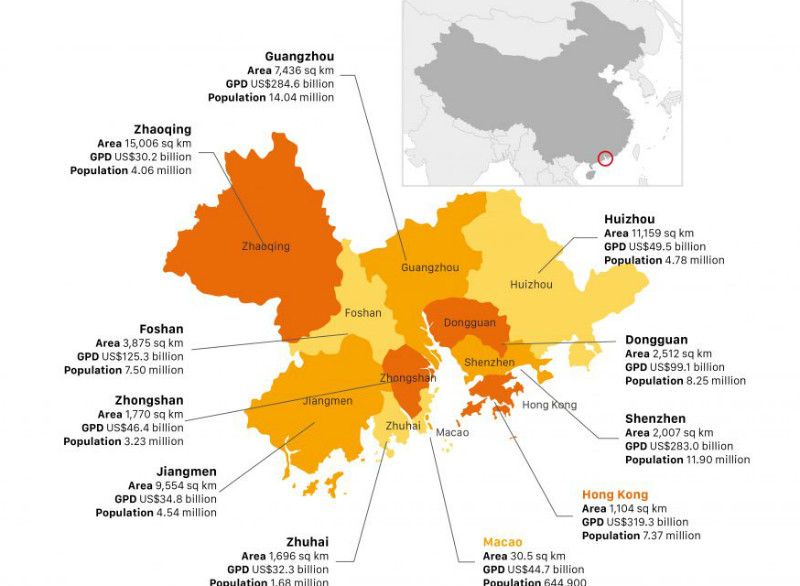 Combined Population: 66.72 million
Combined Area: 56,000 sq. km
Combined GDP: 1.3 trillion USD
The Greater Bay Area accounts for 12% of China's GDP
Overview of the Greater Bay Cities – with links to city guides
Transport in the Greater Bay Area
There is a stated goal of creating a "one hour life circle" through modern transport infrastructure where people can live and work in different cities and easily commute between areas. The transport infrastructure investment is immense including expansion and modernization of rail, highway, bridges, and ports.
High-Speed Intercity Train Routes in the Greater Bay Area
Guangzhou-Shenzhen-Hong Kong Express Rail Link 广深港高速铁路
Main Stations: West Kowloon Station – Futian Station – Shenzhen North Station – Humen Station – Guangzhou South Station
Guangzhou–Shenzhen railway 广深铁路
Main Stations: Guangzhou Station – Guangzhou East Station – Changping Station (Dongguan) – Shenzhen Station (Luohu)
Guangzhou–Foshan–Zhaoqing intercity railway (Guangfozhao) 广佛肇城际轨道交通
Main Stations: Guangzhou Station – Foshan West Station – Dinghu East Station – Zhoaqing Station
Dongguan–Huizhou intercity railway (Guanhui) 莞惠城际轨道交通
Main Stations: Wanhong Station (Dongguan) – Changping South (Dongguan) – Xiaojinkou Station (Huizhou)
Guangzhou–Zhuhai intercity railway (Guangzhu) 广珠城际
Main Stations: Guangzhou South Station – Shunde Station (Foshan) – Xiaolan Station (Zhongshan) –  Jiangmen East Station (spur line) – Zhongshan Station – Zhuhai Station.
Intercity Rail Lines under construction
Guangzhou–Foshan circular intercity railway (Guangfo ring) 广佛环城际轨道交通
Foshan–Dongguan intercity railway 佛莞城际轨道交通
Guangzhou–Dongguan–Shenzhen intercity railway (Suiguanshen) 穗莞深城际轨道交通
Guangzhou–Qingyuan intercity railway (Guangqing) 广清城际轨道交通
Zhuhai–Zhuhai Airport intercity railway (Zhuji) 珠机城际轨道交通
Airports
The region has four major international airports which all have easy transport connections to cities in the GBA (Links to airport transport guides).
The New Foshan Airport is under construction.
Ferry Passenger Ports
Ferries are a convenient and fast way to transfer between airports and the cities of the Greater Bay.
In Shenzhen
Shekou (Shenzhen)
Fuyong (Shenzhen Airport)
In Guangzhou
Guangzhou Lianhuashan
Guangzhou Nansha
In Macau
Macau (Taipa)
Macau (Outer Harbour)
In Hong Kong
Skypier (Hong Kong International Airport)
Sheung Wan (Hong Kong)
Tuen Mun (Hong Kong)
China Ferry Terminal (Hong Kong)
HK-Macau Ferry Terminal (Hong Kong)
Other Ferry Ports in Guangdong Province GBA cities
Zhuhai Jiuzhou
Doumen (Zhuhai)
Zhongshan
Shunde (Foshan)
Jiangmen
Cross-Border Coaches Between Mainland and HK/Macau
There are cross-border coaches operated by several companies that have boarding and departure points across many locations in Hong Kong including Hong Kong Airport. They travel to/from cities including Shenzhen, Guangzhou, Foshan, Dongguan, Huizhou, Zhuhai, Macau, Jiangmen and more. See the city guide links in the list of Greater Bay cities for more info on stations and routes in each particular city.
Intercity Coach
Every city in Guangdong is connected by intercity buses. See the city guide links in the list of Greater Bay cities for more info on stations and routes in each particular city.
The Hong Kong–Zhuhai–Macao Bridge
Take a bus from Hong Kong to Zhuhai via the bridges shuttle service (HZMB Bus), a cross-border coach, or taxi. More details here
The Shenzhen–Zhongshan Bridge 深中大桥
Currently, under construction, the 51km eight-lane link will consist of bridges and tunnels that will connect Shenzhen from Shenzhen Bao'an International Airport to the western side of Zhongshan reducing the traveling time between the two cities from 90 mins to 30 mins. Its expected to be completed in 2021.