Shenzhen is a very special city being at the forefront of China's opening up and reforms which began back in 1979 in the district of Shekou. It was China's very first Special Economic Zone which would see the beginning a flow of foreign investment into manufacturing and development.
The man behind that SEZ was Yuan Geng and China Merchants Group. You can find a statue of Yuang Geng at Sea World Plaza in Shekou which is now an ultra-modern and world-class shopping, dining, and leisure precinct.
Deng Xiaoping, the Chinese leader who most hold up as the architect of China's economic reconstruction post the Cultural Revolution and it was Shenzhen that he chose as the location to make landmark speeches that would change China's future forever. Those speeches solidified the belief in a market economy that was adopted across the nation. Today, at Lotus Hill you will find a statue of Deng Xiaoping which overlooks the central CBD in Futian District.
As Shenzhen grew from a village to become a city of 400 thousand people in 1990, 1 million people by the year 2000, and today it is modern mega-city of 12 million people.
Shenzhen isn't likely to stop, soon with the high-speed rail network connecting regions of Guangdong, and the XRL line into Hong Kong, along with new national policies, the area looks set to become a mega-urban area like no other the world has seen before under the banner of the Greater Bay Area. This Guangdong-Hong Kong-Macau Greater Bay Area would see the integration of 11 cities, with Shenzhen at its center, and would be home to over 66 million people with a combined GDP of over 1.4 trillion USD.
Todays Shenzhen in Numbers
656,000 – the number of people on an average that cross the border every day via one of the cities 15 checkpoints
41.98 million – the yearly number of passengers that pass through Shenzhen Bao'an Airport
4.5 million – the number of people the number of people using the metro every day
10 million – the number of passengers using public buses daily
16,357 –  the number of electric public buses are in use across the city
124.85 million – the number of tourist visitors to the city each year
1.95 trillion – the city's GDP (in Yuan)
48,695 –  the average yearly wage (in Yuan)
Geography and Location
Shenzhen is located in the southern province of Guangdong and shares a land border with Hong Kong on its southern fringe and to its north is bordered by the cities of Dongguan and Huizhou.  The city covers 1,991.64 square kilometres (769 sq mi) measuring 81.4 kilometers from east to west and 10.8 km at its shortest section from north to south. As the crow flies from Shenzhen CBD in Futian, it is 33 km to Hong Kong's Central District and 100 km to Guangzhou CBD.
Brief History
Shenzhen dates back to the Ming Dynasty (1368-1644) around 1410 and officially became a township under the early reign of the Qing Dynasty (1644-1911). In 1979, the city of Shenzhen was established and later opened the first Special Economic Zone (SEZ). In 1983 the city was promoted to the sub-provincial level giving it autonomy from its parent Guangdong Province and in 2010 the SEZ was expanded to cover the whole city.
Districts
Shenzhen is a sub-provincial city having direct jurisdiction over 9 districts and 1 new area, they are Luohu, Futian, Nanshan, Yantian, Bao'an, Longgang, Longhua, Pingshan, Guangming, and Dapeng New District.  More about districts.
Demographics
Shenzhen has a migrant culture making it a quite unique city within China in that almost everyone is from another region of China.
Age Groups
0-14 years: 17.15%
15-24 years: 12.78%
25-54 years: 48.51%
55-64 years: 10.75%
65 years and over: 10.81%
Median age
male: 36.5 years
female: 38.4 years
Combined Average: 37.4 years
Languages
Go anywhere is Guandong province and you'll find Cantonese, or variant dialects, is widely spoken yet in Shenzhen, Mandarin has become the dominant language due to the migrant nature of the city and the need for the use of a common language. Being a city of global trade and business you will also find many who speak English.
Languages Spoken: Standard Chinese or Mandarin (official; Putonghua, based on the Beijing dialect), Yue (Cantonese), Wu (Shanghainese), Minbei (Fuzhou), Minnan (Hokkien-Taiwanese), Xiang, Gan, Hakka dialects, minority languages.
Climate
Shenzhen has a subtropical monsoon climate.
Temperature by Month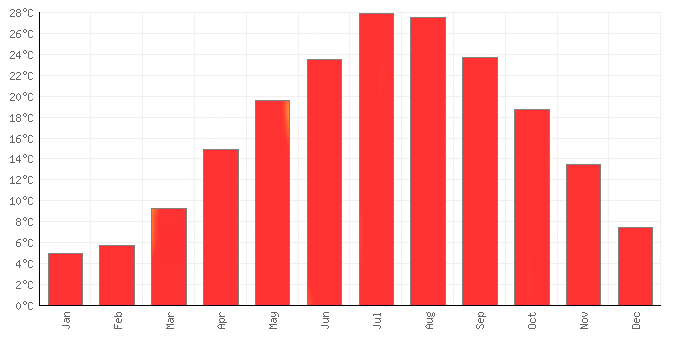 The Seasons
Winter – January to February – very mild and dry.
Spring – March to May – starting to warm up and with that comes occasional showers.
Summer – June to October – wet season, with frequent showers providing a break from the heat.
Autumn – October to December – very comfortable, sunny and cool.
Official Flora
The Litchi and Mangrove trees are Shenzhen's official trees
The Bougainvillea is Shenzhen's official flower.
Theme Parks
Major Commercial Areas
Major Public Buildings and Museums
Major Historic areas
Beaches
Yangmeikeng 杨梅坑
Xiaomeisha 小梅沙
Dameisha 大梅沙
Ju Diao Sha 桔钓沙
Dong Chong 东冲
Xi Chong 西冲
Mountains
Qiniang Mountain
Nanshan Mountain
Shenzhen's Islands
Nei Lingding Island 内伶仃岛 – Nanshan
Dachan Island (Tai Shan Island) 大铲岛 – Nanshan
Xiaochan Island 小铲岛 – Nanshan
Mazhou 大小孖洲 – Nanshan
Laishizhou 赖氏洲 – Dapeng
Zhouzai 洲仔/九仔 – Yantian
Zhouzaitou 洲仔头 – Dapeng
Important Phone Numbers and Websites
Shenzhen Party – www.shenzhenparty.com – City, event, dining & nightlife guide
Police: 110
SMS message to police: 0755110
Medical emergency: 120
Traffic accidents: 122
Directory inquiries: 114
The Shenzhen Municipal People's Government hotline: 12345 http://english.sz.gov.cn
Consumers' complaint hotline: 12315
Port Administration Office: 83394325
Shenzhen Airport: 23456789 http://eng.szairport.com
Shekou Ferry Terminal, Hong Kong, and Macao lines: 26691213 https://www.cmskchp.com
E-ticket center of Shenzhen Railway Station: 95105105
Shenzhen Bus Group: 83161116
On-call taxi service: 96511, 83906888
Shenzhen Metro: 88960600 http://www.szmc.net
Long-distance bus website: http://www.sz95000.com
Visa Issues – Shenzhen Municipal Public Security Bureau: Phone: 84465490, 96897 http://www.sz3e.com
Luohu Gov – http://www.szlh.gov.cn
Futian Gov – http://www.szft.gov.cn
Nanshan Gov – http://www.szns.gov.cn
Yantian Gov – http://www.yantian.gov.cn
Bao'an Gov – http://www.baoan.gov.cn
Longgang Gov – http://www.lg.gov.cn
Longhua Gov – http://www.szlhq.gov.cn
Pingshan Gov – http://www.szpsq.gov.cn
Guangming Gov – http://www.szgm.gov.cn
Air Quality
Air quality in Shenzhen, from experience, is far better than most cities in China. Although you probably wouldn't want to stand beside a major road for too long, at least it's escapable by getting away from the roadside. The government lists the city as level 2 on a scale of 1 to 5, see the list of Air Quality of Major Chinese Cities http://www.china.org.cn/english/MATERIAL/189327.htm
Transport
Transport in the city is of a high standard, with a modern bus fleet and bus routes providing a high level of coverage. The metro, aka subway rail system, is modern and under expansion, currently, there are 5 lines providing connection to most districts of greater Shenzhen. The taxi fleet is also modern and getting a taxi at most times is not difficult. Taxi drivers are well mannered and there are few complaints about their service and prices are low by western standards but higher than most other cities in China. More on transport here shenzhenshopper.com/transport
Schools
There are several international schools in Shenzhen teaching in English right through kindergarten, middle school, and high school.
Permanent Accommodation
Renting an apartment in Shenzhen is more expensive than in other regions of China and there is a wide range of options that may not be available in other regions. Choices from bare budget basic studio apartments through to new luxury style apartments with sea views. More info see https://shenzhenshopper.com/living/renting-an-apartment-shenzhen
Hospitals
With at least ten major hospitals, Shenzhen's health system is quite developed. China's health system is a little different from that of some western countries in that everything is done at the hospital. Rather than going to a clinic to see a doctor, all the doctors are based at the hospital. The cost is also low, a visit to a doctor at the hospital can cost as little as ten RMB. There is a choice between Traditional Chinese Medicine and Western medicine depending on which hospital you choose. Hospitals include:
Shenzhen People's Hospital
Tel: +86-755-2553 3018, +86-755-2553 1387 (Outpatient Dept.)
Add: Dongmen Road North, Shenzhen
Shenzhen Red-Cross Hospital
Tel: +86-755-8336 6388
Shenzhen Affiliated Hospital to Beijing University
Tel: +86-755-8392 3333
Food
For grocery shopping, there are many western style supermarkets and smaller boutique shops stocking imported lines.
For eating out in Shenzhen is a special place, having so many migrant workers come to the city and establish a new life there is now restaurants offering all the cuisines of China. It's not too difficult to find tastes from other regions of Asia, examples including Thai, Korean, Japanese and Indian restaurants which can be found at Shekou or at many of the major shopping malls. Western dining options are aplenty, including all the fast food giants and several Italian restaurants and western style coffee shops. More: Grocery shopping and imported foods in Shenzhen
Recreation
The city has many parks and places to escape the hustle and bustle, some of which are quite beautiful. Most of the modern shopping malls have movie cinemas and some even have ice-skating rinks. There are several modern gymnasiums many with pools. Tennis courts are not too hard to find, along with basketball courts and the like. There are several art galleries and theaters for live performances. Night-life, in regards to nightclubs and bars, is well developed, particularly in Shekou and Futian.
General observations: From a Western perspective, lifestyle in Shenzhen can be very good, if you are willing to make some adjustments and overcome language barriers. Some people have difficulty in trying to keep the life they had prior to China, others, that are flexible and open to learning new ways, often greatly enjoy their time and when it comes time to leave, they leave with truly great gifts. There are many stories of people who have come to China and left with a healthier lifestyle and outlook from the fusing of western and eastern culture.
Shenzhen is very foreigner friendly, and foreigners don't look too unusual in the city, unlike other areas of China where foreigners are less frequent and tend to attract attention and interest of many Chinese. English is not widely spoken, but English speaking staff can be found in many hotels, in particular, western hotels. The district of Shekou has always been a popular base for foreigners featuring many western style apartments and homes, many western restaurants, bars, and clubs.
All in all, particularly people from a western culture, Shenzhen is an easy place to adjust to. Most of the new shopping malls feel very western feel, featuring coffee shops, bakeries and relaxing al-fresco cafes. Clothes shopping remains difficult for many who may prefer western styles or brands, or need big sizes, but there are a few Foreign markets with large sizes and western styles.