What are the best five-star hotels in Shenzhen? Actually, there are so many to choose from, but unfortunately, five-star is a bit of a loose term in these parts and some so-called luxury hotels in the city are quite old, and others are nothing more than three-stars at best. Recently, I even came across a couple renting their apartment, Air BnB style, and marketing it as five-star alongside full-service hotels! My point? Everything in this part of the world needs an extra layer of qualification before signing on.
I already have a list of some of my favorite luxury hotels here but thought it would also be useful to add to that and have a list of the near-new modern luxury hotels. All of these are new within the last 6 years (a short time in hotel years) and are genuine luxury hotels all receiving high visitor reviews and ratings. As for rates, Shenzhen offers a lot of value with rates often drastically lower than that of nearby Hong Kong and especially in off-peak times, it's not hard to find an absolute bargain and experience a world-class luxury hotel for the price of a two-star in any other international city.
This is located near a newly developed area that will no doubt become of the worlds most talked about districts, namely Qianhai. Whilst they use "airport" in the name of this hotel when advertising it's in fact not near at all. BUT, it is located near the first metro station after the airport on the express line 11 making it easy to get to and from the airport and also to Futian CBD. You can connect to almost anywhere in the city very easily via metro from this hotel. It has everything you'd expect in a JW Marriott such as an indoor pool with a view and outdoor rooftop pool, jacuzzi, sauna, spa, two restaurants, and some rooms have nice bay views.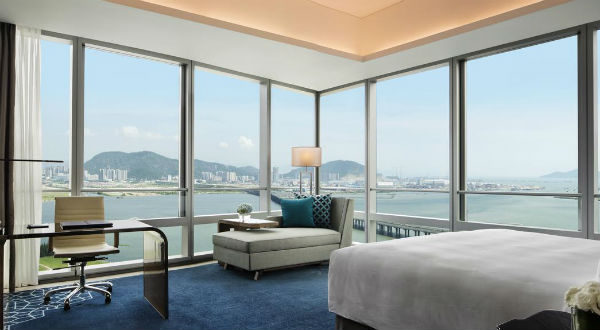 Located in the Futian CBD the hotel features a rooftop outdoor swimming pool with city view, gym, a Cantonese restaurant, all-day al carte, and buffet restaurant, a pastry shop, and a lounge bar. It's right beside Ganxia North metro station on line 2.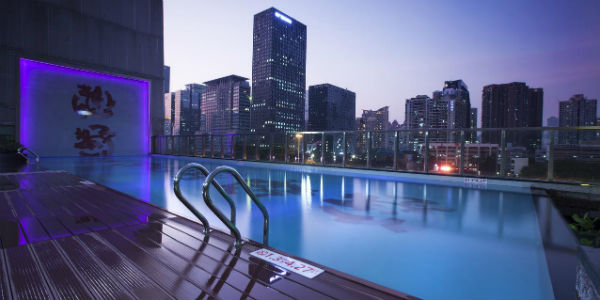 Do note that this hotel is located a long way out from the central city area. That aside, it is beside the Mission Hills Golf Course and Resort, and there are some attractions nearby including Guanlan Print Village. The ultra-modern hotel offers a rooftop pool, fitness centre, and three onsite restaurants.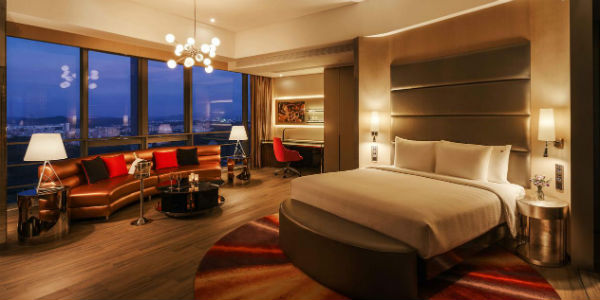 The Shekou area has recently gone through a major revitalization into a modern shopping, dining, and leisure area along with the nearby new cruise and ferry terminal. The metro is not far away as is the ferry terminal if you need to head to Hong Kong or Hong Kong International Airport. The hotel offers an outdoor pool and indoor pool, spa and wellness centre, gym, rooftop bar, and three restaurants.
Located in Shenzhen High-tech Industrial Park of Nanshan District the hotel offers gym and spa with a Korean style sauna. Shenda metro station of line 1 is not far away. The hotel misses out on having a pool but if that's not a concern then you'll probably find good value here especially if you have business to do in this precinct.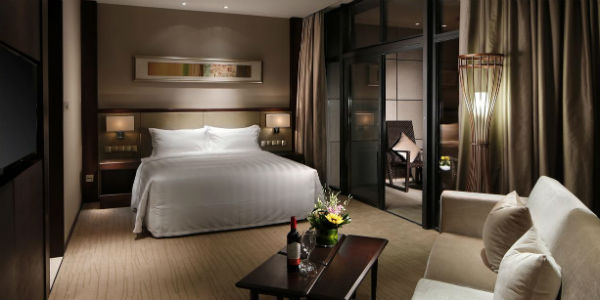 This hotel impressed me a lot when I first visited not long after it opened, superbly trained staff and a grand interior architecture design. The hotel also features an impressive rooftop pool and jacuzzi along with an indoor pool. It has a decent gym, spa, and steam & sauna. There are 9 different food & beverage options ranging from fine dining through to a chocolate bar. For features and amenities, this hotel is hard to beat.
To be honest, this hotel is a little inconvenient, it's not near a metro nor near any attractions or anything worth seeing with wandering distance. Secondly, there's no pool. It does have a gym and sauna plus the service is excellent. There are three restaurants and a bar onsite. If you don't mind using the taxi and shuttle service then this might be an OK option if the price is right on the day.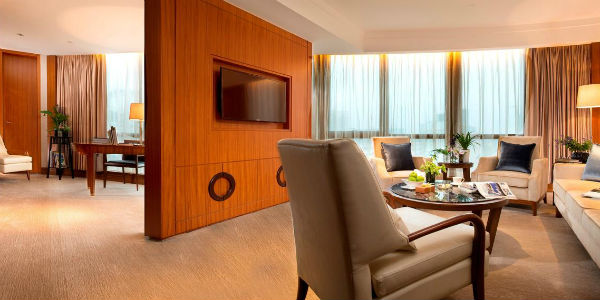 Located just a little north of the Huaqianbei electronics and shopping area the hotel is within walking distance to the metro and the abundant retail shopping and dining options in this area. The hotel features an indoor pool and large rooftop deck area with city views, spa, and gym. There are two restaurants onsite.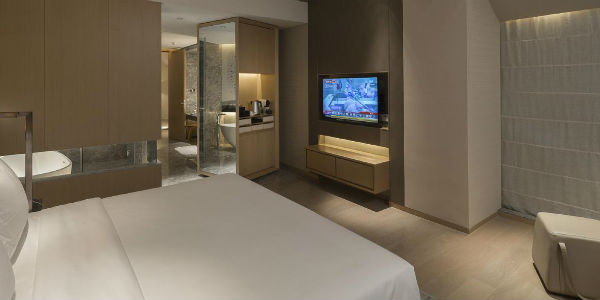 It is one of the nicest hotels in Shenzhen and has a prime location to boot being near to the Mix C shopping mall. The mall is one of the best in Shenzhen featuring the largest array of luxury brands along with offering a huge array of leisure and dining options. The hotel itself offers several highly acclaimed restaurants including Belle-Vue, the Show Kitchen, La Terrazza, 1881 restaurant, and China Lodge. Features also include an outdoor pool, gym, sauna, and spa.