There's choices for all budgets in Shenzhen, albeit more expensive than many other cities in China, prices range from 2500 RMB for a small and very basic studio apartment, right through to luxury penthouses in the tens of thousands.
As an example, a basic 2 bedroom 75 square meter furnished apartment, in a well managed complex with pool and garden can range from 4000 to 6000 RMB per month. There are also ex-pat friendly fully serviced apartments, and luxury apartments which can range from 10000 RMB and up.
Shenzhen is a modern city, so it's not too difficult to find a clean and comfortable place to call home. Like most of China the accommodation is apartment complexes which feature a cluster of hi-rises in a gated complex. Many in the mid to up market feature resort like facilities including gardens, gymnasiums and swimming pools.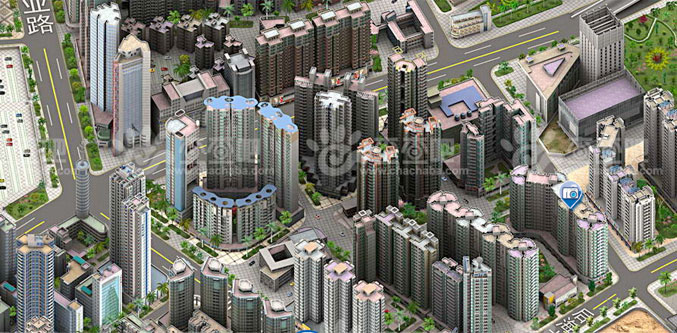 Image taken  from chachaba.com
Key considerations when choosing a property, not unlike anywhere else, would be: proximity to public transport, schools, supermarket, work, parks and gardens, air quality and noise levels.
Location is really one of the key considerations when choosing permanent accommodation in Shenzhen. If you like a home that is peaceful with fresh air, you may want to put some effort into finding a place that is not located alongside a major arterial, or next to a busy shopping street that's open all night.
Another key consideration is proximity to the transport network. More than likely you won't have a car, or even a licence, so public transport is something that you will likely be using a lot. Public buses cover most of the city but the metro is fast, convenient and living close to a metro station will likely make your life a lot easier, particularly if it's within easy walking distance.
A favoured destination for many foreigners is Shekou District. There's a well established range of shops and services tailored to western styles and tastes, including groceries, eateries, bars and entertainment. There is also several metro stations within the area plus parks and gardens. It's located along the coast so it's not hard to find an apartment with a sea view and there's several apartments located right on the waterfront. There's several international schools located in the area too, and a hospital.
If you like cooking at home you may find most apartments feature only simple, and sometimes really small, kitchens. Most kitchens would consist of some cupboards, a fridge, a microwave, an exhaust fan and a 2 burner gas stove top. Ovens are an extreme rarity. https://shenzhenshopper.com/living/renting-an-apartment-shenzhen https://shenzhenshopper.com/living/renting-an-apartment-shenzhen https://shenzhenshopper.com/living/renting-an-apartment-shenzhen https://shenzhenshopper.com/living/renting-an-apartment-shenzhenA seperate laundry is a rarity in small apartments, the washing machine usualy sits in the bathroom or on a balcony outside.
Most rental arrangements are done through an agent, and properties are usually not exclusive to a single agent. Once you find a good real estate agent he/she can help you find a place you like and do the deal with the owner.
Useful Sites:
A local English speaking agent: http://blog.sina.com.cn/rentshenzhen. The English language blog features real photos and real prices (a rare thing in China's property rental market…) of currently available rental properties in the Shekou and Nanshan areas and she can also locate properties in Louhu and Futian.
Shenzhen rental classifieds (Chinese sites):
note: on these type of classified web sites it's common practice for agents to list apartments for rent at extremely low prices, then when you call, 'that one has been taken' but they have another, it's a little more expensive! It's also common practice to re-use photos, so the pictures of the apartments will more than likely be of one they rented out in the past. Obviously you'll need to speak Chinese or use the services of a translator.
http://zu.sz.soufun.com/ [translate] – apartments from agents and owners
http://sz.ganji.com/fang1/ [translate]- also lists lots of apartments direct from the owner plus agent listings
Apartment complexes that are popular with expats include (all located in Shekou): Coastal Rose Garden, The Peninsula, Jingshan Villas, Garden City, Somerset Gardens, Fraser Place and Sunshine Rose Garden.