Taking a ferry to or from Shenzhen? Here is a guide to the two ferry ports and their destinations. As mentioned, Shenzhen has two ferry passenger ports, one being Fuyong Port near the airport and Shenzhen Shekou Ferry Terminal in Nanshan with the latter being the main passenger port.
Fuyong Port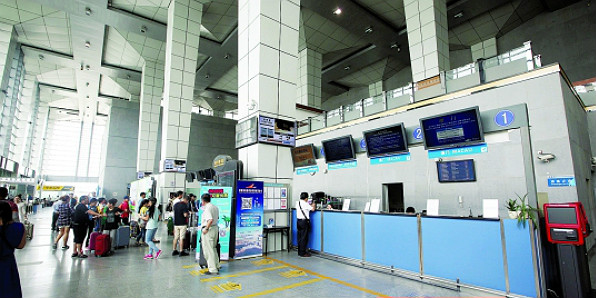 The Fuyong Ferry Terminal (深圳机场福永码头(轮渡站)) is located near to Shenzhen Bao'an International Airport with a free shuttle service operating between the two. At Shenzhen Airport, you can find the shuttle bus at Gate 3, Arrival Hall, Terminal A and Gate 6, Arrival Hall, Terminal B. You should arrive at the ferry terminal 30 min in advance and 1 hr in advance if traveling to HKIA.
Fuyong Port <> SkyPier, Hong Kong International Airport (HKIA) – http://www.cksp.com.hk
From Fuyong Port to HKIA – 08:35, 11:30, 15:30, 16:30 Ticket Fare: 360 HKD
From HKIA to Fuyong Port – 10:15, 14:30, 16:50, 20:00 Ticket Fare: 295 HKD
Fuyong Port <> Macau Maritime Terminal – https://www.turbojet.com.hk
From Fuyong Port: 09:00, 12:00, 15:00, 16:30 Ticket Fare: 245 HKD
From Macau Maritime Terminal: 10:30, 13:30, 16:30, 18:00 Ticket Fare: 245 HKD
Fuyong Port <> Zhongshan to Shenzhen by Ferry
There is a new service operating from Fuyong Ferry Terminal to Zhongshan which takes 45 minutes.
Zhongshan to Fuyong Port 08:00, 10:20, 14:00, and 17:00
Fuyong Port to Zhongshan 09:10, 12:30, 15:00, and 18:30
Shekou Ferry Terminal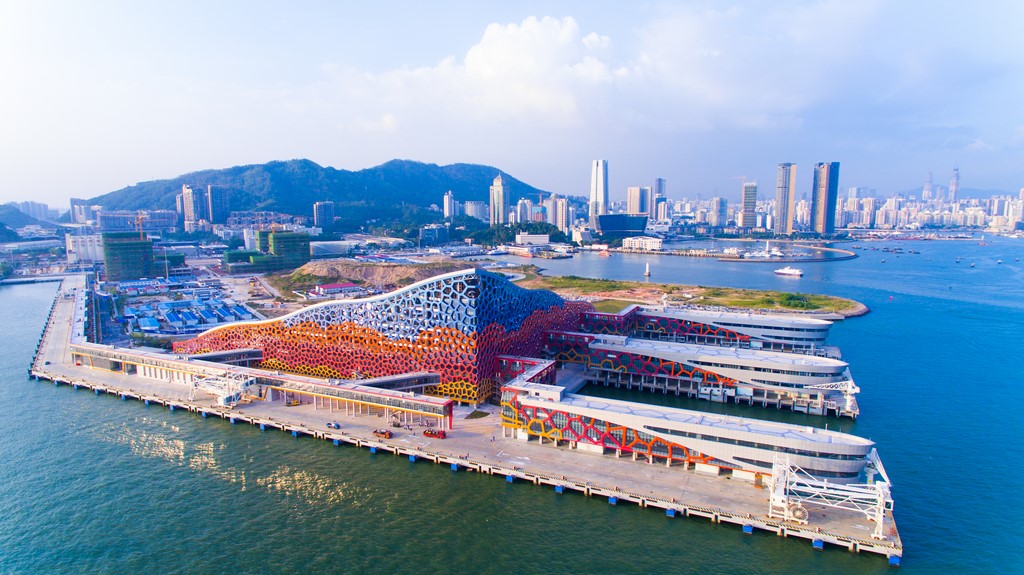 AKA Shenzhen Cruise Center ( 蛇口邮轮中心), also known as the Shenzhen Ferry Terminal ( 蛇口客运码头) and the Shenzhen Prince Bay Cruise Homeport, is the shiny new port taking over from old nearby Shekou Ferry Terminal.
It is set to become the Chinese mainlands major cruise ship port and is already been the home base for the 6-Star Siver Shadow belonging to Silversea Cruises and Star Virgo belonging to Genting Hong Kong and Star Cruises. Cruise packages are being offered to destinations including Japan, South Korea, Vietnam and short cruises to Hong Kong. Visit cmskchp.com/cruise for full details (unfortunately only in Chinese at the time of writing)
Ferry Services
The port also offers regular ferry services to Hong Kong, Macau and nearby mainland cities. These ferry services are operated by Xunlong Ferries, TurboJET and CKS Ferries.
Xunlong Ferries (https://www.cmskchp.com/transport) – services all destinations from Shekou cruise port and is the cheapest (by a small margin) unfortunately their website is only available in Chinese at this time. Their website also has information on cruises & cruise holidays departing from the port.
CKS Ferries (http://www.cksp.com.hk/en) – offers services between Shekou and Hong Kong-Macau Ferry Terminal in Central HK (Sheung Wan) and also to Skypier at Hong Kong Airport.
TurboJET (https://www.turbojet.com.hk/en/) – offers services between Shekou and Skypier at Hong Kong Airport and also operates a  service between Tuen Mun Ferry Terminal in Hong Kong and Shenzhen Airport.
For those departing via ferry to Hong Kong International Airport for a flight will find that there are several airlines that offer check-in facilities at the ferry terminal.
Getting to Shekou Ferry Terminal
Taxi – English Name: Shekou Cruise Center | Chinese: 蛇口邮轮中心 | Chinese (Pinyin): Shekou You Lun Zhong Xin
Bus – There are two buses that go into the new Shekou Ferry Terminal. These are K105 and 328, get off at the She Kou Dock | 蛇口码头 station.
Metro – Take Metro Line 2 (Shekou line) towards Chiwan and exit at Shekou Port station. Take exit C. Free shuttle buses shuttle buses connect the metro stop to the Cruise & Ferry Terminal running every ten minutes from 6:30 a.m. to 11:00 p.m, alternatively you can take a taxi, or it's about 600M walk.
Ferry Destinations from Shekou Ferry Terminal
Destination

Terminal Name
English (Chinese)

Service Schedule
From Shekou (To Shekou)

Duration
 

Hong Kong
Hong Kong–Macau Ferry Terminal (港澳碼頭)
0745-1915 (0900-2030)
50min
Hong Kong International Airport
Skypier (海天客運碼頭)
0745-2100 (0900-2145)
30min
Macau
Outer Harbour Ferry Terminal (外港客運碼頭)
0815-1930 (0945-2045)
1 hour
Macau
Taipa Temporary Ferry Terminal (氹仔臨時客運碼頭)
0930-1900 (1100-2030)
70min
Zhuhai
Zhuhai Jiuzhou Ferry Terminal (珠海港)
0730-2130 (0800-2130)
1 hour
Shekou Cruise Terminal and destination map
Routes and Ferry Timetables
Note: use these as a guide only, check for updates via the ferry company links further up the page. 
Shekou to Hong Kong Ferry Schedule
LEAVE SHEKOU
ARRIVE CENTRAL
Weekdays: 7:45
Weekends: 9:00
Weekdays: 8:45
Weekends: 10:00
10:15
11:15
12:00
 13:00
13:10
 14:10
14:15
 15:15
15:45
 15:45
16:45
 17:45
18:15
 19:15
Weekends: 19:15
Weekends: 20:15
From Hong Kong Central to Shekou Ferry Schedule
LEAVE CENTRAL
ARRIVE SHEKOU
Weekdays: 9:00
Weekends: 10:00
Weekdays: 10:00
Weekends: 11:00
11:30
12:30
13:15
14:15
14:20
 15:20
15:30
 16:30
17:00
 18:00
18:00
19:00
19:30
20:30
Weekends: 20:30
Weekends: 21:30
From Shekou to Skypier at Hong Kong International Airport (HKIA)
| | |
| --- | --- |
| LEAVE SHEKOU | ARRIVE HKIA |
| 7:45 |  8:15 |
| 8:45 |  9:15 |
| 10:00 |  10:30 |
| 11:15 |  11:45 |
|  12:15 |  12:45 |
|  13:30 |  14:00 |
|  14:30 |  15:00 |
|  15:30 |  16:00 |
|  16:30 |  17:00 |
|  17:30 |  18:00 |
|  18:30 |  19:00 |
|  19:30 |  20:00 |
|  20:15 |  20:45 |
|  21:00 |  21:30 |
Skypier at Hong Kong International Airport (HKIA) to Shekou Ferry Schedule
| | |
| --- | --- |
| LEAVE HKIA | ARRIVE SHEKOU |
| 9:00 | 9:30 |
| 9:50 | 10:20 |
| 11:00 | 11:30 |
| 12:30 | 13:00 |
| 13:30 | 14:00 |
| 14:30 | 15:00 |
| 15:30 | 16:00 |
| 16:30 | 17:00 |
| 17:30 | 18:00 |
| 18:30 | 19:00 |
| 19:30 | 20:00 |
| 20:30 | 21:00 |
| 21:20 | 21:50 |
| 21:45 | 22:15 |
Shekou to Macau (Taipa) Ferry Schedule
| | |
| --- | --- |
| LEAVE SHEKOU | ARRIVE MACAU |
| 9:15 | 10:15 |
| 11:00 | 12:00 |
| 12:15 | 13:15 |
| Weekends & Holidays: 13:00 | Weekends & Holidays: 14:00 |
| 14:00 | 15:00 |
| 16:00 | 17:00 |
| 17:00 | 18:00 |
| 19:00 | 20:00 |
| 21:00 | 22:00 |
Macau (Taipa) to Shekou Ferry Schedule
| | |
| --- | --- |
| LEAVE MACAU | ARRIVE SHEKOU |
| 8:30 | 9:30 |
| 10:45 | 11:45 |
| 12:30 | 13:30 |
| 14:00 | 15:00 |
| Weekends & Holidays: 14:30 | Weekends & Holidays: 15:30 |
| 15:30 | 16:30 |
| 17:30 | 18:30 |
| 18:30 | 19:30 |
| 20:30 | 21:30 |
Shekou to Macau (New Terminal)
| | |
| --- | --- |
| LEAVE SHEKOU | ARRIVE MACAU |
| 8:15 | 9:25 |
| 8:45 | 9:45 |
| 9:45 | 10:45 |
| 10:30 | 11:30 |
| 11:30 | 12:40 |
| 13:30 | 14:30 |
| 14:30 | 15:30 |
| 15:30 | 16:40 |
| 16:30 | 17:30 |
| 17:30 | 18:30 |
| Weekends Only: 18:00 | Weekends Only: 19:00 |
| 18:30 | 19:30 |
| 19:30 | 20:30 |
Macau (New Terminal) to Shekou
| | |
| --- | --- |
| LEAVE MACAU | ARRIVE SHEKOU |
| 9:45 | 10:55 |
| 10:15 | 11:15 |
| 11:15 | 12:15 |
| 12:00 | 13:00 |
| 13:15 | 14:25 |
| 15:15 | 16:15 |
| 16:00 | 17:00 |
| 17:00 | 18:10 |
| 18:00 | 19:00 |
| 19:00 | 20:00 |
| Weekends Only: 19:30 | 20:30 |
| 20:00 | 21:00 |
| 20:45 | 21:45 |
Shekou to Zhuhai Schedule
| | |
| --- | --- |
| LEAVE SHEKOU | ARRIVE ZHUHAI |
| 7:30 | 8:30 |
| 8:00 | 9:00 |
| 8:30 | 9:30 |
| 9:00 | 10:00 |
| 9:30 | 10:30 |
| 10:00 | 11:00 |
| 10:30 | 11:30 |
| 11:00 | 12:00 |
| 11:30 | 12:30 |
| 12:00 | 13:00 |
| 12:30 | 13:30 |
| 13:00 | 14:00 |
| 13:30 | 14:30 |
| 14:00 | 15:00 |
| 14:30 | 15:30 |
| 15:00 | 16:00 |
| 15:30 | 16:30 |
| 16:00 | 17:00 |
| 16:30 | 17:30 |
| 17:00 | 18:00 |
| 17:45 | 18:45 |
| 18:15 | 19:15 |
| 18:45 | 19:45 |
| 19:30 | 20:30 |
| 20:30 | 21:30 |
| Holidays & Day Before: 21:30 | Holidays & Day Before: 22:30 |
Zhuhai to Shekou Ferry Schedule
| | |
| --- | --- |
| LEAVE ZHUHAI | ARRIVE SHEKOU |
| 8:00 | 9:00 |
| 8:30 | 9:30 |
| 9:00 | 10:00 |
| 9:30 | 10:30 |
| 10:00 | 11:00 |
| 10:30 | 11:30 |
| 11:00 | 12:00 |
| 11:30 | 12:30 |
| 12:00 | 13:00 |
| 12:15 | 13:15 |
| 13:00 | 14:00 |
| 13:30 | 14:30 |
| 14:00 | 15:00 |
| 14:30 | 15:30 |
| 15:00 | 16:00 |
| 15:30 | 16:30 |
| 16:00 | 17:00 |
| 16:30 | 17:30 |
| 17:00 | 18:00 |
| 17:30 | 18:30 |
| 18:00 | 19:00 |
| 18:30 | 19:30 |
| 19:30 | 20:30 |
| 20:00 | 21:00 |
| 20:30 | 21:30 |
| 21:30 | 22:30 |