Using the metro is easily the best way to get around Shenzhen and this page is dedicated to helping you use Shenzhen Metro (深圳地铁) and get your way around the city.
2018 Shenzhen Metro Map 
Map includes the latest new lines and station names in Chinese & English – click for larger version
A quick overview of the lines
Line 1 (Luobao Line) – begins at the Luohu border and Shenzhen Railway Station, passing through Futian, Nanshan, Bao'an and terminating near the airport. It's likely that most visitors would use this line a lot as it passes through key districts and their CBD areas, and past major shopping malls/attractions.
Line 2 (Shekou Line) – from Shekou Port, past the Coastal City shopping area of Nanshan and through Futian Station to the northern side of Luohu.
Line 3 (Longgang Line) – this line begins at Yitian, Futian and runs up the outer edge of Futian CBD, passing Coco Park, through Futian Station, past Lianhushan, past Dongmen shopping area, Buji, Shenzhen East Railway Station and up to Longgang passing Dafen Oil Painting Village.
Line 4 (Longhua Line) – this is a central, near vertical line that connects Futian Port through the CBD and up to Shenzhen North Station and Longhua district.
Line 5 (Huanzhong Line) – this is a long line that does an arch over the top of the city connecting Bao'an, Longhua, Shenzhen North Station, Buji, Shenzhen East Railway Station, terminating at Luohu Huangbeiling.
Line 7 (Xili Line) – a zigzaggy line that connects Safari Park at Xili through to upper Nanshan, the lower Futian, then vertically up through Huaqiangbei, the across and up slightly through northern Luohu.
Line 9 (Meilin Line) – beginning at Mangrove Bay in Nanshan running along Shenzhen Bay then up and across the top of Futian then dropping back down and into Luohu.
Line 11 (Airport Line) – the express rail line from Shenzhen Bao'an International Airport to Futian Station.
Line 20 (Fuyong Line) – a new line that will initially connect the new International Convention and Exhibition Center and Shenzhen Bao'an International Airport. Eventually, it will be an intercity service connecting to Dongguan.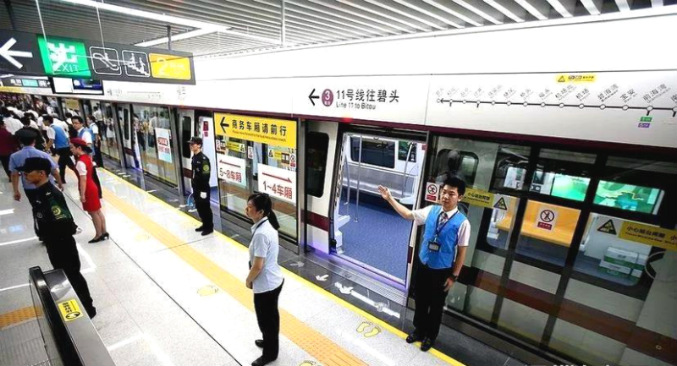 Fares
Metro ticket is charged by staged mileage, and common single ticket price = starting fare + mileage fare (step in the unit of 1 Yuan). The starting fare is 2 Yuan for 4km. Within the mileage fare from 4~12km, 1 Yuan for 4km; from 12~24km, 1 Yuan for 6km; over 24km, 1 Yuan for 8km.
Buying Tickets
Single Journey Tickets
Enter the station and you will see a row of machines similar to those pictured below where you can use the touch screen to choose your destination, enter coins or notes, and get a little disc which you swipe on going through the turnstile. Some machines accept notes but they must be in good condition. All machines accept 1 yuan coins, machines that accept notes take the 5 and 10 yuan notes.
New ticket machines are rolling out that offer the ability to purchase tickets via mobile using Wechat or Alipay. You simply select your destination and scan the QR code to pay. Of course, you need to have a balance on your Wechat or Alipay account.
New turnstiles are being rolled out that allow QR code scanning at the turnstile itself via Wechat APP or the Shenzhen Metro APP.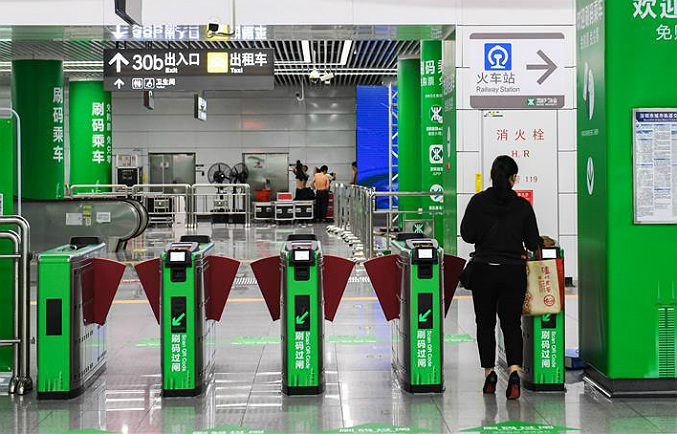 For most visitors, you may or may not have the Wechat APP, or find it easy to add money to Wechat which often requires the use of a local credit card or bank account. So, for an option that I find even easier than APP is having a Shenzhen Tong Card.
Shenzhen Tong Card
If you are going to be in Shenzhen for a period of time and be using the metro frequently it's a good idea to purchase a 'Shenzhen Tong' Card
With the card you can simply enter the station and swipe to go through the turnstile without the need to wait in line buying tickets or finding correct change for the ticket machine. You pay an initial refundable card fee and then top it up as you go. You can top it up at the customer service booth in the station, or via machines in the station.
You can purchase a Shenzhen Tong Card at any station on lines 3, 7, 9 and 11, and at the following stations on
line 1: Qiaocheng East Station, Bao'an Center Station
line 2: Grand Theater Station, Civic Center Station, Wanxia Station
line 5: Huangbeiling Station, Minzhi Station, Fanshen Station.
As a bonus, fares are also 5% cheaper using the card which can also be used on buses.
Luggage
You cannot take luggage or freight into the station that weighs more than 30kg or anything that has a length greater than 1.6m.
Luggage between 20kg and 30kg will require the purchase of an additional ticket.
Luggage/objects measuring 1.4m up to 1.6m will also require the purchase of an additional ticket.
Avoiding peak times
Peak transit times can see a really large passenger volume which, if you are not familiar with it, you may find it a little too much. During the work rush hours, you may experience long lines to board the train, possibly even having to wait until the next train to be able to board, and once onboard its shoulder to shoulder and sometimes a lot of squeezing to get off when you arrive at your station.
Once you have experienced it a few times, it becomes a normal part of daily life although first experiences can be a bit of an unpleasant shock.
You may find it easier to avoid the peak hours 7-9 am and 5-7 pm.
The Lines and Stations
Line 1 (Luobao Line)
Full Length: 25 miles (41 kilometers)
Station Number: 30
Stations: Luo Hu – Guo Mao – Lao Jie (Old Street) – Da Ju Yuan (Grand Theater) – Ke Xue Guan (Science Museum) – Hua Qiang Lu (Hua Qiang Road) – Gang Xia – Hui Zhan Zhong Xin (Convention and Exhibition Center) – Gou Wu Gong Yuan (Shopping Mall) – Xiang Mi Hu – Che Gong Miao – Zhu Zi Lin – Qiao Cheng Dong (OCT East) – Hua Qiao Cheng (OCT) – Shi Jie Zhi Chuang (Window of the World) – Bai Shi Zhou – Gao Xin Yuan (High-tech Park) – Shen Da – Tao Yuan – Da Xin – Li Yu Men – Qian Hai Wan – Xin An – Bao An Center – Bao Ti – Ping Zhou – Xi Xiang – Gu Xu – Hou Rui – Airport East
Line 2 (Shekou Line)
Full Length: 22 miles (36 kilometers)
Station Number: 29
Stations: Chi Wan – Shekou Port – Hai Shang Shi Jie (Sea World) – Shui Wan – Dong Jiao Tou – Wan Xia – Hai Yue – Deng Liang – Hou Hai – Ke Yuan – Hong Shu Wan – The Window of the World – Qiao Cheng North – Shen Kang – An Tuo Shan – Qiao Xiang – Xiang Mi – Xiang Mei North – Jing Tian – Lian Hua West – Fu Tian – Shi Min Zhong Xin (Civil Center) – Gang Xia North – Hua Qiang North – Yan Nan – Grand Theatre – Dong Men – Huang Bei Ling– Xin Xiu
Line 3 (Longgang Line)
Full Length: 25 miles (41 kilometers)
Station Number: 30
Stations: Shuang Long – Nan Lian – Long Cheng Square – Ji Xiang – Ai Lian – Da Yun (Universiade) – He Ao – Yong Hu – Heng Gang – Tang Keng – Liu Yue – Dan Zhu Tou – Da Fen – Mu Mian Wan – Bu Ji – Cao Pu – Shui Bei – Tian Bei – Cui Zhu – Shai Bu – Lao Jie – Hong Ling – Tong Xin Ling – Hua Xin – Lian Hua Cun – Shao Nian Gong – Fu Tian – Gou Wu Gong Yuan (Shopping Park) – Shi Xia – Yi Tian
Line 4 (Longhua Line)
Full Length: 13 miles (21 kilometers)
Station Number: 15
Stations: Fu Tian Checkpoint – Fu Min – Convention & Exhibition Center – Shi Min Zhong Xin – Shao Nian Gong (Children's Palace) – Lian Hua North – Shang Mei Lin – Min Le – Bai Shi Long – North Railway Station – Hong Shan – Shang Tang – Long Sheng – Long Hua – Qing Hu
Line 5 (Huanzhong Line)
Full Length: 25 miles (40 kilometers)
Station Number: 27
Stations: Qian Hai Wan – Lin Hai – Bao Hua – Bao An Center – Fan Shen – Ling Zhi – Hong Lang North – Xing Dong – Liu Xian Dong – Xi Li – Da Xue Cheng – Tang Lang – Chang Ling Pi – North Station – Min Zhi – Wu He – Ban Tian – Yang Mei – Shang Shui Jing – Xia Shui Jing – Changn Long – Bu Ji – Bai Ge Long – Bu Xin – Tai An – Yi Jing – Huang Bei
Line 7 (Xili Line)
Full Length: 19 miles (30 kilometers)
Station Number: 28
Stations: Xili Lake – Xili – Chaguang – Zhuguang – Longjing – Taoyuancun – Shenyun – Antuoshan – Nonglin – Chegongmiao – Shangsha – Shawei – Shixia – Huanggangcun – Fumin – Huanggang Checkpoint – Fulin – Chiwei – Huaqiang South – Huaqiang North – Huaxin – Huangmugang – Bagualing – Hongling North – Sungang – Honghu – Tianbei – Tai'an
Line 9 (Meilin Line)
Full Length: 15.5 miles (25 kilometers)
Station Number: 22
Stations: Hongshuwan South – Shenwan – Shenzhen Bay Park – Xiasha – Chegongmiao – Xiangmei – Jingtian –Meijing – Xiameilin – Meicun – Shangmeilin – Maling – Yinhu – Nigang – Hongling North – Yuanling – Hongling – Hongling South – Ludancun – Renmin South – Xiangxicun – Wenjin
Line 11 (Airport Line)
Full Length: 32 miles (52 kilometers)
Station Number: 18
Stations: Bitou – Songggang – Houting – Shajing – Ma'an Hill – Tangwei – Qiaotou – Fuyong – Airport North – Airport – Bihaiwan – Bao'an – Qianhaiwan – Nanshan – Houhai – Hongshuwan South – Chegongmiao – Futian
Line 20 (Fuyong Line)
Full Length: 5 miles (8 kilometers)
Open late 2018
Station Number: 6
Stations: Airport East – Airport North – Chongqing Road – International Convention and Exhibition Center South – International Convention and Exhibition Center North – International Convention Center
Useful Info
Chinese Name: 深圳地铁 (Shenzhen Metro)
Official Website: http://www.szmc.net
Journey Planner: http://www.szmc.net/page/eng/time_table.html