Shenzhen Railway Station (Chinese: 深圳站 Pinyin: Shenzhen Zhan), often referred to as Luohu Station is located on the Luohu border checkpoint on the mainland China/Hong Kong border. Primarily, it provides high-speed rail services to Guangzhou Railway Station and Guangzhou East Station.
Routes and Destinations available from Shenzhen Railway Station
The station is on the Guangzhou-Shenzhen Railway, Beijing-Kowloon Railway, and Kowloon-Canton Railway lines. The main service operated from this station is that running to Guangzhou and Guangzhou East via the modern and quick C series trains. Other trains are the older and slowly retiring K & T series trains. Prices are for a standard ticket, first class/soft sleeper is extra. Prices and timetables do change, so please confirm.
| Destination | Train | Travel Time | Schedule | Price (Yuan) |
| --- | --- | --- | --- | --- |
| Guangzhou | C7130, C7012, C7110, C7076…more | 1h 14m – 1h 22m | 72 departures daily from 06:12 to 22:40 | 79.5 |
| Beijing West | K106, Z108 | 22h 27m/ 29h 54m | 2 departures daily at 10:31 and 14:50 | 464.5 |
| Shanghai South | T212, T102 | 18h 50m/ 19h 4m | 2 departures daily at 13:08 and 16:02 | 420 |
| Xian | K446, K1348, Z230 | 23h 52m – 29h 20m | 3 departures daily between 07:45 to 09:30 | 444 |
| Hangzhou East | T212, T102 | 16h 31m/ 17h 11m | 2 departures daily at 13:08 and 16:02 | 393.5 |
| Qingdao | T398 at 07:35 | 27h 48m | 1 departure daily at 07:35 | 500.5 |
| Nanjing | K34 at 12:17 | 25h 46m | 1 departure daily at 12:17 | 420 |
| Changsha | K1348, Z230, K536, T96… more | 9h 22m – 10h 36m | 6 departures from 08:10 to 21:00 | 318 |
| Guilin North | K952 at 16:23 | 13h 30m | one at 16:23 | 237.5 |
| Wuhan | T1348, Z230, T96, Z24 | 12h 22m – 15h 13m | 3 departures daily from 08:10 to 18:03 | 341.5 |
| Hengyang | K1348, Z230, K536, K486… more | 7h 26m – 8h 37m | 9 departures daily from 08:10 to 21:40 | 280 |
Buying a ticket
If traveling to Guangzhou outside of peak holiday periods there is normally no need to buy a ticket in advance. There are several ticket offices at the station. You will need to show your passport to purchase the ticket.
At Shenzhen Railway Station
The Shenzhen Railway Station, Luohu border checkpoint, Luohu Metro Station, Luohu Commercial City, Luohu Coach Station all merge into one giant area here so the place is always busy, but, also very convenient. Above the railway station on the second floor, you'll find numerous fast food eateries including a KFC, and convenience stores.
The railway station terminal features three-storeys
3F: Ticket Office, Waiting Area, Maternity Waiting Room, Left Luggage Office
2F: Ticket Office, Passenger Information Center, Restaurant, ATM, Cafe
1F: Ticket Office, Supplementary Ticket Office, Luggage Consignment Office, Exit
-1F: Ticket Office, Metro station, Police Desk,  Exit
Across from the railway station, you won't be able to miss Luohu Commercial City (LCC) which offers several floors of toys, clothes, curious, gifts, jewelry, and more restaurants. It's actually one of the must-visit shopping destinations on a trip to Shenzhen, see here for a full guide to LCC.
Below the LCC you will find taxis, a McDonalds, and a coach station. In the East Square fronting the LCC you will find the public bus station. On the western side (over the tracks and on the other side of the railway station) you'll find West Square and more public buses, an airport bus line, and Qiaoshe Coach Station.
Getting to/from Shenzhen Railway Station
By Metro
Take line 1 to Luohu Station and you are there.
By Public Bus
East Square of Railway Station (火车站东广场): 1, 7, 12, 17, 25, 25 Section Line, 38, 82, 83, 97, 101, 102, 205, 215, 306, 306 section line, 352, 387, k538 Shajing line, k538 Songgang line, m401, n14, n15, n16, n18, n2, n4, n7
West Square of Railway Station (火车站西广场): 2, 8, 18, 28, 61, 207, 228, 309, 321, Airport Express 330, M3738, b842, Airport line.
By Taxi
From Dongmen shopping area/north Luohu CBD about 13 yuan and 10 minutes
From Futian CBD/Coco Park about 28 yuan and 20 minutes
From Nanshan CBD/Coastal City about 60 yuan and 40 minutes
By Intercity Coach/Long Distance Bus
Qiaoshe Passenger Transport Terminal (深圳侨社客运站) – www.qskyz.com –  is located on the western side of the railway station and operates 57 bus routes including:
Huadu, Zhuhai, Lecong, Conghua, Sanshui, Nanhai, Shunde, Heshan, Zhongshan, Sanxiang, Xiaolan, Wencun, Taishan, Xinhui, Kaiping, Enping; Dianbai, Maoming, Yangjiang, Zhanjiang, Xinyi, Pingshi, Wengyuan, Lechang, Shaoguan, Chenjiang, Danshui, Jilong, Pinghai, Huidong, Shanwei, Shantou, Puning, Chaozhou, Jieyang, Lufeng, Chenghai, Feng, Wuhua, Heyuan, Fuzhou, Xiamen, Quanzhou, Shishan, Jinjiang, Yongchun, Jinjing, Shishi, Zhangzhou, Lianjiang, Putian, Fujian, Nanning, Liuzhou, Guilin, Zhangzhou, Qinzhou, Beihai, and Guangxi Province.
Louhu Coach Station (罗湖汽车站) – is located under the LCC mall east of the railway station and offers long-distance bus routes to: Panyu, Yongchun, Foshan, Longyan, Zhanjiang, Kaiping, Zhongtang, Shishan/Nan'an, Jinjing, Shantou, Chendian, Leizhou, Chaoyang, Zhongshan, Jieyang, Changping, Dongpu, Guangzhou, Huizhou, Macau, Taishan, Shilong, Yangshan, Dalang, Heshan, Changan, Xiashan, Shiwan, Fuzhou, Huangpu, Zhaoqing, Tunxi, Xintang, Taiping, Quanzhou, Qingyuan, Haifeng, Jiangmen, Jiedong, Zengcheng, Qingxi, Chaozhou, Xiamen, Yunfu, Dongguan, Daya Bay, Lianzhou, Tangxia, Raoping
Around Shenzhen Railway Station
This is a very central area and just a short walk away, or metro ride, from the CBD area of Luohu.
Dongmen shopping area – fashion – take line 1 to Laojie Station (老街) more here
King Glory Plaza and Tianhong – retail shopping, leisure, dining – take line 1 one station to Guomao Station (国贸) more here
Massage and Spa – Luohu has an endless number of leisure centers which consist of steam, sauna, lobby lounge and massage. At the carpark of Luohu Port Building, you will find numerous free shuttle services to a number of them.
More shopping, see here for an overview of things to do in Luohu
Best Places to Stay near Shenzhen Railway Station
Shangri-La Luohu – 5 Star – located right at the Luohu border with easy access to the line 1 metro, and Shenzhen Railway Station which can take you onwards to Guangzhou and beyond.
Hyatt Place – 4 star – located near the Dongmen shopping area of Luohu, this hotel is right on top of the Laojie Metro station on line 1.
Shenzhen Luohu Railway Station Hotel – 4 star – Located tight on the Luohu border, at the railway station so you have very convenient access to the line 1 metro, the Shenzhen Railway Station, and Luohu Commercial City for shopping.
Shenzhen Luohu Century Plaza Hotel – 4 star – located near Guomao Metro station (few minutes walk) which is one station away from the border.
Map
Note: Google Maps is a mess in this area, so here is more accurate map highlighting the places mentioned earlier.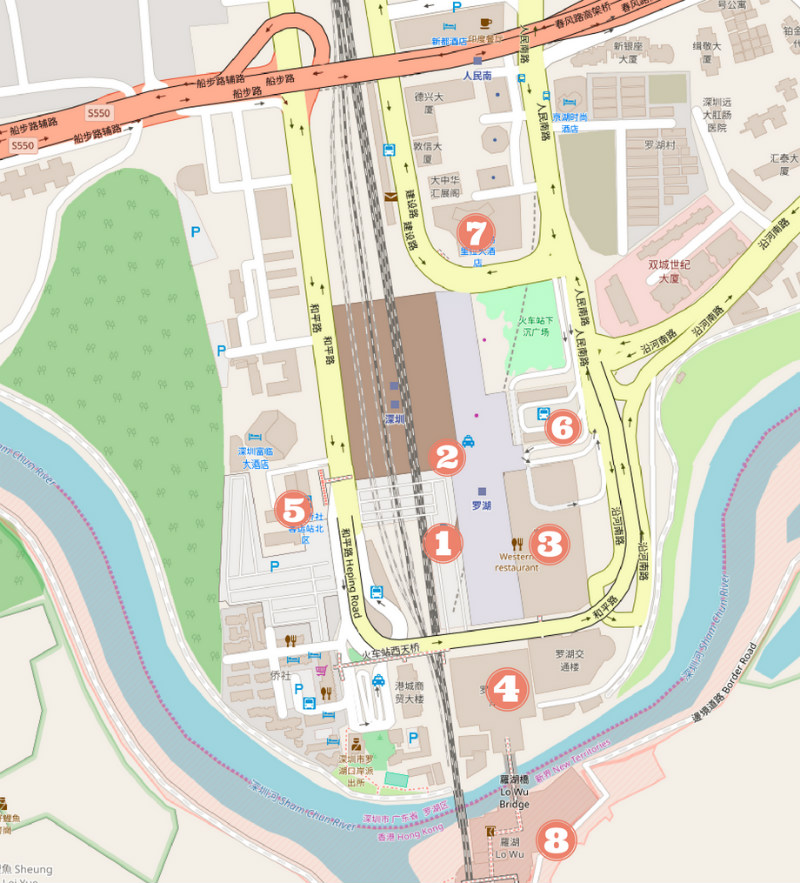 1. Shenzhen Railway Station 2. Shenzhen Luohu Railway Station Hotel 3. LCC & Luohu Coach Station 4. Port and Border Checkpoint 5. West Square and Qiaoshe Passenger Station 6. East Square 7. Shangri La Hotel 8. Hong Kong – Lo Wu