Taxis are everywhere in Shenzhen and you will notice that city taxis are red, outer districts taxis are green, and electric and special taxis are blue. But note, that's changing with the transfer over to a full electric fleet of taxis that will also have no limits on the areas they can operate in.
To identify an available taxi, look for the round red light on the passenger side of the front windscreen, not the light on the roof, which will be lit red when they are empty and available. Simply hold your hand out, wave to flag them down. Few speak English so have your address written down or show them a map.
The fare starts at 10RMB which includes 3km, and then it is 2.4 RMB for every km after, there is also a 3RMB fuel surcharge which isn't shown on the meter. Green taxis that service the outer suburbs are slightly cheaper and eTaxis don't charge the fuel fee.
Hot Tip: Always get your receipt, near the meter a machine will print out a small receipt ticket, ask for it. If you forget something, the company can easily track and locate the driver.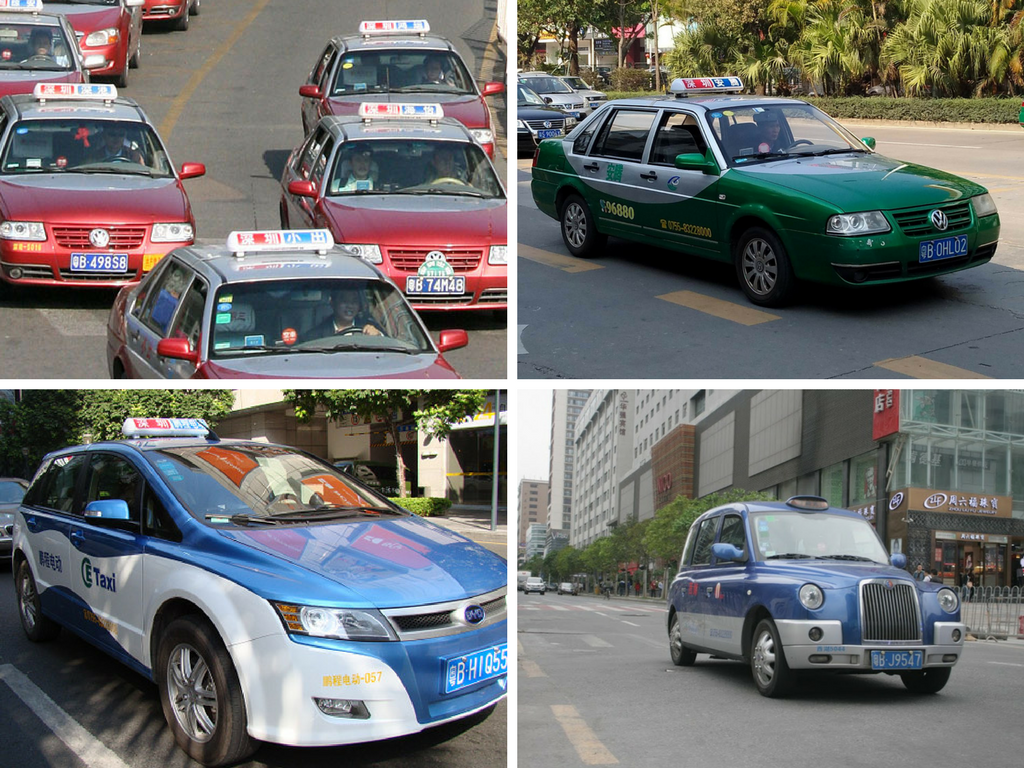 Red and silver taxis, along with eTaxis (blue and white) and TX4's (London style cabs for disabled) service the entire city whereas green taxis only service the suburbs.
Example fares from Luoho Border – Shenzhen Railway Station
To Dongmen Market would take around 11 minutes and cost 13 RMB
To Huaqiangbei Electronics area would take around 20 minutes and cost 27 RMB
To Futian CBD would take around 23 minutes and cost 29 RMB
To Nanshan Window of the World/Happy Valley would take around 35 minutes and cost 60 RMB
Example fares from  Shenzhen Bao'an International Airport to:
To Shenzhen Railway Station/Luohu Border/Dongmen (Luohu District): CNY110-120;
To Shenzhen North Railway Station (upper Bao'an): CNY80-100;
To Shekou Ferry Terminal (Shekou District): CNY80-90;
To Holiday Plaza/Window of the World/Happy Valley (Nanshan District): CNY60-80;
To OCT East/Dameisha/Xiaomeisha (Yantian District): CNY200-230.
The Taxi Hotline is 96880.
Hot Tip: unless you're comfortable with long waits for a taxi, or cramming on to very packed trains and buses, it's best to plan and avoid needing to use public transport during peak times. I try to avoid the times between 8 am and 9 am, 5 pm – 7 pm.
Ride Hailing APPs
Uber operates in Shenzhen and its local competitor is just as popular, Didi Chuxing
Uber APP – Google Play – iStore
Didi Chuxing APP – Google Play – iStore