Yangmeikeng is a popular seaside tourism destination on Shenzhen's Dapeng Peninsula. It is known as the most beautiful valley in Shenzhen. Because it is far from the city, there is not much development, and it is still a place of casual leisure. This is a great place to go cycling, and you can meet friends for barbecues and seafood.
At Yangmeikeng the sea water is much clearer than Dameisha and Xiaomeisha, however, there are no sandy beaches with the coastline being mostly stones and rockface.
The best thing about Yangmeikeng is that there is a bicycle riding belt close to the sea. On one side of the road is the mountain and the other offering uninterrupted views of the sea. There is also a stream and a small lake. It should be the most romantic coastal leisure belt in Shenzhen.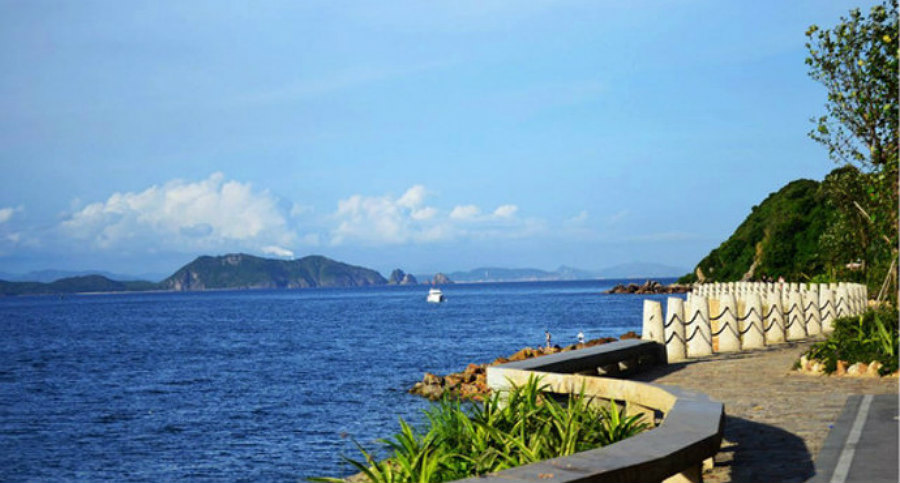 It is very comfortable to ride a bicycle by the sea, especially for couples who can rent a tandem bicycle. All the way to the cliff at the end of Luzui Villa, here is the easternmost point of the Shenzhen coastline. You can go to the hillside to take a photo and have a good view. If it is late in the evening, the sunset is beautiful. Bicycle rental shops line either side of the street and you can browse them until you find a bike that suits you. Do inspect them closely and have a test ride before heading off, some older bikes are a little dodgy but most are fine and some quite new.
Because of the unique romantic atmosphere here, many couples in Shenzhen will choose this place as a location for wedding photos. When playing in Yangmeikeng, I often see a pair of couples taking wedding photos here, which has become a scene of Yangmeikeng.
Barbecue is also one of the main items that many people come to in Yangmeikeng. In addition, Yangmeikeng also has many farmhouses and restaurants, which can eat seafood, kiln chicken, and homemade vegetables. It tastes good and affordable.
Chinese Name: 杨梅坑
Address: Near Daya Bay, Dakeng Village, Dapeng Subdistrict, Longgang District ( 龙岗区大鹏街道大坑村麻角山大亚湾畔 )
Getting There: 360, 364 to Nan'ao, and transfer to a minibus to Yangmeikeng. Or take the M274 to Yangmeikeng Station. Or, first go to Dapeng New District and get on Holiday Line 3 bus, get off at Yangmeikeng Station. More routes here http://j.map.baidu.com/AhLuG
Map