If you are looking to furnish your home in Shenzhen the here is an area well worth a visit. But not just that, if you are in Shenzhen for a while it's also somewhere worthy of a visit to fill in a few hours, as there's also a sports store, with outdoor half courts for basketball, a couple of restaurants, a hardware store and a western supermarket.
Let me give you a warning, this place gets busy on weekends and being a little out of the way, transport in or out is only via public bus, taxi or your own private car. It's not within walking distance to anywhere. More about how to get there later.
Within Shenzhen's Europe City (or Europe Town depending on your translation) there are four western stores including IKEA, Decathlon, BQ and Metro.
IKEA is a two floor warehouse of all things IKEA from which you could quite easily exclusively furnish an empty home. Bedroom, Bathroom, Kitchen, lounge room it's got everything you'd want, assuming you like IKEA style. They also offer home delivery and assembly. An interesting, and popular, feature of the IKEA store is it's restaurant located on the second floor which serves up a mix of tasty European and Chinese dishes at quite reasonable prices. On the lower floor after you exit the cash registers there's a small stall selling cheap ice cream cones and hot dogs. There's also another stall selling European treats such as biscuits, chocolates, wine and more.  http://www.ikea.com/cn/en/store/shenzhen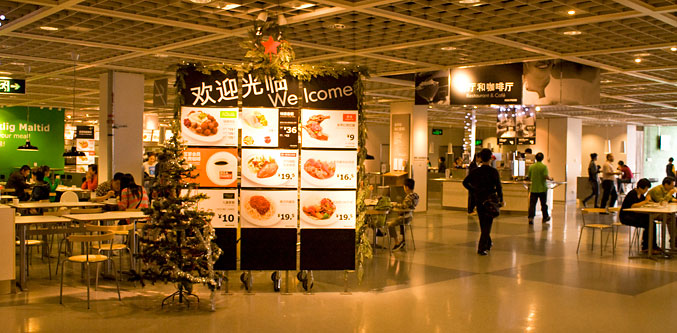 At Decathlon, the French sporting goods retailer, you can find a massive array of everything related to sports and fitness. Their range includes clothing and sporting/fitness equipment for everything from golf, football, diving, tennis, squash, fishing gear, and more.  http://www.decathlon.com.cn/ (Chinese)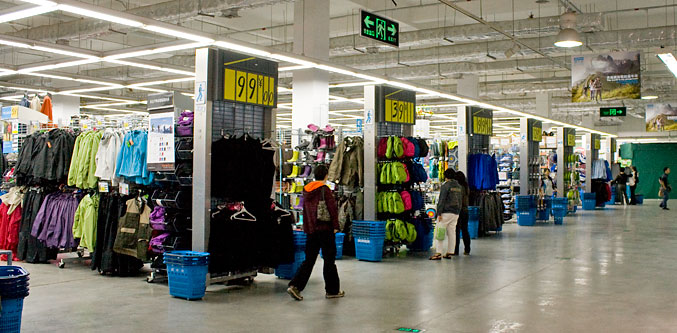 At B&Q, the British retailer, is almost your traditional hardware store featuring glues and screws, home improvement materials, doors, wood, lights, tiles and such.  http://www.bnq.com.cn/ (Chinese)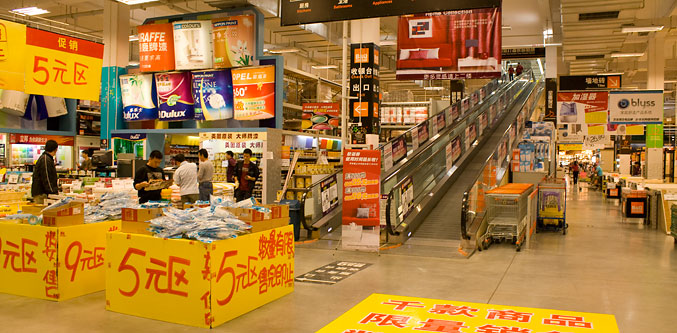 At Metro, the German supermarket chain, you can find a huge range of imported and quality local products. Their range is diverse including some clothes lines, white goods, home electrical including toaster ovens through to TV's, then through to your usual supermarket lines. In their food range you can find imported cheeses and meats such as salami which are also avaialable in bulk.
One peculiar thing worth noting about Metro is the need for a Metro membership card to gain entry. When you walk to through the front door there's a turnstile where you must show or swipe your card. On the day, the guard directed us to the nearby reception where, being a foreigner, I was given a paper slip to gain entry. http://www.metro.com.cn
 Address: No. 255 Shahe East Road , Shenzhen Nanshan District, 518055
Getting there:  From Window of the World there is a orange B681 bus that takes you to IKEA, the bus is fixed price, just drop 2.5RMB (from memory) into the box as you board the bus, or use your Shenzhen Tong (transport card). It drops off right at the main entry to the area, so no need to worry about which stop.
Other buses such as 26,54, 66, 43, 58 an b683 stop at the bus tops on Shahe East Rd, a short 2-3 minute walk away.
Taxis can be few and far between, especially when the place gets busy on weekends.
Map