OCT Bay – Shenzhens Premiere Shopping and Leisure Destination
OCT Harbour/Bay is a new development that is set to become one of Shenzhens top destinations for leisure, dining and shopping. Actually, I think it probably has the potential to build a reputation well beyond Shenzhen considering the level of investment. It's also on my list of must see places on a Shenzhen trip.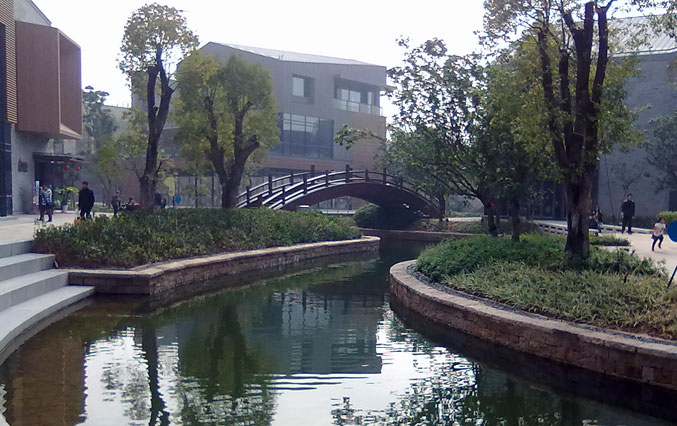 OCT Bay is located in Nanshan District of Shenzhen close to the well known Window of the World theme park and the several other attractions that feature in this area which include Happy Valley, Splendid China and Holiday Plaza. The OCT Bay development covers a staggering 1.25million sqm and features a a large shopping mall, a lake, a beach, canal, restaurants, bars and leisure activities.
The place is a pleasure to walk around, one because it's so new and clean, two because of thoughtful design that merges modernity with traditional styles. The area features beautifully wide pedestrian only walking paths that weave it's way past the shopping mall, exhibition centre, bars and restaurants, leading down to the IMAX cinema, the water show and the beach.
The restaurants in the area include South Beauty, Le Maris, Shanghai Min, Trattoria Da Angelo, Old House, Kyoku Tepanyaki and many more, which are positioned either beside the lake or alongside the canal making for a very peaceful. It's especially peaceful also due to the fact that there are no views of traffic, or the everyday hustle and bustle, just peaceful waters and people strolling the pedestrian paths.  It really is an oasis in the middle of an urban jungle.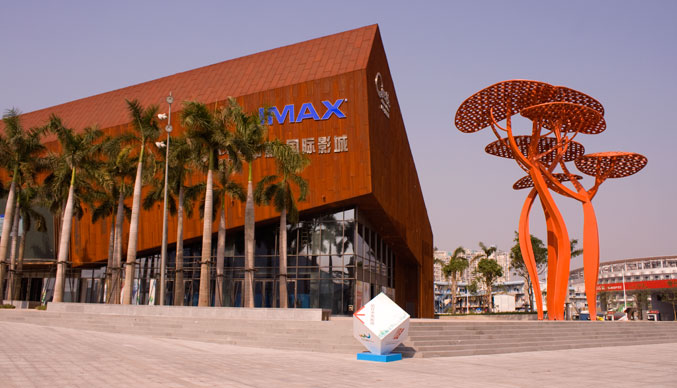 They hold a nightly water show nearby to the beach, OCT Bay Water Show Theatre, which I haven't been to yet as I reluctant to stump up for what seems to be quite a pricey show at 100+RMB. Perhaps eventually once everything is in full swing they will reduce that price to make it a draw card for the area or maybe I need to bite the bullet and see, I might be surprised.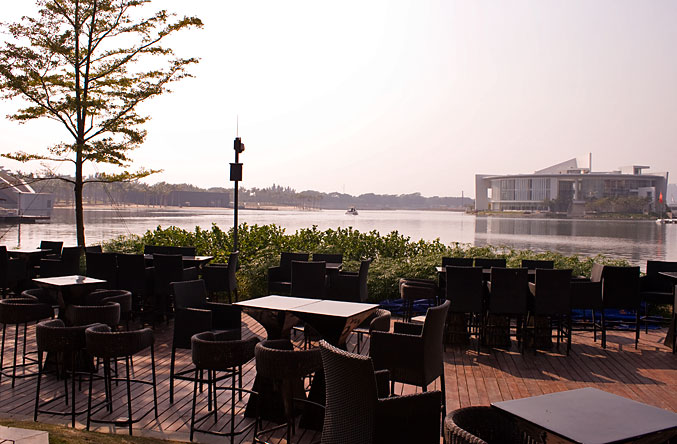 The man made beach, Coco Beach, looks fantastic, as do the views across the water from a couple of bars at the lakes edge. I could imagine the views from the OCT Hua Club being quite relaxing and enjoyable too.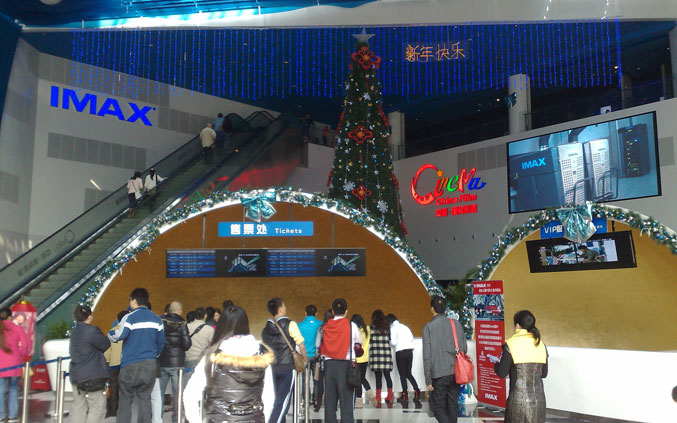 There also Shenzhen's second IMAX theatre here, the China Film International Movie Cinema, which looks impressive, plus, there is China's very first drive through McDonalds which I'm sure is a bit of a novelty for many of China's motoring public.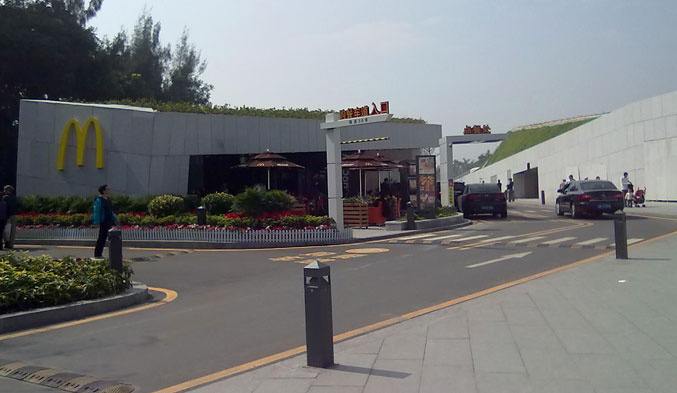 The area is certainly aimed at the upmarket diner and shopper but it's very open to everyone and quite a relaxing place to just hang out and escape from the hustle and bustle.
Note this an early review as many of the shops are still yet to open along with the large shopping mall, regardless many of the restaurants are open along with the cinema so it's a still well worth the time to visit in these early days of opening.
The shopping mall, OCT Harbour Happy Mall is expected to open this year and will also feature a business centre and the Dream Aquarium. In total the mall will offer 80,000 sqm of retail, dining and leisure space.
There a major tourist information center near the IMAX and there is also the Bay Breeze Hotel which is a resort aimed at the upper market. The development will also feature Marriot Executive Apartments with 155 guest rooms.
Across from the OCT Harbour is OCT Wetland, have not been in there yet but looks like an interesting eco-park, more to come later.
Getting there: From the bus stop out the front of Holiday Plaza (across from Window of the World) take the B603 bus, which is one of the small orange buses which have a fixed price, so there's no need to tell a conductor which stop. As for what stop to get off, it's the one after 'Binhai Hospital' being 'Whitehead Road East'. There is also a bus stop on Binhai Avenue.
Address:  OCT Bay, 8 East Baishi Road, Nanshan District, Shenzhen, China – 中国深圳南山区白石东路8号欢乐海岸
Website: http://www.octbay.com
Map
Share Your Thoughts...
Have you been here? Please share your experience, suggestions, or any updates