If you are looking for just about anything that goes in the office, then this is the place for you. It's spread out over several multi-level buildings and it's also a great place to find toys including stuffed animals, light sports gear and some hobby stuff.
The buildings are packed with independantly run stalls, that are usually only a couple of meters wide and a little more than a few meters deep. Don't worry about the size, because they are jam packed with all kinds of stationary products that you could imagine, pens, pencils, paper, folders and all those types of consumables. There's also many stalls/shops with printers, some copiers (Huaqiangbei may be the better choice for electricals though..), safes, shredders, fax machines, franking machines etc.
There's a few stores selling hobby stuff, like paints, canvas, glues and the like. And there are  several stalls selling decorations.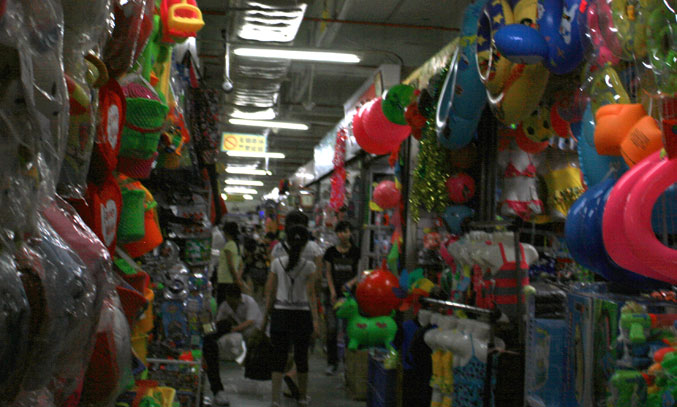 Sungang Wholesale Stationery Market is spread across two multi-level buildings and the Toy Market building is right beside it. It's also just around the corner from Sungang Arts and Crafts City, and there is also several furniture stores nearby and a wholesale clothes market (have not been inside that one yet) a little further north up Baoan Road.
Price: low and don't be afraid to haggle where required.
How to get there: The nearest metro station is either Hongling on line 3 or Grand Theatre or Laojie Station on line 2. From either you'll need to take a 5 minute taxi ride.
Address: 3 Baoan North Road, Louhu – 笋崗文具玩具批發市場 – 寶安北路3號
Map