As one of the top shopping destinations in Shenzhen, Huaqiangbei Commercial Street is renowned for its electronics markets, but it also has plenty to offer those looking for men's and women's fashion.
The shopping area starts where Huaqiang North Road (aka Huaqiang Bei Lu) intersects with Shennan Middle Road and then all the way north through to Hongli Road. The side streets and the streets running parallel on either side of Huaqiangbei North Road are also full of life too, making this an incredibly large shopping destination for wholesale electronics and components plus retail shopping.
The area is reported as being the largest electronics market in China, and possibly one of the largest in the world, which stands to reason as Shenzhen is a major producer of electronics goods, and it's a city where many big brand tech gadgets are produced.
There are over 20 shopping malls located in the Huaqiangbei area which provides about 70 million square meters of business area. Annual sales reaching over 20 billion, and there's something like 130,000 people employed in the area. Yep, it's large.
For the first time visitor, it can be almost overwhelming, with so much spread over such a huge area where do you start? So, let's try to break it down a little.
Electronics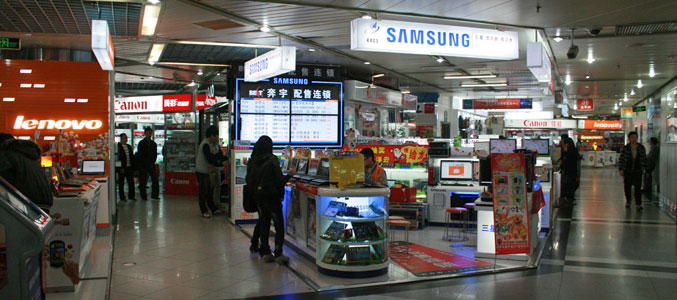 The big malls for electronics and gadgets include:
SEG Electronic Market– 10 floors including cables, tools, electronic parts, PC's, laptops, GPS and all types of gadgets. Also has a new section for wearables inc. fitness trackers and smart watches.
Huaqiang Electronic World – several multi-floor buildings, including parts (new and used), electronics repairs, tools, chips, LED, cables, and more consumer electronics.
Yuanwang Digital Mall – mobile cell phones, computers, gadgets, iPhone & iPad cases, and accessories. There are also several stores around here selling drones, and one dedicated to DJI drones and accessories with attractive prices on my last visit. Toy quadcopters are everywhere.
Cyber Digital Mall – cameras, brand name electronic gadgets
Golconda Cyber Plaza – mostly locally produced mobiles plus gadgets.
SED Electronic Communication Market – smartphones and android tablets, lots of iPad cases. Wholesale and retail sales.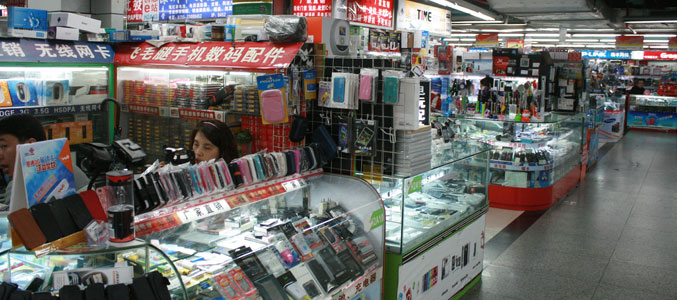 Plus many many more including the chain store electronics retailers Gome and Sunning which have several outlets in the area.
Clothes and Fashion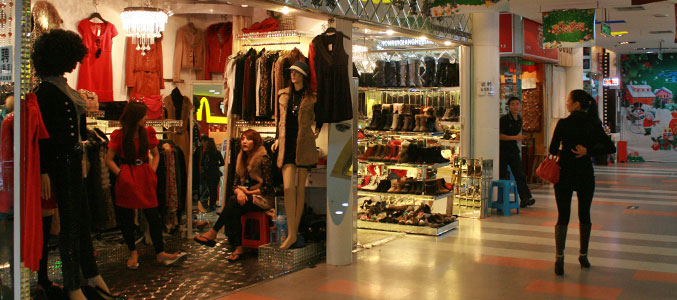 Womens World – multi floor mall packed with independent stores selling bags, jewelry, beauty care, accessories, and women's fashion.
Fuming Foreign Trade Clothing Market – men's and women's fashion plus some curious.
Carnival Clothing City at Huaqiangbei – lots of copy/seconds name brand clothes, haggle for a great deal. I kinda like this place, on one visit I picked up a pair of Nike airwalks for 100RMB and they are still going strong.
NICO Women's Department Store – multi-floor mall packed with independent stores selling bags, accessories, and women's fashion.
Children's World – some toys but mostly children's clothes.
MAOYE Department Store – Men's and Women's Fashion, accessories, beauty products. Retail department store that is popular with locals.
Huaqiang North Metro Commercial Street – opened 07/2018 this underground commercial street connects 4 subway lines and three subway stations being Huaxin, Huaqiang North, and Huaqiang Road stations. In the underground mall, you can find food and beverage, fashion department stores and other formats.
Jewelry
Duty-free Group jewelry store – cnr of Zhenhua and Huaqiang Bei Lu, I'm not sure if it's cheap or not, you can decide 🙂
Shenzhen Watch Market & Clock Market – Zhenxing Road
Eating
You won't go hungry at Huaqiangbei either as there's plenty of options including the popular western chains like KFC, McDonald's, Burger King, Pizza Hut, Starbucks, many local restaurants, there is a buffet lunch and dinner at the Difu Hotel, and there are loads of street stalls with local fare. If you like Hong Kong Tea restaurants there is a Cafe De Coral near the crossroad of Zhenzong Rd. and Huaqiang North Rd. Looking for something a little healthier with WiFi and relaxed seating, try Ajisen Ramen, the Japanese noodle chain, located one floor above Burger King.
Accommodation and Hotels
For accommodation, it is hard to beat Huaqiang Plaza Hotel as it has a prime location and it's quite comfortable. Also, see my list of the top 15 hotels at Huaqiangbei.
Should I buy in Hong Kong or Shenzhen?
That's a question that gets asked a lot. To put it very simply, buy brand name electronics in Hong Kong and everything else in Shenzhen. Laptops and PC equipment will not only be cheaper in HK, also you will get English software and material, as an example, most PC's and Laptops running Windows are locked to Chinese language and you need to pay to upgrade and install language packs. Just buy it in HK.
Getting There
Subway: The subway makes it easy, just get off the metro line 1 (Luobao Line) at Huaqiang Lu Station and wander out exit A then walk straight ahead and you'll be at Huaqiang Bei Lu. Can also take the Shekou line and get off at Huaqiang North station.
Bus Station: 上海宾馆东 (Shanghai Hotel East station) – Buses from this station: 4,95,101,203,204,212,335,K113,K204,N5
Taxi: 赛格电子市场 (SEG Electronics market in Chinese)
Map – featuring hotels surrounding the Huaqiangbei electronics market area. More about hotels and accommodation here
Street Map showing building names in the Huagiangbei area (click image for larger version):