Located directly across from the Shenzhen Convention center, Wongtee Plaza is actually in the magical center line that runs from Linhuashan Park, where the statue of Deng Xiaoping stands, through the library, the government offices, and the convention center.
Wongtee Plaza is built on an area of 42,000 sqm and it's six floors will give it a total space of over 100,000 sqm. It's another addition to Futian districts growing number of shopping malls.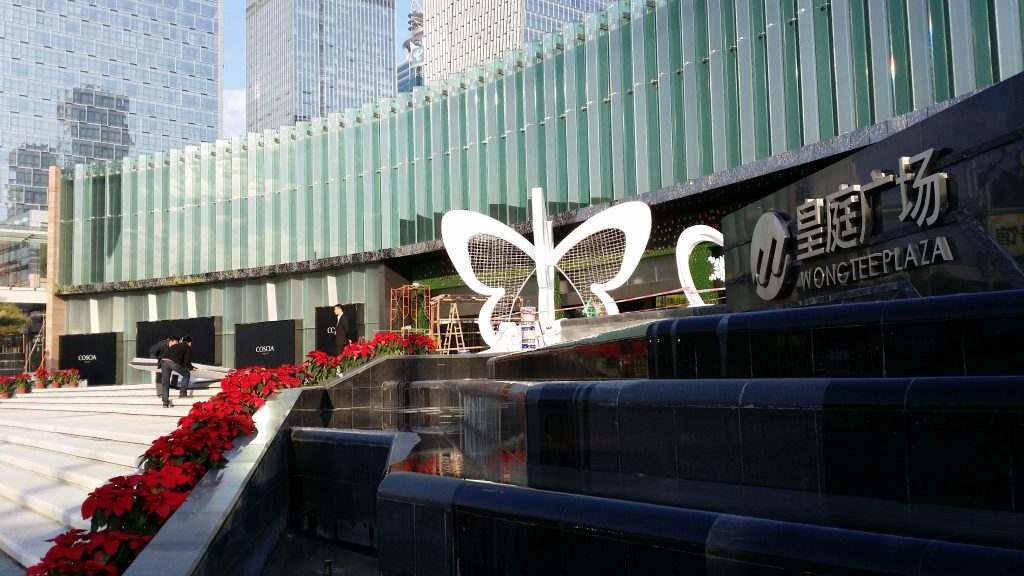 Retail stores include Timberland, ASICS, Microsoft, H&M, Sephora, Anteprima, Diesel, Coscia, Vero Moda, Basic House, Teenie Weenie, G2000 to name some.
On B1 level you'll find lots of casual eateries, a deli on the 1st floor, and a Gaga cafe on the 2nd floor. Element Fresh has a store here, as does Starbucks and Lavazza. There is also a Bona cinema.
Official website: http://www.wongteeplaza.com
Address: Fuhua 3rd Rd, Futian CBD
Chinese Name: 皇庭广场
Geeting there: Convention and Exhibition Center Station on line 1 or 4 and take exit C.
Map
Also See: The Top 13 Hotels in Futian CBD, Shenzhen