Shenzhen is going through an architectural boom and you needn't look anywhere but up for examples with skyscraper developments surging.
This list will feature Shenzhen's current and future skyscrapers. As a side note, CUBTH (Council on Tall Buildings and Urban Habitat) classifies skyscrapers as such Tall Buildings (under 300m), Supertall (above 300m), and Megatall (above 600m).
The current star of the show and the tallest building in Shenzhen is the recently completed Ping An Financial Tower at 599.1 meters. It's 115 stories and classed as a "megatall" skyscraper and the fourth tallest building in the world. There is a sky lobby on the 51st floor and the 115th floor will feature an observation deck.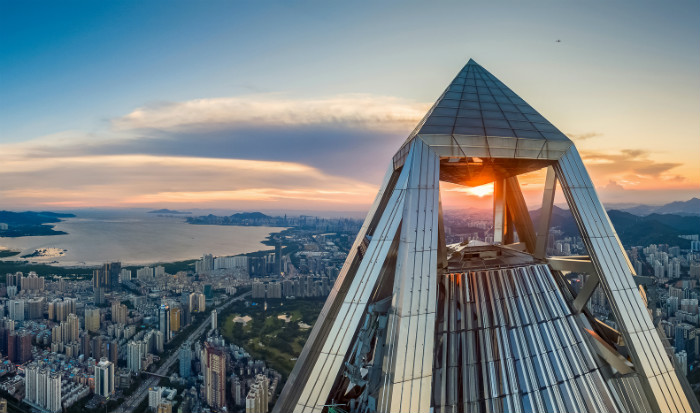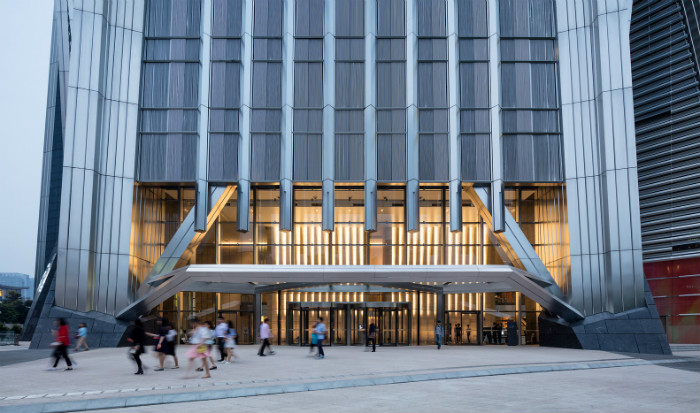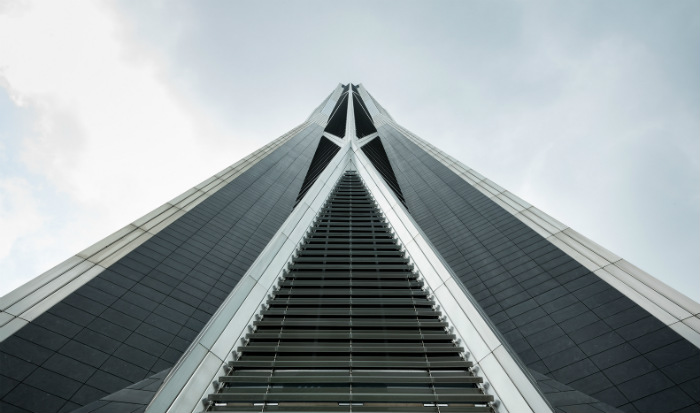 The Future: Proposed Skyscrapers in Shenzhen
Shimao Shenzhen-Hong Kong International Centre – 668m
Address: Longgang District
Shenzhen Tower – 610m
Address: Dajuyuan North Street, Luohu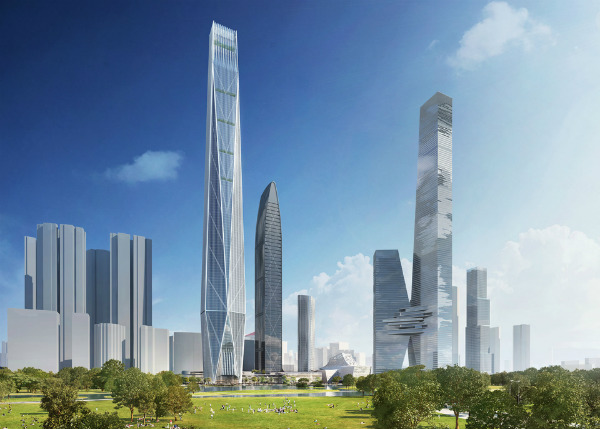 Nexus Tower – 595m
Address: Hongling South Road, Luohu
Citimark Financial Center Phase 1 – 520m
Address: Sungang Road, Luohu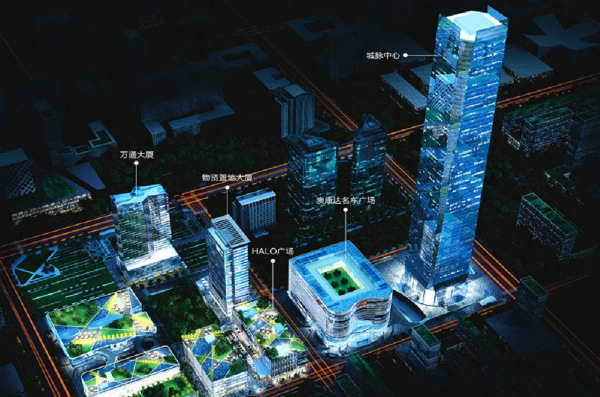 Chuntian Tower – 370m
Address: Longgang District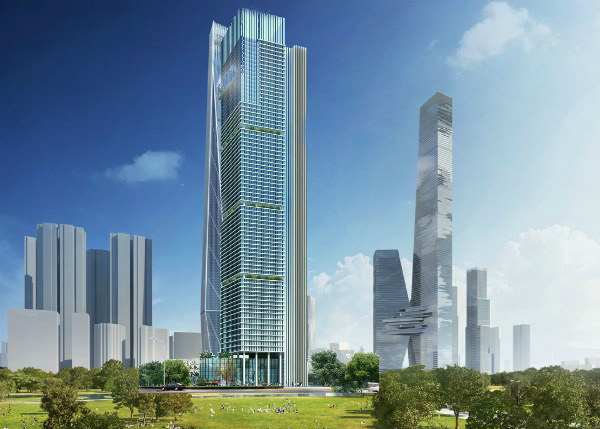 Current Supertall Skyscrapers in Shenzhen (above 300m)
Ping An Financial Tower at 599.1 meters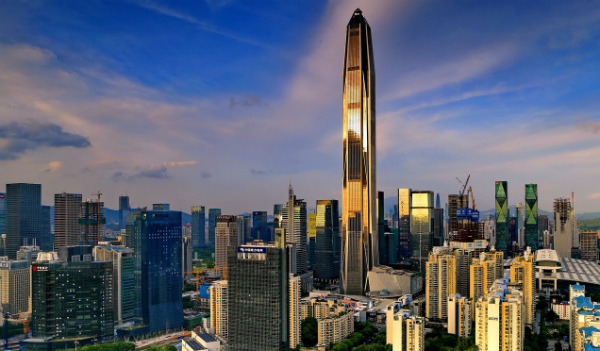 KK100 – 441.8m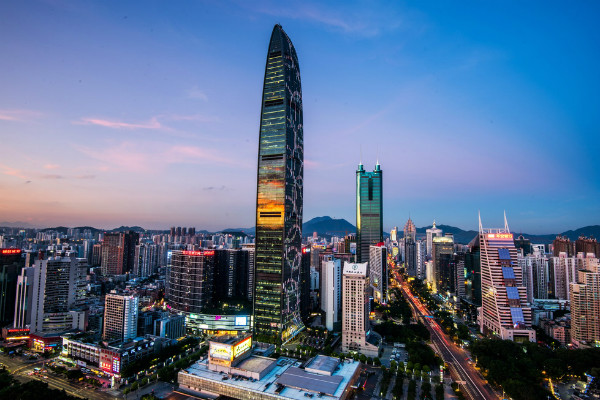 China Resources Headquarters – 392.5m (2018 completion)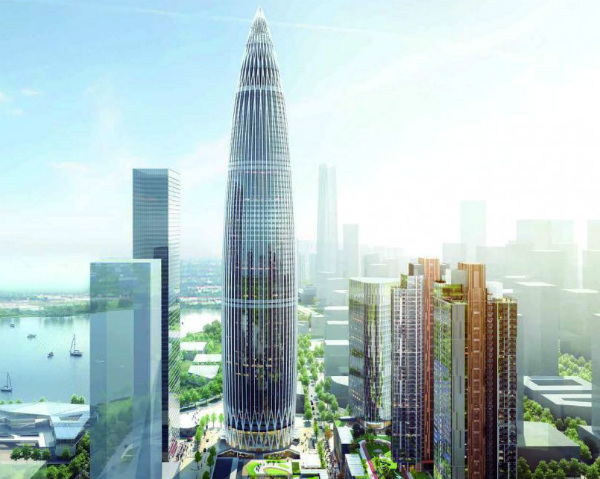 Shum Yip Upperhills Tower 1 – 388.1m
Shun Hing Square (Diwang) – 384m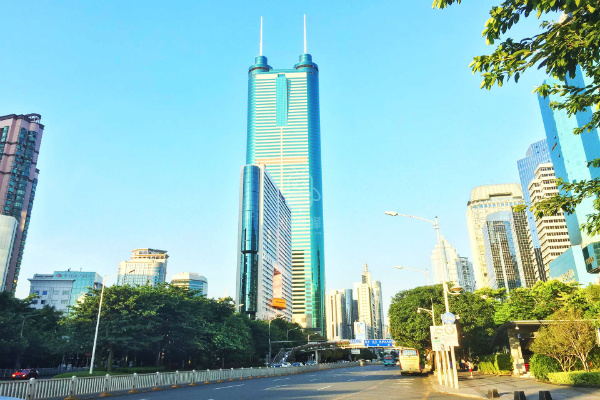 Shenzhen Center – 375.6m (2019 completion)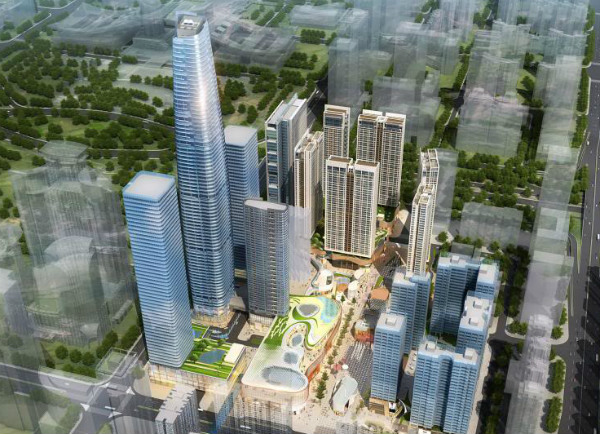 Hanking Center Tower – 350m
Huiyun Center – 347.9m (2021 completion)
One Shenzhen Bay Tower 7 – 341.4m
Shimao Qianhai Project Tower 1 – 330m (2020 completion)
Baoneng Center – 327.3m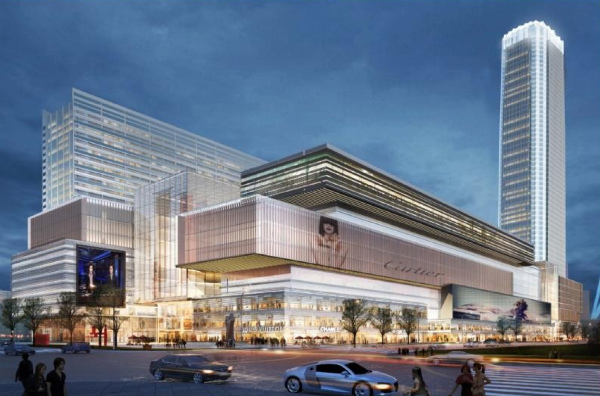 Hon Kwok City Center – 329.4m
Qianhai Horoy Tower – 325m (2021 completion)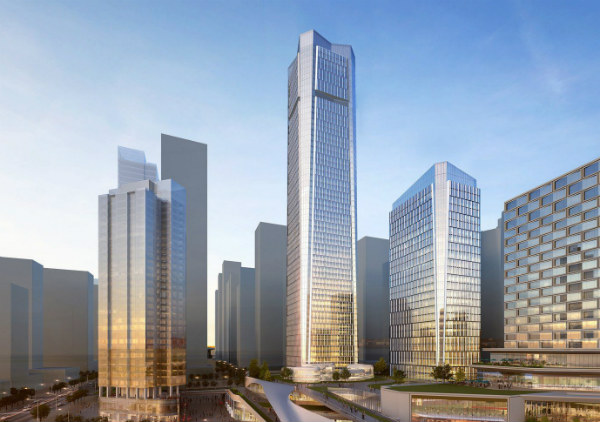 Shenzhen Bay Innovation and Technology Centre Tower 1 – 320m (to be completed)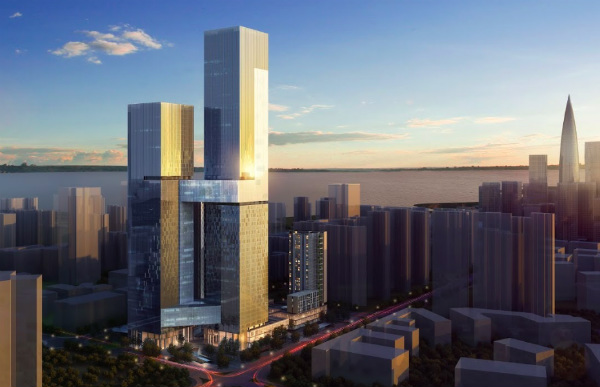 CITIC Financial Center Tower 1 – 312m (to be completed)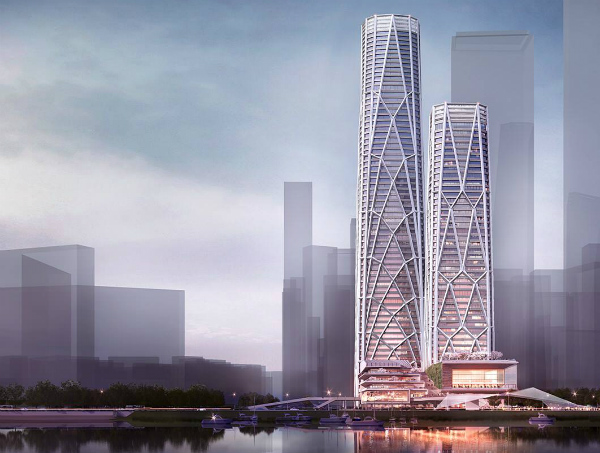 East Pacific Center Tower A – 306m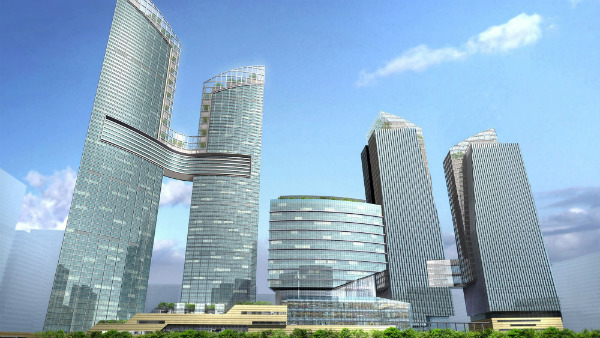 Shenzhen CFC Changfu Centre – 304.3m
Shenzhen Zhongzhou Holdings Financial Center – 300.8m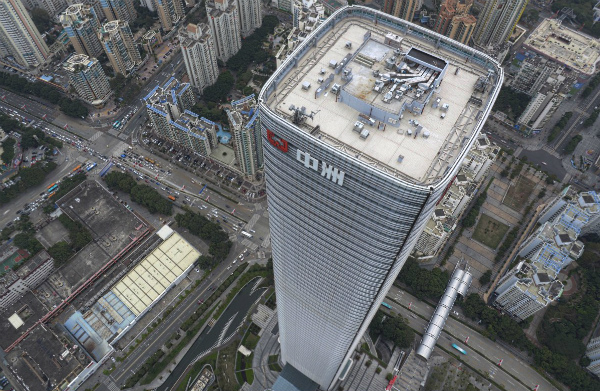 OCT Tower – 300m (to be completed)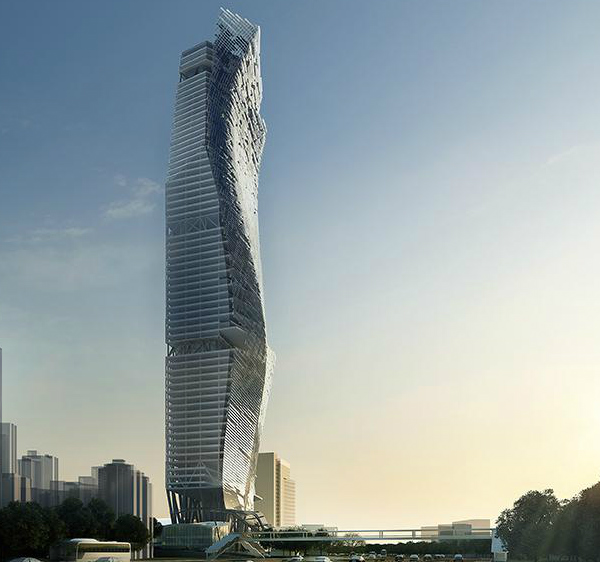 Centralcon Shangsha Project 1 & 2 – 300m (to be completed)
Current Shenzhen Skyscrapers Below 300m and above 200m
Shum Yip Upperhills Tower 2 – 299.3m
Ping An Finance Center South – 293m
Riverfront Times Square – 293m
SEG Plaza – 291.6m
China Resources Qianhai Center Tower 1 – 291.5m
China Chuneng Tower – 288.6m
Huaxun Center – 286m
Excellence Century Plaza Tower 1 – 280m
NEO Tower A – 273m
East Pacific Center Tower B – 261m
Shenzhen Special Zone Daily Tower – 260m
Shenzhen AVIC Plaza – 254m
Wongtee Plaza – 253.6m
Excellence Century Plaza Tower 2 – 250m
China Merchants Bank Tower – 249m
Shenzhen University Subway Station Tower – 249m
Shenzhen Stock Exchange – 245.8m
Tencent Seafront Tower 1 – 245.8m
China Resources Qianhai Center Tower 5 – 242m
Shenzhen Broadcasting Center I – 240.7m
New World Center – 238m
Shuibei Jewelry Headquarters Tower 1 – 232.3m
CASC International Center North Tower –
Lihe Tower – 230.9m
UpperHills North Tower 1A – 230.4m
UpperHills North Tower 2A – 230.4m
Rongchao Headquarters Tower – 230m
Shenzhen Guosen Securities Tower – 228m
Shanglong Building – 228m
Taiping Finance Tower – 228m
Jinlitong Financial Center Tower 1 – 225m
Jinlitong Financial Center Tower 2 – 225m
Coastal Center – 225m
World Finance Center Tower A – 222.4m
Shenzhen Energy Headquarters North Tower – 22m
Shuiwan 1979 Tower – 220m
Horoy Times Square A – 220m
Vanke One City Office Tower – 220m
Sino Life Insurance Building – –
Hung Cheung Plaza – 218m
Times Square Excellence – 218m
AVIC Center Office Tower – 216.4m
International Chamber of Commerce Tower – 216m
China Merchants Tower – 211m
Excellence Houhai Financial Center – 210m
CNOOC New Tower 1 – 210m
CNOOC New Tower 2 – 210m
Horizon Skyline Garden Office Tower – 209.2m
Nanfang International Hotel – 208m
First Tower – 208m
Wenbo Tower – 208m
Landmark – 206m
East Pacific Center Tower C – 206m
New Century Plaza West Tower – 204m
Shenzhen Venture Capital – Private Enterprise Tower – 202.4m
Guotong Building – 201m
Futian Technology Plaza Tower 1 – 201m
Jinzhonghuan International Business Building – 200.5m
Centralcon Group Tower – 200m
Shenzhen Kerry Centre II – 200m