OCT East is a large-scale ecological resort with beautiful scenery, including Heroes Valley Ecological Park, Tea Valley Leisure Park, Yunhai Valley Sports Park, themed hotels, Dahuaxing Temple and Tianzhu Estate, among them, Heroes Valley and The Tea Valley Theme Park make the core area.
The Heroes Valley is a fusion of natural scenery and thrilling rides. You can experience the world's longest torrent in the fjord forest, play a variety of thrilling adventures in the ecological canyon, and enjoy the world of water parks. You can also stroll along the fjord path, admire the waterfall and garden landscape, or take a panoramic view of the entire eastern OCT from the Yunding sightseeing area to the all-glass viewing deck that extends beyond the cliff.
The Tea Valley is an idyllic landscape. Look at the flowers in the wetland garden, and squat in the tea fields and jungles of Sanzhou Tea Garden. There are also characteristic towns such as the town of Interlaken and the ancient town of Chaweng. The town not only has its own unique architecture, but also can see various special performances and participate in interactive programs. In addition, every day at 3 pm in the Eastern OCT Grand Theatre in the Tea Valley, there is a large-scale performance "Tian Chan" with the theme of Zen tea culture, which is very exciting. At the entrance of Chaxi Valley, you can take the shuttle bus to the gate of Huaxing Temple. You can walk to the temple or take an electric cart to visit the first outdoor gold-plated Guanyin statue in the country.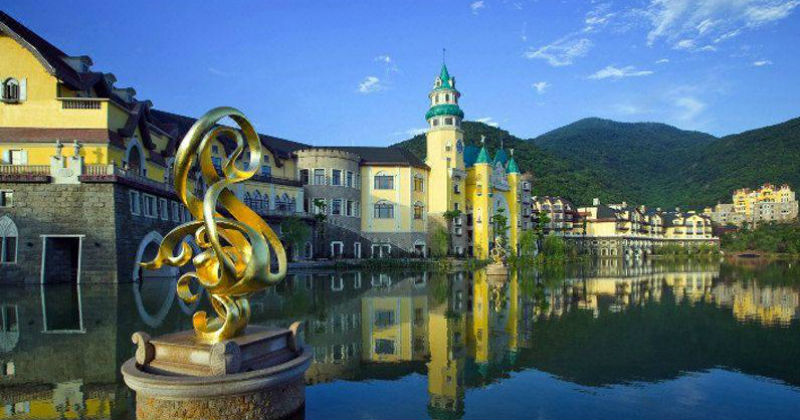 Tickets for the two theme parks can be purchased separately, choose one that you like and spend a whole day playing and exploring. You can also buy a one-day ticket for the Valley of the Heroes and the Valley of the Tea Valley. In the morning, play the Heroes Valley. After lunch in the town of Haifeide, take the jungle cable car or the Yunhai cableway to the Yunzhong tribe and transfer to the forest train to the tea creek. Valley. In addition, if time and budget are abundant, OCT also has Yunhai Valley Golf and Interlaken Health Spa.
Accommodation and Dining:
There are several themed hotels throughout the expansive area. There are many special restaurants in the scenic area where you can dine, as well as shops selling snacks.  The price in the scenic area is relatively high in comparison to local prices and you can bring some food yourself for snacks.
Address: Overseas Chinese Town, Dameisha East, Yantian District, Shenzhen
Open hours: 9:30-17:30 (performance show may go longer)
Getting there: You can take bus No. 103 and other buses to the OCT East Station of OCT East. It is more convenient to take the Dameisha Holiday Line 1(大梅沙假日专线1路)/Line 2(大梅沙假日专线2路).
CN Name: 东部华侨城
CN Address: 深圳市盐田区大梅沙东部华侨城
Nearby Hotel Pick: The Interlaken OCT Hotel
Map