It could be Shenzhen's best-kept secret, while well-known for its trade and commerce, the city also holds some of China's top beaches and what may one day become one of the country's top coastal tourism destinations. Shenzhen's Dapeng Peninsula offers a nature escape difficult to find elsewhere including beaches, ancient architecture, geopark, and more.
Dapeng Peninsula faces Daya Bay to the east and borders Huizhou to the west, Dapeng Bay to the west, and the South China Sea to the south.
The large area offers 18 large and small beaches with the highlights of those listed further below. Some are popular with surfers, paddle boarders and body boarders with gear available for hire such as at Jinshuiwan, Dongchong, and Xichong.
The geopark features a geological museum and two hiking tracks that nature lovers will surely enjoy.
The Dapeng Fortress offers a slice of ancient China and a traditional village to explore.
Yangmeikeng offers a wonderfully scenic coastline and bikes for hire to ride your way around.
If that's not enough, jump on a speedboat from Dongchong and head out to the beautiful and undeveloped Sanmen Island.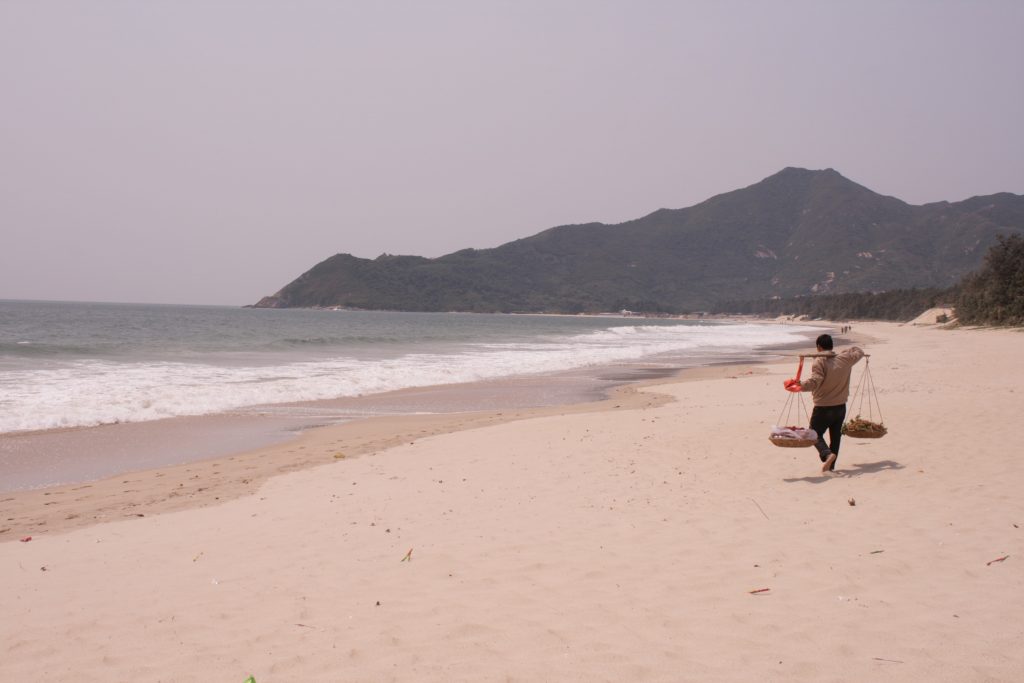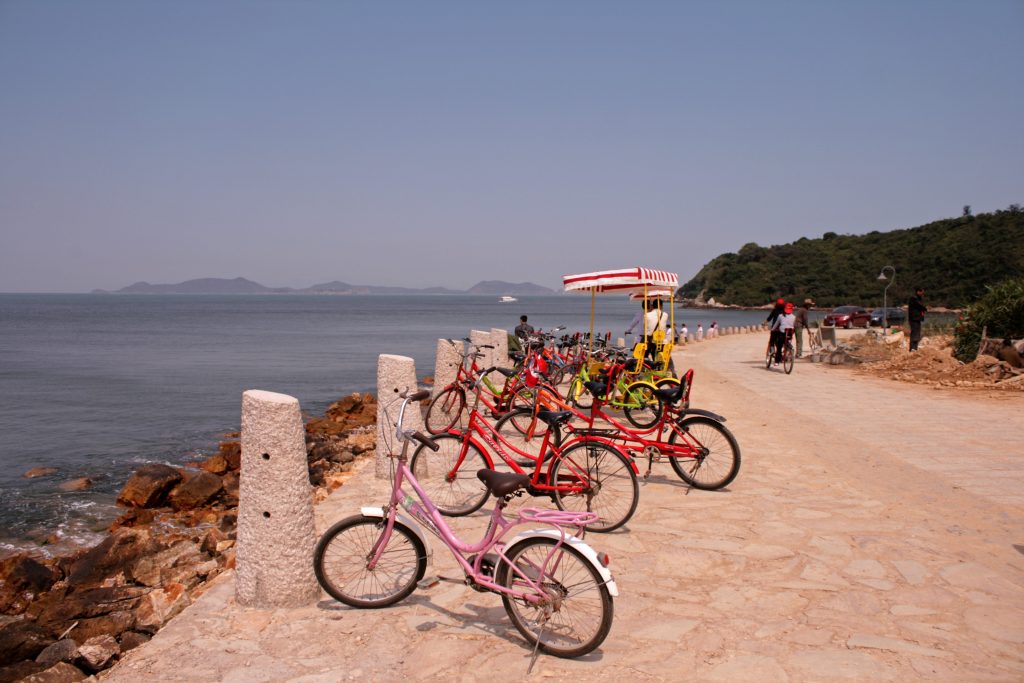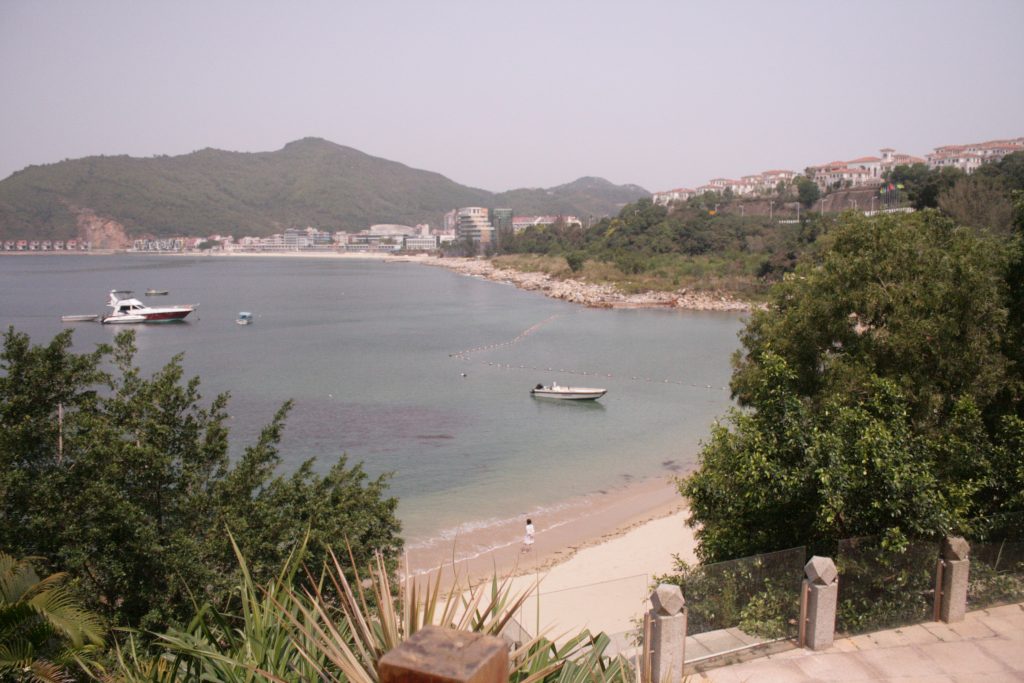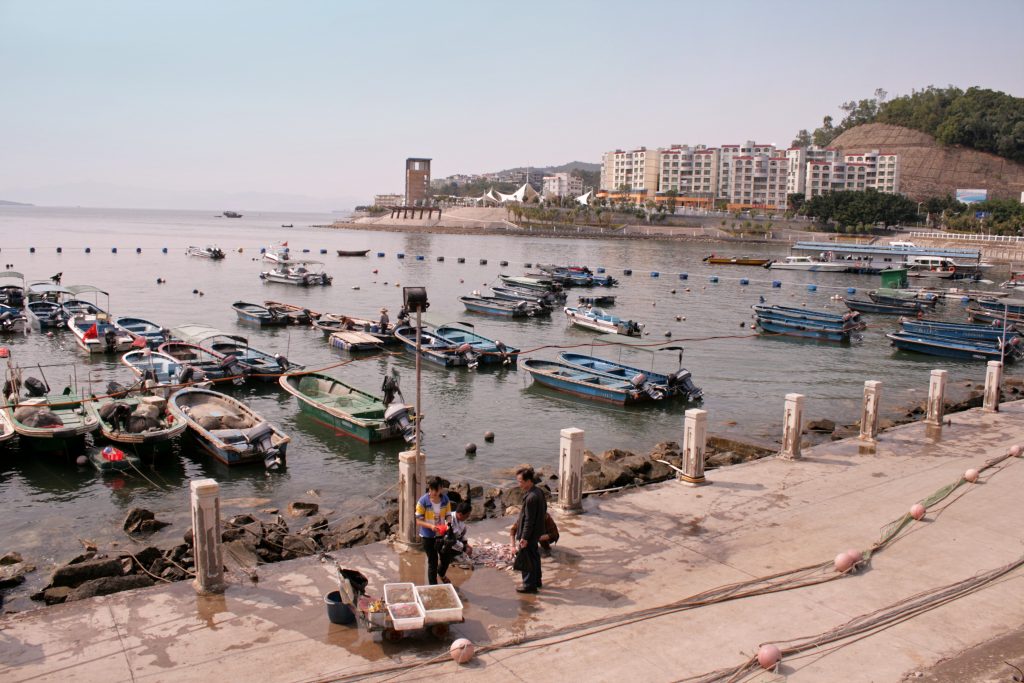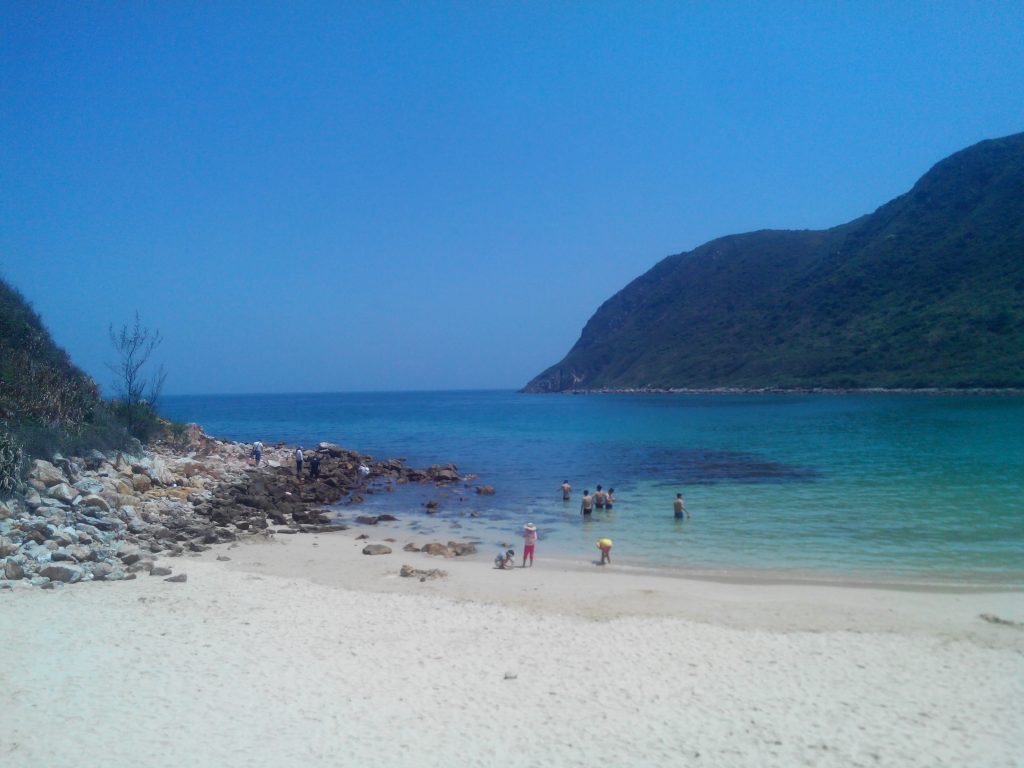 The Dameisha area of Yantian District is on the way to Dapeng Peninsula and it is the most developed and most popular of all the beaches in Shenzhen. Not only is it surrounded by hotels but you will also find Shenzhen's largest theme park, OCT East, located here. Just nearby is Xiaomiesha beach and Xiaomiesha Sea World marine theme park.
Dapeng Peninsula & Beach Map
The Top 5 places to Stay
Sheraton Dameisha Resort – 5 Star on the beach at Dameisha
Shenzhen Dameisha Seaview Hotel  – 4 star hotel just steps from Daimeisha Beach
Xichong Beach Cabin – Beach cabins right on the beach at Xichong
Lake and Hill View Inn – Hotel just steps from Dongchong Beach
Shenzhen Marriott Hotel Golden Bay  – 5 star hotel near Xiasha Beach
Beaches and Attractions in Yantian District
Dameisha Beach 大梅沙海滩 (free)
Xiaomeisha Beach 小梅沙 (entry fee)
OCT EAST 东部华侨城大梅沙 – massive theme park
Xiaomeisha Sea World 深圳小梅沙海洋世界 – Marine Park
Maluan Mountain and Waterfalls 马峦山
The Beaches and Attractions on the Dapeng Peninsula
Xichong Beach 西冲海
Dongchong Beach 东冲海滩
Yangmeikeng Beach 杨梅坑
Jiaochangwei Beach 较场尾海滩
Egong Bay 鹅公湾 
Jinsha Bay 金沙湾旅游度假区
Judiaosha Beach 桔钓沙
Rose Coast 玫瑰海岸 (entry fee)
Nan'ao Seafood Market 深圳南澳旅游海滨中心
Dapeng Fortress 大鹏所城 (entry fee)
Guanyinshan Park 观音山公园
Dapeng Peninsula National Geological Park 大鹏半岛国家地质公园
Transport
You can get there by bus or taxi. For route planning, try maps.baidu.com as it seems to have the latest bus routes which Google maps may not yet have. There are no taxis in the Dapeng area so Didi Dache (Chinese Uber) may be useful, also your hotel can help arrange a private car or use the local buses. Extra buses run during holiday periods.
Note: use the below bus routes as a guide as bus numbers and route do change and some buses have limited operating times. I suggest confirming the routes on maps.baidu.com which can be used in a similar way to google maps albeit in Chinese.
Buses to Daimeisha
To reach Dameisha from central Shenzhen (ie Nanshan, Futian, Luohu) take the metro to Cuizhu Station (翠竹) and walk a few minutes the bus station (留医部②) and catch the M437 bus directly to Dameisha Wentan Daochang Station (大梅沙闻檀道场站). The bus ride is about 1 hr 10 mins, cost 2 RMB. See the bus route on Baidu http://j.map.baidu.com/LFrgG.
Other options include take bus Holiday Line 5 (高峰专线5路 – route map), Express Bus 12 (高快巴士12路 – route map) or 308, m438, m465, m520, n21, Dameisha Holiday Line 2 (大梅沙假日专线2路), and get off at Dameisha Station 大梅沙闻檀道场站.
Buses from Daimeisha to Dapeng Center
e26 – Futian Transport Hub to Daimeisha to Dapeng Center – route map
Buses from Dapeng Center to attractions and beaches
M471 – Dapeng Center to Dapeng Fortress – route map
M274 – Dapeng Center to Yangmeikeng Stop – route map
M232 – Dapeng to Xichong – route map
M231 – Dapeng to Dongchong – route map
Bus to Nan'ao and Xichong/Dongchong
Dapeng Holiday Line 11 – Luohu to Nan'ao – route map
Dapeng Holiday Line 5 – Nan'ao to Xichong – route map
Dapeng Holiday Line 5/M231 – Nan'ao to Dongchong – route map
M231/M232 Xichong to Dongchong – route map