Upperhills is a fresh new upmarket development in Shenzhen offering shopping, dining, leisure, and accommodation. It's no small development either with a staggering 895,000 sqm of ground floor area in use, yes, it's huge and that makes it larger than MixC Luohu which is quite interesting.
An amazing feature of Upperhills is its location, yes it's awkward to get to if your Maserati is broken and you have to take the metro, as you'll also need to utilize your legs for a good 15-minute stroll from exit C of Lianhua station. BUT, nestled between three of Shenzhen's nicest parks makes this an almost welcomed escape from the endless concrete jungle that is Futian CBD, Luohu, and Nanshan now too for that matter.
Taking the whole block width between Caitian Rd and Huanggang Rd it is smack between Lianhuashan Park (Lotus Hill), Bijiashan Park, and Shenzhen Central Park meaning that if you are lucky enough to get an apartment here or be staying at the Mandarin Oriental, then you are going to have some superb views not enjoyed elsewhere and fresh air to boot.
The Upperhills Mall (深业上城商场) offers an upmarket retail, dining, and leisure experience along with green spaces where you can chill out and dream about the Porsche you passed in the onsite Porsche exhibition hall. Tired of that, you can watch an IMAX flick, eat yourself silly at high-end cafe's, and then struggle to fit into clothes you really like at GAP, Zara, and numerous other fashion retailers.
Notable restaurants and cafes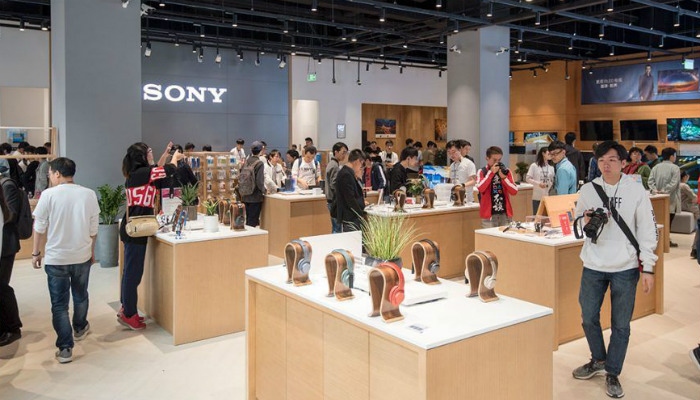 Notable retailers and service providers
OLE Supermarket
Muji Flagship Store (more on that below)
Sony Flagship Store
Nike Beacon Store
Adidas Flagship store
Berksha
Imax
LEGO® certified store
Porsche Centre City Exhibition Hall
Other major features of Upperhills 
Skyland Future Science & Technology Museum – which in their own words "aims to be the best place in the world for teenagers from China to enjoy and comprehend science and art".
Mandarin Oriental – one of the worlds leading names in luxury hotels. The Mandarin Oriental at Upperhills will offer 190 rooms and 17 suites located in the upper section of the towers offering city and parkland views. Set to also feature impressive sky-high dining options, lounge bar, and spa which Mandarin Oriental are quite famous for.
Muji Hotel – yes the Japanese retail store chain is entering the hotel market and this is its very first offering. Featuring 79 rooms, a Muji Diner, A 24 hr Muji Library, a massive Muji store and event space, all of which will incorporate the "Muji philosophy". Makes me wonder, when is Starbucks going to open hotels?
Address: 5001 Huanggang Lu (Intersection of Sungang W Rd and Huanggang Rd), Futian District 地址 福田区皇岗路5001号
Getting there: 15 mins walk north from Lianhuacun Metro Station (莲花村) on Line 3
Hours: 10am-10pm
Whats nearby: Lianhuashan Park, Bijiashan Park, Shenzhen Central Park
Map