At 592.5 meters tall, the Ping'an Finance Tower (PAFC – 平安国际金融中心) is a new must-see on a trip to Shenzhen. Located in Futian CBD near to Coco Park, the new megatall skyscraper takes over as the city's tallest building from KK100 which stood at 443.8m.
Originally designed as a 660-meter-high Ping An Financial Center, the final height was reduced to under 600 meters above sea level due to the hight limits for aviation safety. Phase 2 which is the second tower at 290 meters is expected to be completed this year while the main tower has begun leasing and trial operation with the observation deck also opening. The project will be developed into a large-scale commercial complex that includes shopping malls, office buildings, and hotels.
If it did reach 660m, it would have taken over from Shanghai Tower as China's tallest building, but, it may not be long until Shenzhen takes that title with construction underway on the Shimao Shenzhen-Hong Kong International Centre (668m).
PAFC Facts
Architect: Kohn Pedersen Fox Associates
Groundbreaking time: August 29, 2009
Number of floors: 118 floors above ground, 5 floors underground
Roof height: 592.5 meters Tower height 592.5 meters
Construction company: China Construction First Bureau (Group) Co., Ltd. (中国建筑一局(集团)有限公司)
Elevator speed: 10 m/s, reaching the 541m sightseeing layer in 55 seconds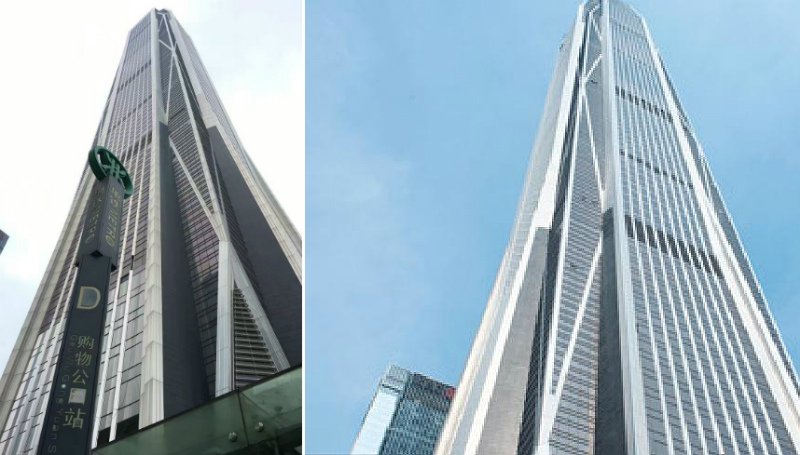 FreeSky Observation Deck  – 深圳平安金融中心云际观光层
The sightseeing floor, located on the 116th floor of Ping An Financial Center, combines sightseeing, entertainment, cultural creativity and popular science education with a super-view of 541 meters at a height. It is expected to become a new tourist landmark with a cultural connotation in Shenzhen. The city is quite proud of its speed of urban development and that is proudly on display here through promotional and introduction video.
On the sightseeing floor you can enjoy a 360° view of Shenzhen's four sides and different landscapes and urban scenes. To the east, there is the Diwang Building and the KK 100, to the west, shopping park, Shenzhen Golf Club, Shenzhen Bay, OCT, Qianhai Shekou Free Trade Zone, etc. To the north it overlooks Yinhu Mountain, close to Bijiashan, Lianhuashan Park, Civic Center and Convention and Exhibition Center, to the south, there is a panoramic view of Futian Port and Hong Kong's northern districts.
Freesky Observation Deck Tickets
Opening hours: Monday to Sunday 9:00 – 21:45
On-site ticket purchase
200 yuan for adults
Children 6 years old and under with a height of 1.2m or less are free of charge
Half-price tickets are purchased; elderly people 65 years old and over, children between 1.2 and 1.5 meters in height can enjoy a half-price ticket of 100 yuan/person.
Nationally recognized disabled persons can purchase half-price tickets with valid documents.
Students over 1.5 meters tall can purchase a student ticket of 160 yuan with the student ID card.
There are also tickets + VR project package of 310 yuan each.
Online purchase
You can book in Ctrip/Lvmama – Adult 180 yuan – need to book at least 1 day in advance.
Getting There
Chinese name: 平安国际金融中心
By Metro: Exit D of the Shopping Park Metro Station (购物公园 – Gowugongyuan)
Address: Fuhau 3rd Road, Futian CBD, Futian, Shenzhen
Nearby things to do
Coco Park Shopping Mall – one of the city's most popular malls
Coco Park Bar Street – a popular nightspot
Dreams-On Department Store at Galaxy International is a short walk away
the Convention & Exhibition Center is one station away
More: See the list of all Shenzhen's current and future skyscrapers