Futian Coco Park features much more than a shopping mall, the area also features a popular bar street, large open public spaces and some great restaurants. At this modern development, you can find many al-fresco cafes and both Asian and Western cuisines.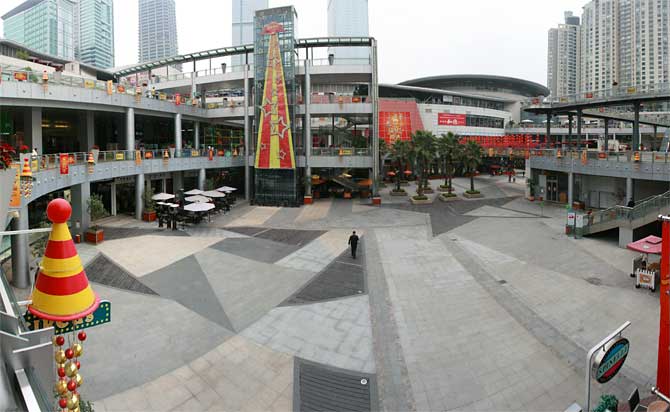 Shopping at the mall you can find mostly fashion for men and women. There are over 200 domestic and international brands and on the underground floor, you can find a Jusco supermarket, international chain restaurants, jewelry, accessories, personal care, home life, audio, video, gift shopping. There is also a Broadway Cinema here.
Brand names and big name stores here include Swarovski, GAP, Miss Sixty, Longines, Guess, Lacoste, Adidas, UNIQLO, Casio, Mango and ONLY.
Basement Floor 1
Here you can find several fashion brands and lining the perimeter of the center courtyard there are several cafes. A major store on this floor is the Younghui Superstores Bravo YH boutique supermarket which is a large, super modern supermarket with lots of imported lines. UNIQLO is also located here.
First floor
Features more fashion brands inc the second floor of UNIQLO, GAP. Starbucks, Sisyphe Book Store, Costa Coffee, and several other cafe and small restaurant.
Second Floor
The major tenant here is Broadway Cinema. Also, more fashion stores inc PurCotton, Jack Jones, Fila, and several more plus several cafe and restaurant.
Third Floor
The third floor features fine dining and several restaurants.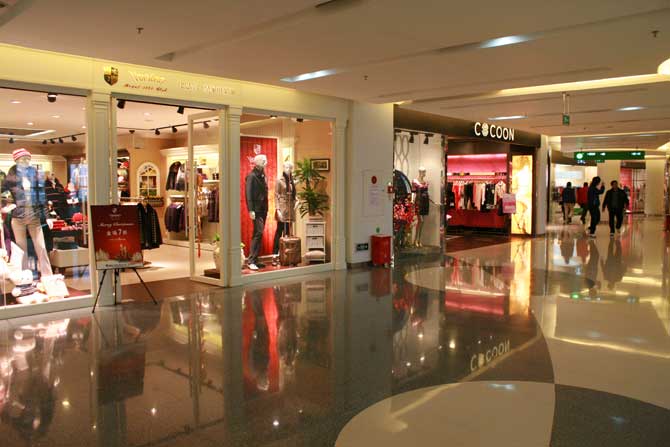 Coffee Shops at Futian Coco Park
gaga鲜语 – Basement 1 – more cafe than coffee shop, great place for meeting and eating but not for working ie laptop
Pacific Coffee – Basement 1 – the state-owned Starbucks competitor and it's not bad, good for meet-up and some work time.
Simplylife Cafe Bakery 星美乐 – floor 1 – great for western comfort foods, cake, and coffee. Great place to meet, a no go for laptop time.
Italian Bain Coffee  – floor 1 – Illy coffee
Starbucks 星巴克 – Floor 1 – Always busy
Costa Coffee – Floor 1 – great for some laptop time
Illy Coffee – Floor 1 – Illy brand store
UP Coffee – Floor 1 – part of the Sisyphe bookstore – can do some work here and a quieter place to meet friends.
Coco Park Bar Street
The bar street is on the east side of the mall, opposite the Ping An International Financial Center. Here you can find a few bars including Demon Bar, Shark Wine Lounge & Restaurant, and Baron.
Across the road at Shopping Park there are more nightlife options including McCawley's Irish Bar, Villa, Glass Hammer (craft beer), Eden Bar, Club Viva (nightclub), Sicilia (Nightclub and lounge), Foam Heaven, Demo Club (nightclub),  Haploid (speakeasy and cocktails), O! Garden, Gebama Sky Bar, Pepper Club (nightclub), Mojo  (nightclub and bar), Lucky BBQ & Bar, Ella, Bang Club, Circle Bar, and Onikita.
Places to Eat at Coco Park
Too many 🙂 so I will list a few favorites
Xibeiyu Noodle Village 西貝莜面村 – floor 3 – Northwestern cuisine
GAGA cafe – light food, comfort foods and fruit tea
Yes Thai 鑫泰泰国料理 – best affordable Thai cuisine in the city
Simplylife Bakery and Cafe – casual western style comfort foods
Baia burger concept – superb western comfort foods
How to get there
By Metro: take Metro Line 1 or Line 3 to Shopping Park Station (购物公园 GouWuGongYuan station) and use exit G (leads inside the mall to the center courtyard) or exit C (at the front of the mall)
By Bus: 3; 398; e20; e25; e38; m224; 95
Chinese Name: 福田星河COCO PARK
Address: 268号 Fuha 3rd Road, Futian District, Shenzhen  – 深圳市福田区福华三路268
Open Hours: 10:00-22:00 (Sunday to Thursday) and 10:00-22:30 (Friday to Saturday)
Nearby Futian Coco Park
Shopping Park – older mall with several good eateries and bars
Link City – an underground mall/food court that connects Coco Park to Central Walk (Shopping Park Station to Convention & Exhibition Center Station)
Dreams-On Department Store
Map
Also See: The Top 13 Hotels in Futian CBD, Shenzhen
This post was first published in 2011 and last updated in September 2018.