Shenzhen Happy Valley is located in Nanshan District in an area known as Overseas Chinese Town. It is a modern theme park with a focus on thrill rides. It is also one of the "Top Ten Theme Parks in Asia Pacific".
The park is divided into nine theme areas: Plaza de España, Magic Castle, Adventure Mountain, Gold Mine, Shangri-La Snow, Hurricane Bay, Sunshine Coast, Happy Hour and Maya Water Park. There are more than 100 rides for all ages, rich and colorful, and lively performances.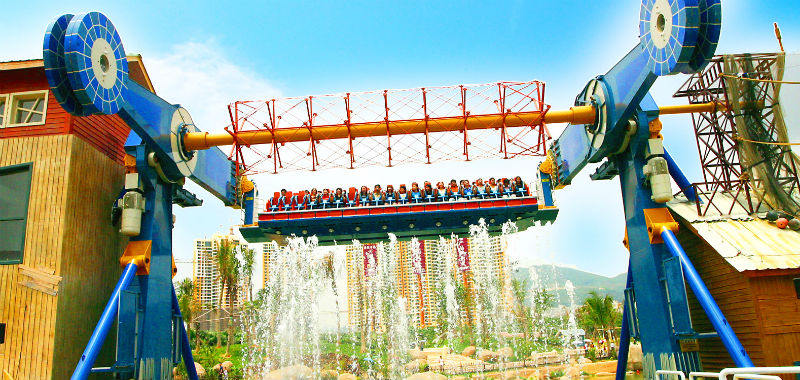 Plaza de España: This is the base camp of Happy Valley, where consultation, dining, and shopping can be done. On the right hand side of Plaza de España is the Happy Valley Station of the Happy Route.
Magic Castle: Magic Castle is very suitable for children to play. There are more than 20 fun parent-child rides, "Magic City" magic show and joy market are also here, as well as a romantic dreamy double-layer carousel. Not only can you bring children to play, but also a romantic date with couples.
Adventure Mountain: In the lush mountain forest, you can experience adventures and challenges.
Gold Mine Town: based on a flood-prone mine in North America more than 200 years ago. Here, you can take the lane-type "mine truck" to relive the thrilling moment when the miners escaped in the mine car when the mountain torrent broke out in 1919. If you are interested, you can also visit the gold mine workshop, or walk into the photo gallery to take pictures of the old town residents.
Shangri-La: Come to the legendary Shangri-La snowy area full of Tibetan customs.
Hurricane Bay: The story of Hurricane Bay takes place in a ruined town full of Caribbean islands. There is a "slowing river" in the world with a high drop.
Sunshine Coast: In this charming seaside style area you can take a break in the leisure corridor of the Sunshine Coast, take a walk on the beach, or take a child to sand sculptures on the beach. If you are interested, you can go to the Extreme Sports Camp to watch a thrilling extreme sports show.
Happy Hour: The prosperous European town of the early 20th century, where joy is an eternal theme, and the happy hour project is almost always thrilling, allowing people to throw their troubles into the clouds.
Maya Water Park: Water Park won the World Trade Park Association's "Industry Innovation" crown. The Maya Water Park is an original South American style, with a very novel water-cooling entertainment project, and there are various water stage performances.
The Happy Main Line was the first unmanned aerial sightseeing train in the country. It runs 3.88 kilometers in length and runs at a constant speed over the Overseas Chinese Tourism Resort. You can visit the Window of the World, Splendid China, the Chinese Folk Culture Village and the beautiful scenery of Shenzhen Bay along the way. The main line takes about half an hour, and can only get on and off at the same station. The full price is 50 yuan on weekdays, and you can also buy Happy Valley + Happy Mainline Package).
Happy Valley is worth spending a day to enjoy slowly. If your time is more abundant, He Xiangning Art Museum, Window of the World and Splendid China Folk Village, are all nearby.
Address: Happy Valley, Nanshan District, Shenzhen
Ticket prices: online prices from 220 RMB for full day/night ticket, 40 RMB for night ticket
Open hours: 9:30-21:30, the night starts at 18:00
Getting there: take metro line 1 or 2 to Window of the World Station (世界之窗站), Exit A
CN Name: 深圳欢乐谷
CN Address:  深圳市南山区华侨城侨城西路
Nearby Hotel Pick: The Westin Shenzhen Nanshan
Map