Even if you are not interested in luxury brand shopping, the MixC mall is a must visit destination on a Shenzhen Shopping trip. This massive mega-mall features Shenzhen's largest movie cinema, an Olympic standard Ice Skating rink, cafes, food courts, fine dining and more.
MixC is part of the larger "City Crossing" development which is bordered by Shennan Road, Binhe Road and Bao'an South Road, which covers a staggering 100,000 square meters and also includes two luxury hotels and the China Resources Building 5A office building.
It's Shenzhen's largest shopping mall in terms of retail space, and possibly the most luxurious, also featuring luxury residential apartments at Park Lane Manor and a Grand Hyatt Hotel. The shopping mall takes up 6 floors and spreads across three blocks featuring brand names such as Louis Vuitton, Hermes, Cartier, and Gucci just to mention some.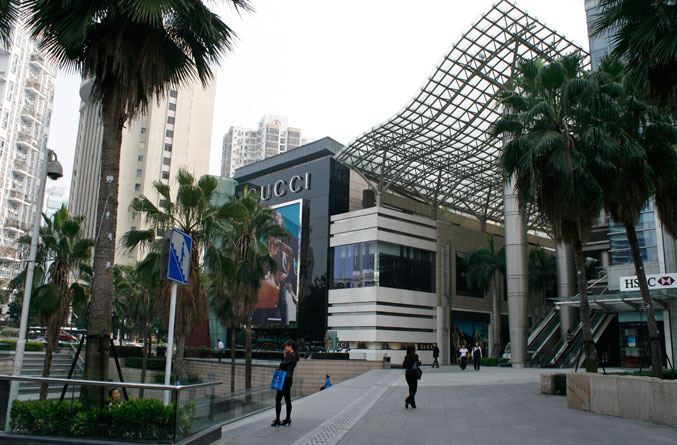 It also features a RéEL Modern Life Department Store for ladies displaying products from across the globe in its massive 20,000sq. meters of floor space over three levels. There also an H&M.
The Gucci and Prada stores are those brands largest flagship stores in the Asia-Pacific Region.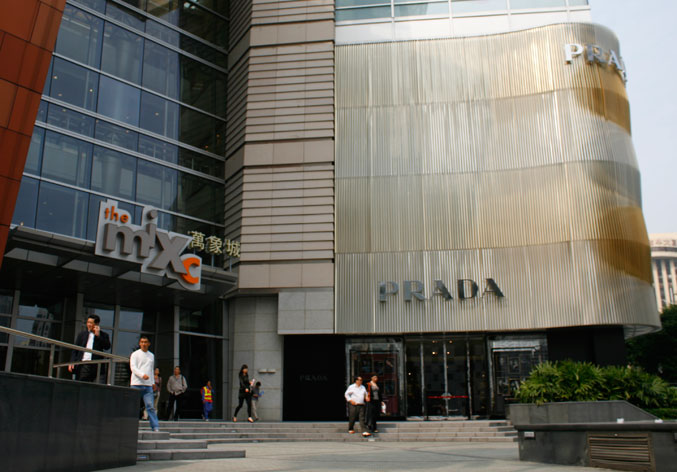 Other brand names here include Coach, Paul & Shark, Prada, Miu Miu, Giada, Givenchy, Giorgio Armani, Dior, Moncler, Burberry, Jimmy Choo, Max Mara, Fendi, Cartier, Hermes, LV, and BVLGARI.
The mall also features an Ole Supermarket which is super modern featuring lots of imported lines, a small specialty coffee shop inside and large deli.
Entertainment at MixC
Golden Harvest Shenzhen Cinemas 橙天嘉禾影城 – offers 2D, 3D local and foreign movies. They also have a VIP movie halls.
World Ice Arena 深圳冰纷万象滑冰场 – yes, there is a full-sized ice skating rink on the fourth floor.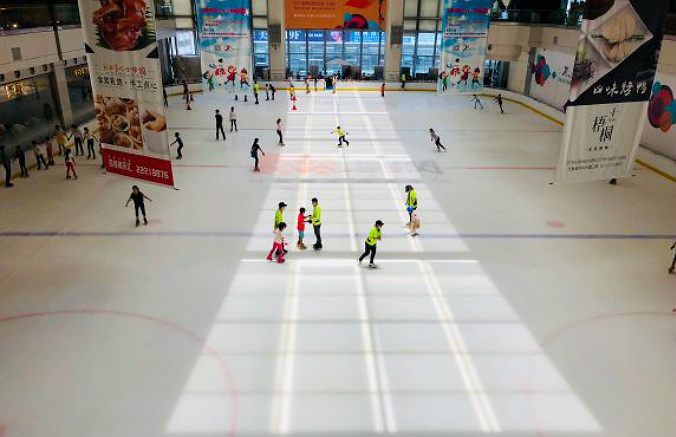 Restaurants at Mix C
As for dining, there's plenty of Chinese and Western cuisine. There are all the names you'd expect such as Pizza Hut, KFC, McDonald's, Starbucks, RBT, Breadtalk, Haagen-Daaz, Ajisen Ramen and many more. There's also plenty of fine dining options.
The eateries are centered around the main entry from the Metro on B1, it's also where Starbucks is located, and floor 4 and floor 5.
Many of the Chinese larger restaurants here may be difficult for the foreign guest with many not having English speaking staff or dual language menus. Here are some popular places with the expat community
La Terrazza – an al-fresco Italian cafe and part of the Grand Hyatt
Simply Life Cafe and Bakery – simple and delicious western comfort foods
Bofei Yuepin 柏菲粤品 – High-end Cantonese cuisine with dual language menu
Ippudo 一风堂 – high-end Japanese Ramen
The Deli and coffee stand inside OLE is affordable and tasty
Coffee Shops at MixC
Italian Bain Coffee – B1 level
Pacific Coffee – floor 4
Starbucks – B1 Level
Up Coffee – floor 4
Hotels near Mix C
How to get to Mix C Shenzhen: 
By Metro
Take the Metro Line 1 or Line 2 and get off at Grand Theatre Station (大剧院 – Dà jùyuàn) and wander out Exit C-3.
By Bus
Bus 3; 10; 12; 101; 203; 223; e30; m191; m192; n3; 高快巴士20 and get off at Diwang Building Station (地王大厦)
Chinese Name:  深圳华润万象城 – Shenzhen Vientiane City (Mix C)
Address: No. 1881, Baoan South Road, Luohu District, Shenzhen – 广东省深圳市罗湖区宝安南路1881号
Open Hours: 10:00-22:30
Map
This post was originally published in 2011 and updated on Sep 2018.