Century Plaza Wholesale Clothing Nanshan – 世纪广场外贸服装批发市场
If you live in Nanshan or Shekou Districts of Shenzhen then here is a great alternative to heading all the way to Dongmen for discount and wholesale clothes shopping. Known mostly only to locals, this area contains several multi-floor buildings packed with clothes and fashion accessories.
Many locals say the quality and styles on offer here and far better than what can be found at Dongmen, but that may in part be due the fact it's easy to get lost in Dongmens labyrinths of nooks, crannies and alley ways while missing the the places that may what you like. Such is the problem with markets that are so large.
This clothes wholesaling area in Nanshan is fortunately a little more condensed than Dongmen, there seems to be a natural flowing path between the various buildings.
Inside the buildings are hundreds of independently owned stores selling everything from jeans, jackets, dresses, shirts, skirts and everything in between. There are a few shops stocking western style mens clothes, in large sizes too, there's Korean fashions, Japanese, European styles in some stores..
There are several stores focused on shoes and several with ladies bags, many of which carrying well known western names.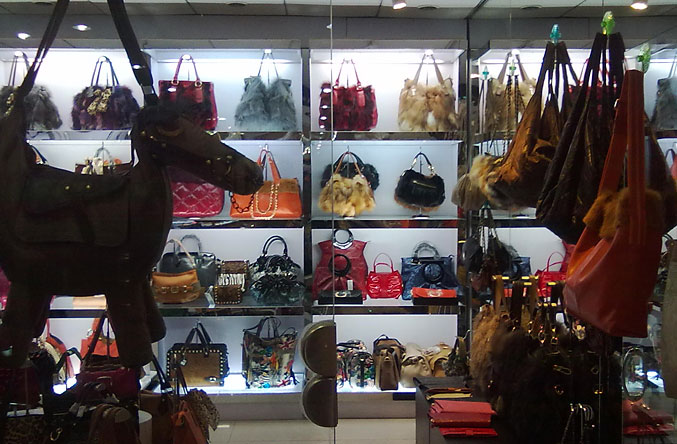 The name of this area translates to South Oil Industrial Park, or it may be referred to as Century Square or Century Plaza Wholesale Clothing Trade (世纪广场外贸服装批发市场). The area contains several multi-floor buildings including JINDU clothing wholesale city, Tairong Clothes City, Tianya Center, Taicheng Clothing City, Century Plaza clothing wholesale market.
Some stores are fixed prices, but in most haggling over price is a must and usually expected by the owner. Prices, depending on your haggling skills, are quite good, although there's a few stores asking extremely high prices where the value was hard to see, but they are only a few amongst the hundreds. Most stores are cash only.
Also note that being a wholesale area, some stores may only sell in bulk quantity.
What can you get there: bags, shoes, clothes, fashion accessories, mens clothes, western styles
Price: haggle your way to a great deal!
Address: 东滨路24. Century Square, 24 Dongbin Road, Nanshan, Shenzhen
Getting there: at the corner of Nanhai Ave and Dongbin Rd head east along Dongbin Rd, looking on your left for Jindu Clothing Wholesale city
Bus station: South Oil Building
Buses: 105,113,204,210,217,226,230,245,328,329,331,332,369,390, N4, M206, M205, K113, K105, 70, 80
Metro: Haiye Metro station or Dengliang Metro station are the nearest, both are about 5 minutes in a taxi from Century Square
Map
Share Your Thoughts...
Have you been here? Please share your experience, suggestions, or any updates