Dongmen Pedestrian Street is a commercial area in Luohu that's been ticking away for over 300 years and has long been one of Shenzhen's most popular places for clothes shopping. There's a lot of cheap stuff here, some of it cheap due to the quality, but there's also plenty of really good gear to be found at great prices.
Be warned, this area is a maze of streets and buildings, and on weekends it really gets busy. If you like relaxed shopping try going during the week and early, most stores open between 10 and 11 am, closing later evening between 9 and 11 pm depending on the time of year and day.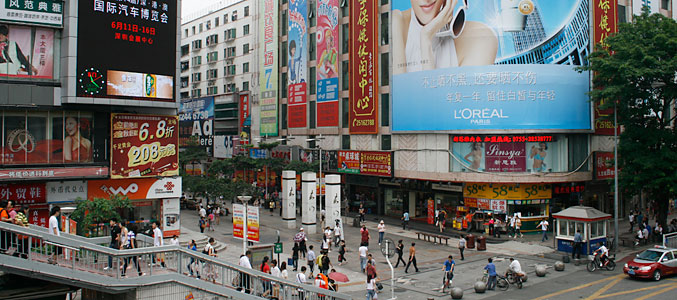 Like most things in China, it's got several English aliases including Dongmen Pedestrian Street, Dongmen Walking Street,  Dongmen Shopping Street, Laojie (which means 'old town'), Dongmen Market and East Gate which is actually what the word Dongmen means.
As for shopping, the market stalls are overflowing with men's and women's clothes, shoes, jewellery, handbags, travel bags, and suitcases. The traditional market stalls can be found down alleyways and inside the several multi-level 'wholesale' malls such as the Foreign Trade Clothing City, Baima White Horse Clothing Wholesale Mall or the Junma Fashion Wholesale Market.
There's also a multi-level mall, or department store if you like, that's dedicated to just shoes – East Gate Shoes City, one just for comic books – Langhaofang Animation & Comic city and there's the multi-level Hongkai Craft City.  If you are looking for hair care products, hairdressing equipment like trimmers, curling irons etc. try the Sai Ho Building on the corner of North Renmin Road and Lexin Road. Also on Lexin Road is Boya Art Mall where you'll find all sorts of musical instruments including guitars, pianos, violins and art supplies, frames and traditional Chinese paintings.
Plus, there are the multi-level retail department stores, like Rainbow Plaza, Sun Plaza or MOI, that feature many popular brand name products.
Inside the slightly more upmarket multi-level shopping malls, such as Sun Plaza, and the many retail chain stores in the area, it's prices as marked, but quite often they have sales offering substantial discounts. The benefit of shopping at these places is that the quality should be good, the products should be originals if you are buying brand name goods, and you'll at least get a receipt when you make a purchase.
For eating there's Starbucks, McDonald's, KFC, Pizza Hut, Cafe De Coral, Ajisen Ramen, street stalls along with Chinese fare.
For recreation, and keep the kids smiling, there's the Cultural Palace amusement park which features a handful of rides, a couple of video game arcades, a small lake with paddle boats. There's also a large white European style building by the lake which house the 3 Health Spa for sauna and massages.
2018 Update: A government led facelift of Dongmen has recently completed with the main street being widened from 7 meters to 21 meters and there are plans for a new mall. Worth a revisit!
Tips: be mindful of pickpockets, it's a large area spread across several blocks and you won't see everything in one day, double check the quality
Prices: Like any market, the trick is to scout around for the best deals, bargain hard and double check what you are buying. Regular stores and malls, such as Sun Plaza, will be prices as marked but watch out for sales during weekends.
Getting there:  really easy, just jump off the metro line 1 (Luobao Line) at Laojie Station and wander out exit A. If you are traveling on the Longgang Line get out at Shaibu Station.
By Taxi, print out the Chinese name:  深圳市东门步行街 but most taxi drivers will know what you mean when you say 'Dongmen' even if you are not saying it phonetically correct.
Address: Dongmen Pedestrian Street (深圳市东门步行街), Louhu, Shenzhen
Dongmen Map
Where to stay near Dongmen Market? Here are my picks for the top hotels in the Dongmen area.