There's is no shortage of places to buy womens shoes in Shenzhen, there's far too many to mention here! So, lets take a look at some of the places where you can get a bargain and some places where you can get mens shoes in large sizes.
Go to any major department style stores you'll find plenty of places selling shoes. You might find yourself surprised though, as they might not be as cheap as you would have thought, in some cases the prices are oddly similar to western prices. Most of the major department stores and malls, such as SunPlaza, MOI, Coastal City, Haiya and Rainbow, do have sales on the weekends offering large discounts.
If you are not looking for western brand names, Dongmen Market is probably the best place to find deals on womens shoes. Dongmen is a very large market and there's stalls selling shoes all over the place and there is one building dedicated just to footwear, Dongmen Shoes City (or East Gate Shoes) Address:中国廣東省深圳羅湖區解放路東門鞋城(東門)  [Map] . Around the Dongmen area you should be able to easily find stalls selling cheap womens shoes from as low as 20RMB and into the hundreds. In the lower floor of SunPlaza at Dongmen [Map] you'll find mens and womens shoes of good quality and the best time to buy is on a weekend/holiday sale.
For brand name shoes, or more to the point luxury brand name shoes/stores try:
Yitian Holiday Plaza [Map] – BeLLE, Byford, CROCS, GEOX, LOTTUSSE, Stella Luna, Mephisto, Nuovamokas, Staccato, Mux
Coastal City [Map] – Adidas, BeLLE, CROCS, Delsey, Daniel Hechter, Di Caro, Dissona, Fesda, Galaday, Golla, Havaianas, Millies, Mux, Perics, Skap, Skechers, Staccato, Twelve NYC
MixC [Map] – Balenciaga, Bally, Bottega Veneta, Charriol, Coach, Daniel Hechter, De.Soul, Dior, Dissona, Fendi, Galaday, Gucci, Hermes, Le saunda, Louis Vuitton, Miu Miu, Prada, Salvatore Ferragamo, Staccato
Again, look for the sales during holidays and weekends.
For Mens western size and style shoes, runners, sports shoes, boots etc. try Luohu Commercial City, Jiahua Foreign Trade Market and Fuming Foreign Trade market near to both of these you'll also find more womens shoes upstairs at Womens World and at NICO and at the nearby MOI Department store.
A great little store to buy mens western style shoes is in Shekou, try Joy Shoes Shop at 143 Shangle St. Great service, great prices (you'll need to haggle a little) and they have large sizes.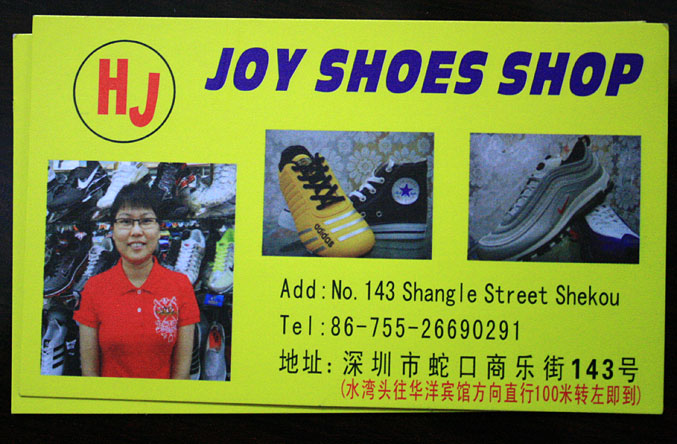 Know about more places? Feel free to mention them in the comments below 🙂