Shenzhen Wildlife Park built on the banks of Shenzhen Xili Lake, which is surrounded by mountains and rivers, features animals from all over the world. Many of them belong to the world's rare birds and animals and the first and second-class protected animals in China. Such as giant panda, golden monkey, South China tiger, Northeast tiger, flamingo, Magellan penguin, giraffe, zebra, Asian elephant, red-crowned crane, rhinoceros and so on. There are also very rare lions and tigers.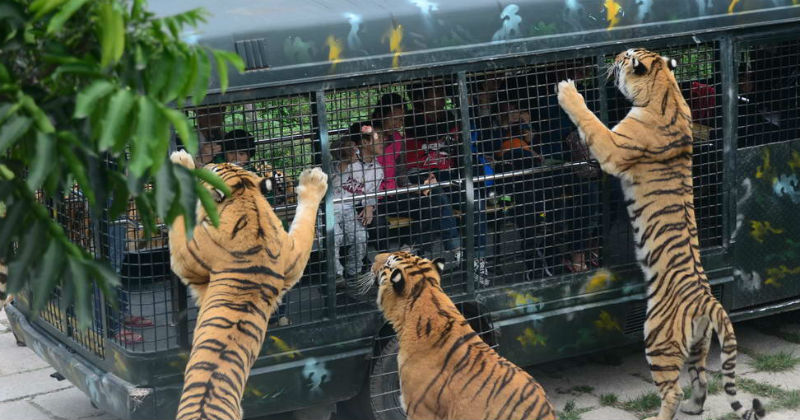 The entire zoo is divided into three areas, namely the herbivore area, the wild beast area, ocean world along with a performance area. It's recommended to follow the guide map to save time and catch all the animals.
Along with the daily animal and birdlife shows there is also a nightly stunt car and motorcycle show.
Here is a guide to the performance times, although it is only a guide as times can change according to weather etc. When you visit, exact times will be displayed.
Performance
Monday to Friday
Weekends and Holidays
Location
Beasts' Pageant
16:00
16:30
Performing Square
Circus
12:00, 14:00
12:00, 14:00, 15:00
Circus Hall
Happy Ocean
12:40, 14:40, 16:40
12:40, 14:40, 17:10
Ocean World
Birds' Show
11:00, 13:30, 15:00
11:00, 12:00, 13:00, 14:00, 15:00
Birds Performing Stadium
Motorcycle and Car Stunt Show
19:30
Performing Square
Need to pay attention to the fact that there are few places to eat here, and the price is quite expensive. If you'd like to use the shuttle bus around the park (hop on hop off style) its an extra 20 RMB.
Address: 465 Xili Rd, Nanshan, Shenzhen
CN Name: 深圳野生动物园
CN Address: 深圳市南山区西丽湖东侧
Open hours: 9:30 – 18:00 – night ticket 18:30 – 21:00
Ticket Prices: 240 RMB – night only ticket 90 RMB check online for discounts
Getting there: take metro line 7 to Xili Lake Station (西丽湖站), Exit B and walk around 1km to park entrance.
Nearby Hotel Pick: Qianhai Holiday Hotel
Map