Shenzhen Xianhu Botanical Garden has a variety of plant species and beautiful lakes and mountains, suitable for walking when you want to relax. The popular Hongfa Temple is also located here.
The Botanical Garden is located in the northeastern suburb of Shenzhen, east of Shenzhen's first peak, Wutong Mountain, and west of Shenzhen Reservoir. The park is divided into six scenic spots, such as the Heavenly Human Landscape, Lake District, Temple District, Desert Plant Area, Fossil Forest Scenic Area and Songbai Du Fu Scenic Area.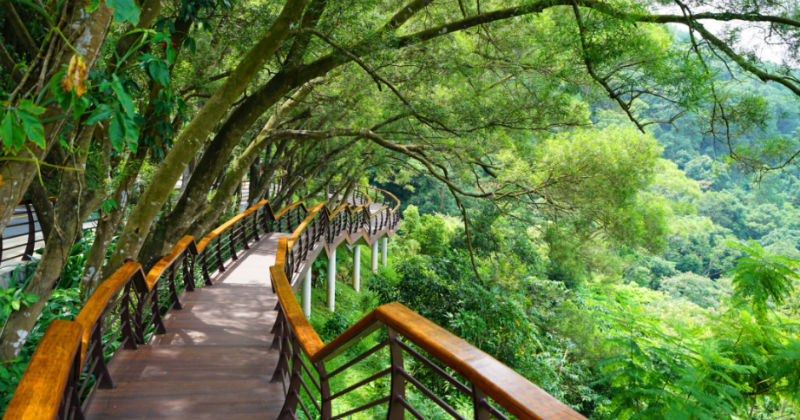 You can take the bus at the gate of the scenic spot and the cost is 3 yuan. The bus goes directly to the Hongfa Temple. Of course, if you want to go hiking alone, you can. If you choose to walk, first of all, after a road full of woods, you will see many different kinds of trees, and then pass through an artificial lake. (Sometimes you will see people casting a curse at the lake. It may be due to the relationship of Hongfa Temple. Come here to release the life pressure!), after passing the lake, you will see Hongfa Temple.
You can also take the electric shuttle cart and hop on and off as you please with the circular route being Hongfa Temple – Lake District – Bonsai Garden – Desert Plant Area – Paleontology Museum – Fossil Forest Area – Medicinal Plant Area – Tingtao Court – Hongfa Temple. Cost is 10 RMB.
In the lake area, there is a pedal boat and an electric boat which are available for hire.
There are 2 dining rooms in the park. One is Penglai Pavilion Restaurant in Xianhu Scenic Area (Chinese style restaurant). One is the vegetarian restaurant located next to Hongfa Temple. Neither are cheap compared to local prices.
Address: 160, Xianhu Road, Luohu District, Shenzhen
Getting there: Take the metro to Huangbeiling Station (Exit A) and take bus m182 or taxi. A taxi from Futian would cost around 45 RMB and take 40mins.
Open hours: 8:00-18:00; free opening hours 4:00-8:00 and 18:00-21:30
CN Name: 仙湖植物园
CN Address: 深圳市罗湖区仙湖路160号
Nearby Hotel Pick: Dongmen Metropark 
Map