Coastal City is reasonably new retail shopping and leisure destination located in downtown Nanshan District. Split across three separate multi-floor buildings, I'm sure it will take a few visits before you truly get your bearings!
The style of shopping is mostly retail shopping of good quality products, from reputable brands of men and ladies fashion, there are also some children's wares stores, gifts, beauty care and lifestyle/IT retailers too. The mall has a distinctly western feel and it's actually quite a comfortable place to just hang out, grab a coffee etc.
The building is also quite a popular dining destination featuring over 30 eatery options of Western and Asian styles. The Tasty Buffet, one of Chinas 'Top 50 Dining Experiences', is located up on Level 5. Skip the two-floor Momo cafe, the coffee and service is rubbish. Yes Thai on the 5th floor has English speaking staff, great food, and comfortable environment. Le Maris on the 4th floor is comfortable and has great lunch specials on Western-style steak. Go underground to Jusco and you'll find plenty of cheap eats including tepanyaki, hot pot and popular Chinese version of an Italian restaurant.
Big brands at the mall include Jusco Supermarket, UNI-QLO, Starbucks, Espirit, Levi's, Sony, Apple, Sephora and many more. There's also a cinema, video arcade, and ice skating rink.
There's also a large public square (Haide Square) with outdoor seating and a large stage where they often hold special events and free entertainment of a weekend.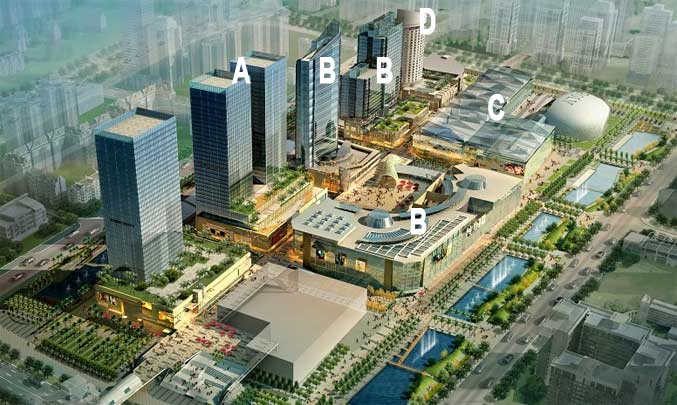 A. Tiley Fame City B. Coastal City C. Poly Cultural Center D. Kempinski Hotel
Neighbouring Coastal City are two other shopping malls being Tiley Fame City and Rainbow Plaza located within Poly Cultural Center, numerous street side shops and not too far away is Haiya shopping mall and Nanshan Book City. All this makes the area between Hou Hai metro station and Nanhai Avenue quite a shopping destination. It's also close to the Shenzhen Bay Sports Center ('Spring Cocoon').
What can you get there: fashion, homewares, supermarket, western dining (aka KFC, Hungry Jacks, Starbucks, McDonalds), Korean dining, Japanese Dining, Chinese dining, Hot Pot, Buffet and more.
Entertainment: Pacific Cinema (in Tiley Fame City building), Coastal City Cinema, Poly International Cinema, Ice Skating, Video Game arcades, Poly Theatre.
Price: Full retail, often have weekend sales
Address: 33 Wenxin Road 5, Nanshan District, Shenzhen – 广东深圳市南山区文心五路33号
Getting There: by metro (subway) take line 2 (Shekou line) and get off at Hou Hai Station
Map
Also See: The Top 10 Hotels in Nanshan, Shenzhen