Luohu Commercial City (罗湖商业城) is one of Shenzhen's most well-known shopping locations due to its location, size and it's diverse range of goods on offer. It's located at the Luohu Border, directly across from the Shenzhen Railway Station, and features 5 floors packed with independent retailers selling a diverse mix of goods.
Here you can find men's, women's and children's fashion, electronics, toys, curios, watches, jewelry, craft and much more.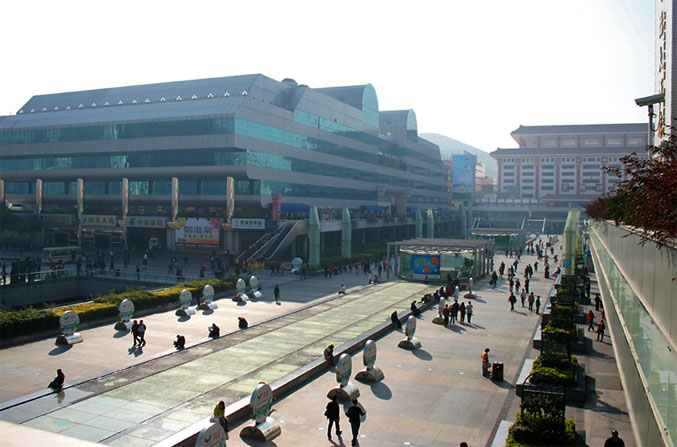 The place has a reputation for replica goods, or copy goods if you like, and there have been many crackdowns to stamp out copy goods which included brand name bags, watches, shirts and fashion accessories.
This is a market though, and Chinese entrepreneurs are incredibly persistent! And like all markets you need to double check the quality and haggle the price, if you're a foreigner the first price they offer will usually be extremely over-inflated, so don't be afraid to haggle, and don't be afraid to walk away if you don't like the price, or suspect the quality, regardless of the sales persons persistence.
Another thing you're sure to strike when you get there is the touts, often lurking around the doorways or out the front of the market, they're not shy in getting your attention offering to guide you to where certain products are and most likely to their store inside. Most don't have any bad intentions, they're just pro-active about getting people to their shop but for a first-time visitor, they can be really pushy, often intimidating, persistent and mostly annoying. Best to smile, and clearly and firmly state 'no need' and move on.
People from Hong Kong love to shop here too, although they'll probably refer to it as Lo Wu Market, as they can get many items here and at Dongmen much cheaper than in HK.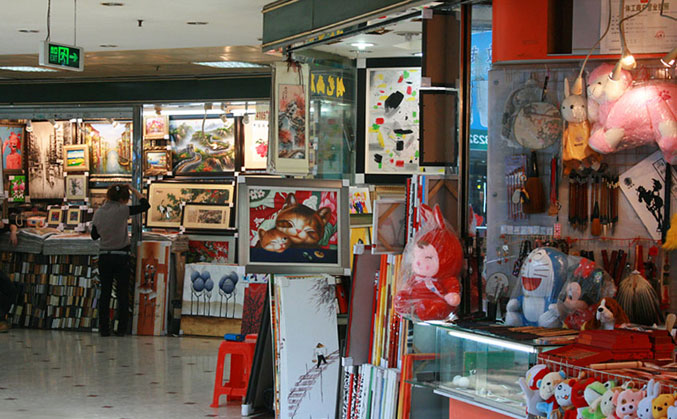 The 6-floor building is jam-packed with sellers squeezed into small cubicle style shops selling a diverse variety of goods, ranging from electronics to fabrics by the meter. The staff at the stores are hungry to sell and won't let anybody past, especially foreigners, without trying to get your attention and notice what they have to offer.
Many of the staff speak English, or at least enough to be able to sell their wares. If you don't speak Chinese, you shouldn't be worried, although, knowing a little lingo can probably help haggle a better deal.
On the 5th floor, you can also find tailors, for both men and women, beauty parlors and foot masseuses.
Hungry? There's the Taste Cafe located on the 3rd floor which offers up a mix of Chinese and western food, in a comfortable setting, with prices ranging from 25 to 100+RMB, and with English speaking staff. On the 5th floor, there are two Dim Sum restaurants. Opposite the Luohu Commercial City building, in the railway station building at level 2, there's Ajisen Ramen, Fairwood, Kung Fu and McDonald's.
What can you buy here: Far too numerous to mention but include men's and women's casual clothes, suits, dresses, children's clothes, toys, mobile phones, electronic gadgets, memorabilia, curios, art, traditional Chinese artifacts, linen, cloth and fabric, and even fishing tackle.
Price: haggling is a must, know your prices, and haggle your way to a great deal. It's common for some traders here to quote ridiculous prices to foreigners, don't be afraid to wander around and ask for prices from various stalls, don't be afraid to walk away, smiling and haggling all the way.
Quality: varies, double check and re-check all items PRIOR to handing over cash.
Getting there: If you're in Shenzhen, get off the subway at Luohu Station and wander out the A exit then walk up two levels. If you coming from Hong Kong, once you get outside the Luohu Port building go up one level.
Address: Luo Hu Commercial City, Luo Hu Railway Station, Shenzhen (people from HK may refer to it as Lo Wu)
Chinese Name: 罗湖商业城
Luohu Commercial City Map with my picks for nearby hotels
Note: Google maps is a little whacky in the around the HK/Mainland China border. The station map below will help make more sense.
 Lo Wu/Luohu MTR Station Map HK/Mainland Crossing