For many, Luohu is the first taste of Shenzhen, or maybe even China that many people get. It's where the city's major train station is based and it's also the largest overland port for people moving between Hong Kong and Shenzhen/Mainland China.
It's also the base of some of the city's great shopping destinations including Luohu Commercial City, Dongmen clothes markets, and the luxury shopping malls including MixC, King Glory Plaza, and KK Mall.
If you have come across the Luohu/Lo Wu border from Hong Kong or arrived by train to the Shenzhen Railway Station then the shopping trip begins almost immediately. The first stop is the famed Luohu Commercial City (LCC or Louhu shopping Mall/Louhu Plaza) which is located right alongside the border port and railway station. Here you can find several floors of copy goods, jewellery, arts and crafts, clothes, shoes, custom tailors and a small range of electronics and outdoor gear. See the full review here.
There are a number of restaurants at Luohu Commercial City (LCC), and at the adjacent railway station, including Ajisen Ramen (Quick service Japanese noodles), McDonald's, Fairwood (Quick service Chinese/Cantonese style) and upstairs in the LCC there are at least two restaurants, Laurel is the most famous, serving Dian Xin (Dim Sum) and a western style cafe/coffee shop called Taste. The shopping mall/market is open from 10 am till 10 pm.
It's worth noting that if you arrive at Luohu border after 10 pm there really isn't much to do, even worse there are no coffee shops with WiFi, so if you are arriving late and need a comfortable chair, drink, and the free WiFi, head over to Carrianna Square which is a short walk away, more about this further down.
Venturing beyond LCC, you may choose to head out exit E2 of the metro station and on your way, you'll see some small shops selling outdoor gear and a well-stocked fishing tackle shop amongst some women's clothes stalls. Keep venturing out the exit and when your back out ground level walk around the corner to the Hang Chen Arts Plaza where you can find lots of cultural and traditional artworks like wood carvings, coins, teaware, calligraphy, carved wooden furniture, pots, paintings and more. The CAA Holy Sun hotel is right near here too.
Head back towards the station exit and keep walking along Renmin Nan Lu and you'll reach Carrianna Friendship Square (佳宁娜购物广场) which has a Starbucks, RBT (western style cafe/coffee/drinks), McDonald's and an 85 Degrees cafe bakery. They are all open late, closing around 11.30 – 12.00PM. This cluster of shops is located right in front of the Metropop Mall where you find boutique shops offering ladies fashion, moving upstairs you'll find a cluster of stores selling antique style goods, jade and curios. Keep walking past these and you'll be in Friends Walk/Friendship City.
Several Shopping centers here are connected by one walkway, so from Metropop Mall you can walk straight into the Friendship City Moaye department store where you find several slightly more upmarket stores selling quality ladies fashion, men's fashion, watches, jewellery and a whole floor of paternity needs including children's clothes, strollers, prams, etc. On the 2nd floor you can take the bridge over to Diamond Plaza.
Continuing on you can connect to King Glory Plaza where things go upmarket, with the sparkling modern mall offering lots of luxury brand names, many western fashion brands, sports goods, leather goods, cinema and several dining options.
Out of there and it's into the International Trade Center where you find a Rainbow Department store and 4 floors of fashion, supermarket, homewares, sports goods and dining.
Walking across the road and down the alleyway, you'll find DYMart which has several floors of women's fashion, mostly aimed at the youth market and it is more of a market, and it's wholesale but they may sell single pieces to foreigners, depends on the store. Next to DYMart is Longteng and Petrel Fashion markets, which have mostly women's fashion including clothes, shoes, and accessories, again they are wholesale markets but may sell single pieces.
So far, it's all been within walking distance from Shenzhen Railway Station and Luohu Port, although if you wanted to get to King Glory Plaza in a hurry you could take the metro to Guomao Station.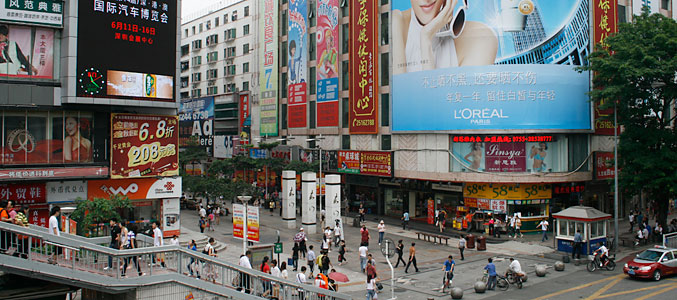 Dongmen market at Luohu is a must-see destination on a Shenzhen shopping trip and simply take the metro to Laojie station, and, if you really like clothes you may be here for some time. It's a large market with a mix of wholesale and retail, there are the stores at street level, and there are numerous malls spread out over the large area wholesaling clothes, fashion jewellery, children's clothes, hairdressing needs and more.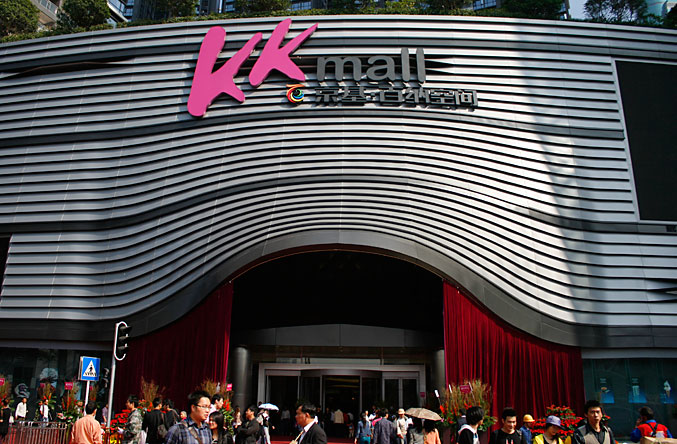 If you're looking for Prada, Miu Miu, CK, Gucci, Coach and that caliber of luxury brands then you want to head to Grand Theater station and check out KK Mall or Mix C shopping mall. Both of these offering a mix of high-end retail and luxury brands plus leisure and dining options.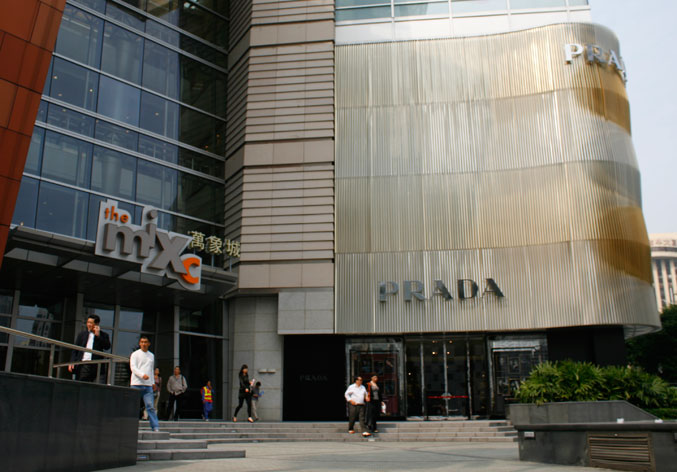 If you are looking for Jade, Silver or Gold jewellery then Shuibei Jewellery Park is the place where you'll find numerous buildings with stores servicing retail and wholesale customers.
For a nice place to stay in Luohu, and a hotel that's close to the railway station/metro, try the Shangri-La Hotel (5 star) or Hyatt Place (4 star) at Dongmen which is located above Laojie Metro Station.
Map