Dameisha Waterfront Park is located in Yantian District on the eastern side of Shenzhen on the coast of the South China Sea. It is surrounded by mountains on three sides, facing the sea, with an open beach stretching 1800 meters in the middle. The park has a vibrant subtropical coastal scenery, and Shenzhen citizens and foreign tourists alike enjoy the beachside leisure time.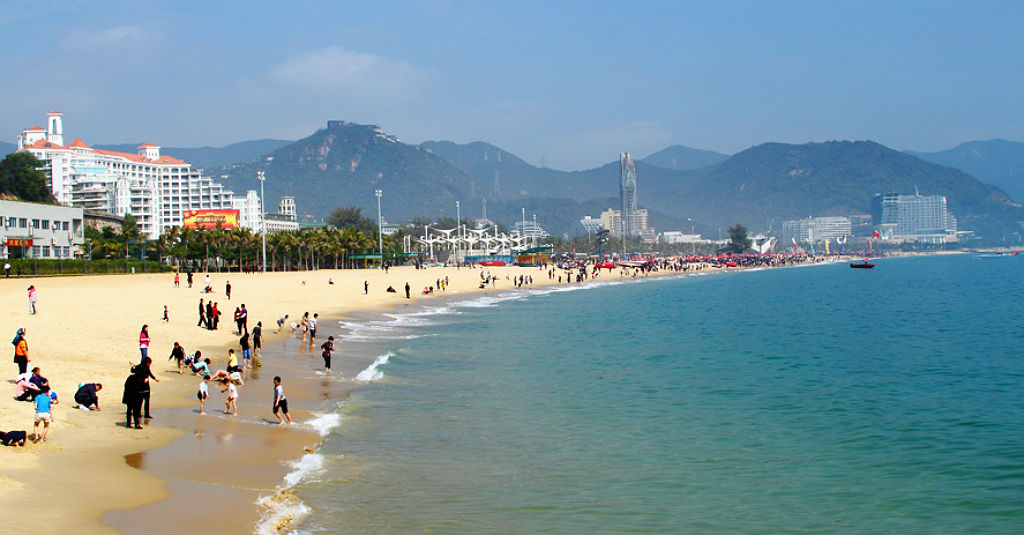 The Dameisha Waterfront Park has a total area of 360,000 square meters, of which the beach is about 1.8 kilometers long, the total beach area is 180,000 square meters, the park green area is 100,000 square meters, and the inner lake area is 80,000 square meters.
The center of the park is the Sun Plaza and the Moon Plaza, with a "sunshine corridor" connecting them. You'll also notice the tall skeleton-like structure which is the Wish Tower (愿望塔)  where you can take an elevator and look out over the beach and ocean.
Dameisha Waterfront Park is divided into a swimming area, sports area, leisure area, entertainment area, barbecue area, etc. There are motorboats, ATVs, bungee jumping and other rides to choose from.
If you want to go swimming in the sea, there are hot and cold water showers and storage service in the park.
There is also a coastal boardwalk at the southern end of the beach which straddles the rockface and is quite scenic. There is also a boardwalk joining the very northern end of Daimeisha around the rockface to Xiaomesha.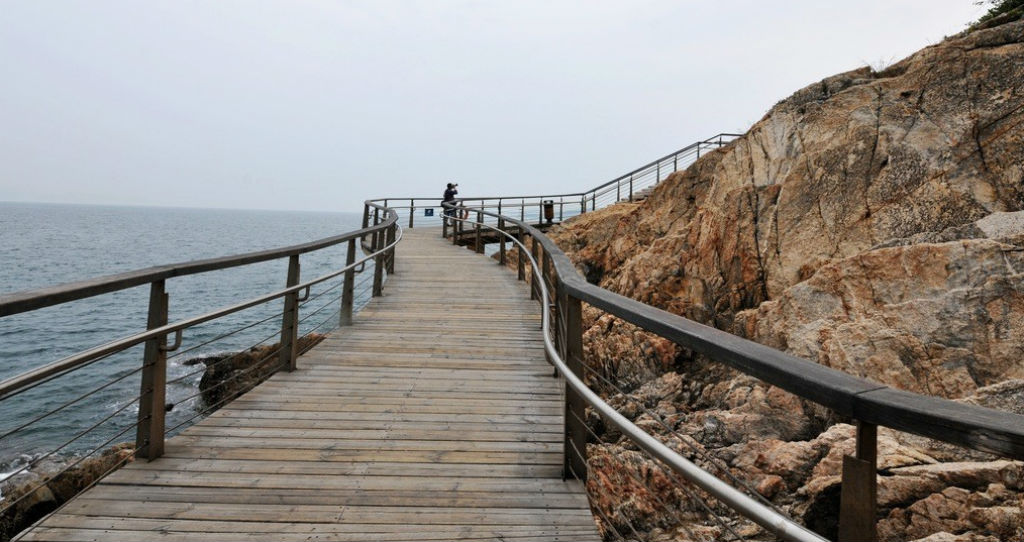 Activities, Facilities, and Rentals
Item
Specific location
Charges
Remarks
Powered umbrella
Park beach
100 yuan 1 person
Motorboat
Outside the beach shark prevention net
2 people for 100 RMB for 10 minutes
Swimming gear rental
Sun Plaza West Side or Moon Square
varied
Too many categories, calculated by the actual amount of swimming equipment
Shower room
Sun Plaza, Moon Plaza
Cold water: 10 RMB/ person
Hot water: 20 RMB/ person
Soap, towels, sunscreen, underwear and other supplies also available for sale
Barbecue

Park Management Office Office Building near Wish Tower.

50 yuan  (6 chairs, 4 hours, time out)
85 yuan (8 chairs, 1 bag of charcoal, 1 net, 4 forks, 1 table, 4 hours, timeout)
There are people selling snacks and drinks on the beach and as you'd expect the cost is a little higher. With entry to the beach area being free, you can easily wander to any of the numerous restaurants in the area surrounding the park.
There is also plenty of accommodation options and a large shopping area being Dameisha Outlets Mall (奥特莱斯购物村) featuring numerous shops selling fashion goods and several eateries and cafes.
Dameisha Waterfront Park is open to the public free of charge. The opening hours are 8:00 am – 1:00 am in the peak season. Low season 8:30 am – 5:30 pm.
Swimmers should stay within the shark prevention net area with the park management office providing a life-saving service in the shark prevention network 24 hours a day.
When the red flag is hoisted in the park, which means that the swimming section is closed and it is forbidden for tourists to swim in the sea at this time. When the yellow flag is suspended it means that the swimming pool is half-closed.
Due to being a free beach, Dameisha is often overcrowded during summer weekends and public holidays and I don't recommend visiting during those times.
Nearby is Xiaomeisha Resort and Beach which charges but has fewer tourists and next to Xiaomeisha is Shenzhen Ocean World. If you are interested, you can visit it together. OCT East, the large theme park is also located here and Dapeng Ancient City is also only a bus ride away. You could even spend more time and explore the Dapeng Peninsula.
Chinese Name: 大梅沙海滨公园
Address: No. 148, Dameisha Section, Yankui Road, Yantian District, Shenzhen
Getting there: To reach Dameisha from central Shenzhen (ie Nanshan, Futian, Luohu) take the metro to Cuizhu Station (翠竹) and walk a few minutes the bus station (留医部②) and catch the M437 bus directly to Dameisha Wentan Daochang Station (大梅沙闻檀道场站). The bus ride is about 1 hr 10 mins, cost 2 RMB. See the bus route on Baidu http://j.map.baidu.com/LFrgG. Many buses head here and here is a Baidu Map with route options http://j.map.baidu.com/YMAgG.
Luxury Hotel Pick: Sheraton Dameisha Resort
Value Hotel Pick: Toronto Hotels Dameisha Branch
Map