Maluan Mountain is located near OCT East and the Dameisha/Xiaomeisha area. It's not well known, nor developed,  but regardless it is a popular hiking area. The area features small waterfalls, nice views, and plum blossom trees.
There are many sections to the park and many routes. The park is divided into four major scenic spots: Xiulingdu Waterfall Scenic Area (秀岭叠瀑景区), Biye Lianfeng Scenic Area (碧野连峰景区), Nature Conservation Scenic Area 自然保育景区 and Sea View Area 犁壁观海景区.
There is a suggested route here with many photos that takes in many ancient Hakka houses and great views which begins from Xiaomeisha.
Another suggested route starts at the Shenzhen Ocean World (海洋世界), passes through Di Cui Lake (滴翠湖),a waterfall (瀑布), Ma Luan Mountain (马栾山) and Maluan Old Village (马栾旧村), Hong Hua Ling Reservoir (红花岭水库), and finally exits in OCT East (东部华侨城). It takes around five-six hours to complete the circuit from Diecuihu Reservoir, up the small mountain to the pavilion and ending at Dameisha beach. There is a trail guide here.
Another option is to take the 833 bus to Maluanshan Country Park bus stop (马峦山郊野公园) and enter via the northwest gate (马峦山郊野公园-西北门) and follow the river to the waterfall there. To see this waterfall, it is necessary to go all the way to the river. The mountain is not too high, the slope is not too steep. The whole stage is paved with stone steps. The stream is very clear, the waterfall is quite spectacular.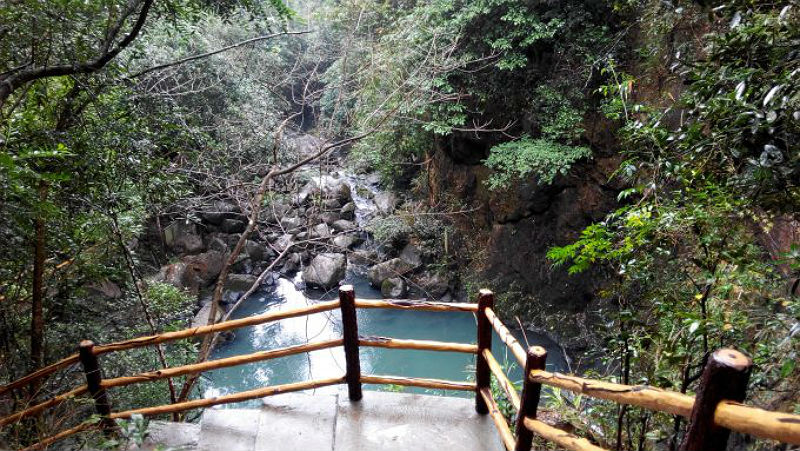 Chinese name: 马峦山
Address: Pingma Line Road, Pingshan District, Shenzhen 深圳市坪山区坪马线公路
Map